Care and Wear, a self-described "healthwear company," has partnered with the Parsons School of Design to design an innovative new hospital gown to empower patients and protect their privacy—and MedStar Health is already planning a test run, Valeriya Safronova writes for the New York Times.
Learn key best practices for overcoming common barriers to care management
According to Safronova, the move to redesign hospital gowns is not new, but MedStar's involvement could represent a "big potential audience for a new look." The latest effort also marks the first time hospital clothing was part of fashion education or considered a possible career for fashion designers.
How the new gown works
According to Safronova, the new hospital gown opens from the front and shields the back, eliminating the exposed rear of the traditional hospital gown, and uses various ties and snaps to enable partial exposure when needed. Overall, the gown can replace five different types of gowns in one design.


Specifically, the light-blue gown features an interior and exterior tie, as well as wide sleeves with plastic snaps that allow for easy exposure for an IV or other medical needs. The gown also has a front pocket with slits that can fit devices that monitor vital signs, as well as side pockets for the patient's personal items and a pleat in back to cover up the patient's backside. The gown is made of a blend of cotton and polyester that Rachel Sax Ramos, the head of product at Care and Wear, referred to as "hospital chambray."
The innovative approach toward preserving patient modesty while allowing clinicians easy access was a particular accomplishment for the design team, according to Irene Lu, a student at Parsons who helped design the gown. As Sax Ramos explained, the pleat in the back "operates like a giant skirt slit that you can open up to have full access, but if you're walking around or waiting in the [ED], you're not hanging out, which was everybody's biggest pain point."
According to Safronova, the gown as of Jan. 3 is available for $45 on Care and Wear's website.
Medstar Health launches pilot test
For the month of January, MedStar will be testing the gown at Montgomery Medical Center in Olney, Maryland. If successful, the health system will begin using the gown in their nine other hospitals.
Mark Smith, the CIO of MedStar Health as well as the director of the MedStar Institute for Innovation, said that the current hospital gown is a problem. "The current patient gown, with the ties in the back, reinforces a power imbalance between patients and caregivers," he said. "Patients get stripped of their sense of personhood, of their privacy."
In contrast, "with the snaps, you take it down and half of their chest is exposed," Smith said. "You can examine the front of a patient without having to cover [him or her] up additionally. It gives you terrific access, and the patient feels safe and protected and comfortable."
Brendan McCarthy, an assistant professor and the program director of the Systems and Materiality Pathway at Parsons, said the project is a great way to make an important impact. "If we want to make meaningful change, it's critical that we partner with companies where we actually put products into the world that have longevity and impact, and we get a sense of how we can measure our social impact," he said (Safronova, New York Times, 1/3).
5 must-have upgrades for the consumer-focused health system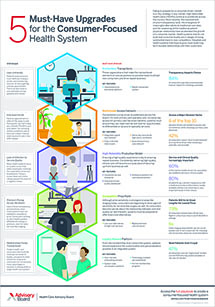 Failure to prepare for today's consumer-driven reality is a risky strategy in any market. Increased out-of-pocket costs, the improvement of price transparency tools, the emergence of meaningful alternatives to traditional care sites, and the weakening of the traditional patient-physician relationship have accelerated the growth of a consumer market.
Check out this infographic to see five upgrades health systems should make to succeed in this new era of health care.