Editor's note: This story was updated on August 3, 2018.
While it's valuable to have someone at your organization whom others can turn to for support, leaders need to be careful that so-called "toxic handlers" don't burn themselves out, professors Sandra Robinson and Kira Schabram write in Harvard Business Review.
Mitigate physician burnout with these 4 key strategies
A toxic handler is someone "who voluntarily shoulders the sadness, frustration, bitterness, and anger that are endemic to organizational life just as joy and success are," write Robinson, a professor at University of British Columbia, and Schabram, an assistant professor at the University of Washington.
But it's important that toxic handlers don't drown under everyone else's stresses. "Individuals in these roles frequently experience untenably high levels of stress and strain, which affect their physical health and career paths and often mean they have a diminished capacity to help others in the long run," Robinson and Schabram write.
But this doesn't mean toxic handlers should put a "Do Not Disturb" sign on their desks and refuse to talk to co-workers. Someone who takes on that emotional role, the authors write, can defuse tough situations and reduce dysfunction in the workplace.
So what to do? If you're a toxic handler in your workplace, the authors recommend eight ways to continue to emotionally support their coworkers, without sacrificing your own wellbeing.
Reduce your stress levels. If toxic handlers find themselves stressed out, the authors recommend "tried and true methods for stress relief," such as "meditation, exercise, enough sleep, and healthful eating." Taking care of yourself is just as important as taking care of the office.
Pick your battles. Toxic handlers often find themselves in every fight. The authors recommend you try to solve problems only when you can make a difference—and step away from situations that can be handled without you.
Say no. It can be hard to say no, but setting boundaries is important for a toxic handler, Robinson and Schabram write. If a colleague comes to you for help, and you can't deliver, don't feel bad: Instead, tell them you're sorry for what's happening, explain that you aren't in a position to be helpful right now, and if possible, refer them to someone else who can.
Stop feeling guilty. Toxic handlers tend to feel ashamed if they aren't able to help every person and solve every problem. But "remember that there is only so much of you to go around," Robinson and Schabram write. Saying no to something means you can focus on things you have already said yes to.
Form a community. It's easier to be a toxic handler if you aren't the only one, the authors note. Find the other supporters in your office and help spread the work of providing emotional support around—or even find your own toxic handler to vent to, after everyone is done venting to you.
Take breaks. "Consider giving yourself a mental health day off of work or planning a significant vacation" to recharge, the authors write. "If you are able to step away from that role for a time you're more likely to get the respite you need." Then, when you're ready, you can jump back in.
If necessary, leave. If you find that there's no way to escape the stress, Robinson and Schabram recommend moving into a different department in the organization, or even leaving altogether.
Consider therapy. If you find yourself consistently burnt out, stressed, and depressed, a trained psychologist may help you handle your work situation, the authors say. Such a person "can help you identify burnout, manage your symptoms of stress, help you learn to say 'no,' and work through any guilt," Robinson and Schabram write.
But while there are ways to manage your role as the toxic handler, Robinson and Schabram say there are two things not to do: Don't just complain about it, as "you want to move forward, rather than dwelling on problems," and don't go to HR, as "firms are unlikely to intervene in a toxic situation on behalf of the handler."
"If you're a toxic handler, learn to monitor yourself for signs of emotional or physical fatigue—and know how to step away when you need to—so that you can keep doing what you do best," they conclude (Robinson/Schabram, Harvard Business Review, 11/30).
Mitigate physician burnout with these 4 key strategies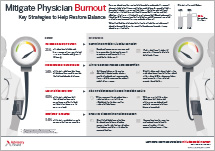 Physician burnout links to a 16% decrease in patient satisfaction, an 11% increase in reported medical errors, increased turnover, and early retirement. Act now to prevent further damage to your business, physicians, and patients.