Technological advances have brought down the price of proton therapy, but the treatment faces headwinds moving forwards.
The X-rays used in traditional radiation therapy can damage the healthy cells surrounding cancerous tissue. By contrast, proton beams are more narrowly targeted, leaving the surrounding healthy tissue largely unaffected—allowing treatment of tumors that were once inoperable due to their location, such as near vital organs. Patients also report fewer side effects with proton therapy than with traditional X-rays, Jeff Lagasse reports for Healthcare Finance News.
But several factors have historically made providers hesitant to invest in proton therapy. One is the dearth of randomized controlled trials that have shown that proton therapy substantially improves patient outcomes, especially over the long term, according to The Advisory Board Company's Matt Morrill.
Another issue is cost. The equipment used for proton therapy initially carried a price tag of between $120 million and $200 million, which gave many facilities pause, Lagasse writes.
But that calculus is changing. As the technology has gotten smaller—going from about the size of a football field to that of a typical X-ray machine—the price tag has gone down accordingly, with the newest models costing closer to $30 million or $40 million, says Mevion Medical Systems CEO Joe Jachinowski. That's allowed health systems to recoup their investments in the machines much more quickly than in the past, Jachinowski says.
Even so, investments in proton therapy are financially risky. Many facilities are struggling because they don't offer a wider spectrum of cancer treatments, says James Metz, chair of radiation oncology at University of Pennsylvania Medicine.
"I see proton therapy as a tool in the toolbox," he says. "When it's built with traditional radiology equipment, if offers you a range of services you wouldn't have with just radiation therapy alone" (Lagasse, Healthcare Finance News, 4/25).
Increased interest, continued challenges
There's certainly increased interest in proton therapy, Morrill notes: Of the roughly 20 proton centers operating in the United States, seven opened in the last year—and about 10 more are under construction.
Three lessons from proton therapy providers you need to learn
Morrill—who leads Service Line Strategy Advisor's and Clinical Investment Insights' oncology and diagnostic imaging work—expects that the number of U.S. centers will increase rapidly between 2016 and 2020, but says proton therapy still faces headwinds:
Commercial payers increasingly tend to only cover proton therapy treatment for pediatric, ocular, and central nervous system tumors—all of which are very low incidence—which limits proton therapy's market potential; and
• More hospitals are entering value-based care payment contracts that incentivize lower costs, and a single-room proton therapy center is still ten times more expensive than a single-room linear accelerator.
"While I think proton therapy deserves a place at major academic medical centers and cancer centers for research and treatment of established indications," Morrill says, "I do not foresee widespread adoption of the technology among non-academic centers—not unless the cost comes down even further to be comparable to linear accelerators."
What they value: Five types of cancer patients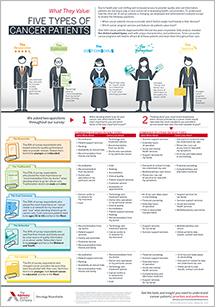 Cancer patients have more choices for their care than ever before. To attract patients in this fiercely competitive landscape, you must invest your limited resources in the right services—ones that will earn patients' trust and improve their experience.
Oncology Roundtable's analysis of our 2015 Cancer Patient Experience Survey revealed five distinct patient types—each with unique characteristics and preferences for their care. Our infographic is your guide to understanding the five types of patients and what they value in a cancer provider.