This interview with Sandra Bruce, President and CEO of Presence Health, was conducted by Eric Larsen, Advisory Board managing partner, and condensed by Dan Diamond, executive editor.
Question: Some of the CEOs we've interviewed for this series always knew they wanted to work in health care—that it was a dream since they were young. So I have to ask you: What was your plan?
Sandra Bruce: I was an English and French major in college ... It wasn't exactly getting me ready for primetime. Health care never really emerged as a career path for me until I got a taste of it.
Q: Tell me about that inflection point toward health care.
Bruce: Well, my English degree led me to teach for a year, but I didn't find it to be [personally] rewarding.
Through a family friend, and with my writing background, I was given the opportunity to write the Berrien County Hospital's annual report. Compiling the report brought me into every department—from the lab and radiology to everything in between, from acute care to long-term care.
It was a whole new world for me. In that moment, I knew I wanted to work there.
That's when I returned to school for business classes, and then eventually to a master's degree. And I continued to become more engaged in activities at the hospital. At the age of 29, I became the hospital's CEO.
Early influences
Q: Take me through the early days of your career. I'd love to get a better understanding of how you went from new employee to CEO in a matter of several years.

Bruce: When I was hired, it was 1968, and Medicare and Medicaid had just come along.
It was a dramatic change for a county hospital that had been receiving most of its funding from county tax dollars—those dollars were diminishing as the hospital began to be paid through Medicare and Medicaid.
The government required a transfer agreement for patients, and I was asked to design the transfer system for all of the hospitals in the county. That work took me to the other hospitals in Berrien County, as I pulled together a network of relationships and a system for transferring clinical data.
Q: Not only did that give you hands-on experience, but it sounds like it exposed you to different viewpoints. What did that teach you about the health care industry?
Bruce: I learned early on about the law of unintended consequences.
Although Medicaid was a seemingly wonderful new program, it came with some very stringent financial rules. If a person was admitted to a long-term facility, the rules essentially [impoverished] the spouse of that individual. At the time, the spouse of the long-term care patient was required to pay a huge percentage of their Social Security check to have his or her loved one in the nursing home—a difficult thing to do when this was all you were living on.  
Q: That's shocking.
Bruce: Yes, it was. I kept finding myself telling people if your husband's going to get what he needs, you're probably going to have to divorce so you can keep any money to live on. I decided this was just not a good thing and that the rules needed to change. After many years of lobbying, we finally got that changed to bring much needed dignity to people who needed care.
That began my foray into the Michigan Hospital Association (MHA), Michigan politics, and state bureaucracy. And because I was at a county hospital, I was around local politicians all the time.
It was this driving passion for making change happen that always made me think I might run for governor of Michigan.
I always thought once our sons were grown, I'd pursue a political career but I just never got around to it!
Q: It's not too late!
Bruce: I'm pretty settled in health care. And there's still a lot I can do to influence change from my current leadership position.
Women in leadership
Q: "Lean In" has been a generative kind of work—it's gotten a lot of people talking. I'd love to hear your thoughts on women in leadership.
Bruce: When I stepped into my first CEO role 40 years ago, there was only one other woman in leadership in Michigan. And she was at a small rural hospital in the Upper Peninsula.
Now, decades later, the number of women entering health care administration continues to grow. Because I've had mentors help me through the years, I believe it's my responsibility to help guide other women on their career path.
Q: How about how it's influenced your own career? Can you share some thoughts on that?
Bruce: Initially, I was never very conscious of the number of women in leadership roles until I became more involved with the MHA and saw few women at the table.
I'll never forget my first meeting at the MHA. I'd been put on a committee and was pouring myself a cup of coffee when someone else asked for coffee, too. So I poured that cup, and then another cup of coffee.  
As the meeting went along, I was taking copious notes and soon it became very apparent that almost everyone there—because I was never introduced—thought I was the executive assistant simply because I was pouring coffee and taking notes.
I thought, "Oh, I think I'll just tell those folks that I'm a CEO too and I'm here at the table to participate in the dialogue." It wasn't done in a pejorative way, it wasn't discriminatory, but it was a moment that led me to think about my role as a woman leader.
Q: Tell me more. How did that kind of experience—being accidentally overlooked—change your mentorship of other women?
Bruce: I think I've had a good track record in developing women for other roles. I really take the mentorship of young men and women as a personal mission of mine.
Over the years, I've become good at identifying an individual's talent and skill and helping to place them in roles where they can excel and grow.
This was true of my executive assistant at the county hospital. I knew many of her skills would take her far and encouraged her to get her master's degree. That let her go on to be our marketing and service line leader for obstetrics. Eventually she went on to create her own company. Several other women who have worked for me have gone on to be CEOs and COOs.
Clear guidance: Never compromise
Q: You've been a CEO for decades. What's the number one influence behind a terrific leader?
Bruce: I have a saying, "You'll never be any better than your board." If you look across the country at really great organizations, they almost always have exceptional boards. And, going the other way, organizations that get into trouble, may not have exceptional governance.
Q: Let's keep going on this. When you think of leaders in your life who have been mentors to you, what are some individuals or moments that come to mind?
Bruce: My very first boss was an executive from Whirlpool who served as the county hospital's board chair when I was promoted to CEO.
His expectations weren't what one would normally expect from a public county hospital performance—it was from a Whirlpool executive performance standard.
Very early on in my career, he was an advisor for me. He was tough as nails and never backed down when he believed something was right. Whether it was taking care of the poor or standing up for the little guy, he never compromised. For me, this was further reinforced working with the women religious of Catholic health care. The Sisters have taught me that the mission and values are never negotiable.
Corporate strategy
Q: Let's talk a little bit about Presence—we're now a few years in to your new organization, which was formed from the merger of Resurrection and Provena.
Bruce: That's right. I came to Chicago as the CEO of Resurrection Health Care at a time when the finances were extremely fragile. To sustain the ministry, we needed a fast turnaround of the system's financials while being guided by mission and values.
Our first focus was to stabilize the finances and then move into a growth strategy.  In less than two years, with a focus on improving leadership competencies, instituting best practices, changing the culture, and improving physician alignment, our finances had improved.
Even with a $100 million turnaround (1% operating margin), we quickly realized it still was not enough to sustain the system through the health reform era. We needed additional scale to ensure sustainability and that is when discussions began with Provena Health. The merger goals were to preserve access to Catholic health care, improve financial viability, develop a new shared culture that excels at patient and family centered care, and transform our care delivery in partnership with our medical staffs.
Q: What were the pressures at the time?
Bruce: For Provena and Resurrection, health care reform and the financial fragility of both organizations were the driving forces for us to come together. Lower reimbursements, growing pressure for greater operating efficiency, and the need for greater access to capital were just a few of the major reasons to come together. Health care reform calls for cost reduction, efficiency, and clinical quality that few stand-alone entities will be able to handle. Larger scale is a requisite for success in the future health care world.
Q: How did you approach the path to partnership?
Bruce: Consolidation in markets and reducing duplication of resources were areas in which I had experience.  Upon arriving in Chicago, I began asking "What Catholic configuration would make sense?"
Provena emerged as a strong potential partner for many reasons. The similarities of both health systems presented an ideal opportunity for coming together. Both organizations brought a full continuum of services including hospitals, senior care facilities, outpatient clinics, physician offices, home health, and behavioral health services. With parallel mission and values, both organizations offered a wide array of sophisticated clinical programs, such as electronic ICUs and significant progress toward implementation of state-of-the-art electronic medical records.
The first step in coming together  was establishing our leadership and it was determined that I would serve as the CEO and Guy Wiebking, Provena Health's CEO, would serve as chair of the board. We really approached our integration as a true "merger" incorporating the best of both organizations to create our new health system.
Q: Did you ever have second thoughts after moving so quickly?
Bruce: Not really second thoughts but, it was a big day when we launched the merger. Guy and I kept asking each other, "Whose idea was this?" only because it was a tremendous, unbelievable undertaking!
We knew it was the right thing for us to do. We knew that by joining together, Provena and Resurrection would be able to enhance the care and services provided to the broad populations and serve many generations to come. Together, we knew we would have the ability to transform and strengthen Catholic health care to better serve the health and wellness needs of their communities now and well into the future.
Q: Take me through the early experience of bringing the organizations together.
"The merger kicks off, and it's Noah's Ark with two of everything."
Bruce: So the merger kicks off, and it's Noah's Ark with two of everything.
In year one, we went after the low-hanging fruit to begin our integration. We moved to one supply chain vendor. We removed duplicate management positions at the System office.  We consolidated the malpractice insurance programs and on and on.
And the result of the first year effort was a positive bottom line that exceeded the budget!
In the second year of operations, we began to see a volume decline that was [affecting] the entire industry in all of our markets. We had great difficulty keeping up with it, and the loss in those revenues matched with our ability to take costs out.
We worked collaboratively with hundreds of leaders, physicians onboard across our health system to establish the vision statement and a strategic plan. From there, our Noah's Ark year was followed by a complete restructuring of our operating model and how we do business. This year we will begin the exceedingly difficult task of clinical transformation in partnership with our clinicians.
Q: Where do you think Presence is headed?
Bruce: Presence Health is ready to execute plans that will move us further down the road, closer to our vision for leading the transformation of health care.  
To compete in the market, to improve the health system from a cost, experience, and quality perspective… true transformation is needed  to move from volume to value in the way we deliver care and in the place we deliver that care. This will mean creating access points for health care that ensure we are treating people at the right place and the right time.
Many times this won't be the brick-and-mortar access points you see today. It may mean new technology to ensure patients are engaged and know what they need to do to stay healthy. This new approach extends beyond taking care of patients only when they're sick to help them manage and achieve their best health. This will mean taking quality and the patient experience to new heights to ensure our ability to compete and succeed.
We have spent the last three years getting our organizational and business structure in place, now it is time to truly make a difference in the delivery of care for our patients.
This work is not for the faint of heart. It takes dedication and a whole lot of patience and perseverance but we have a team of leaders, staff and, physicians stretching from Danville to the lakefront and up to Elgin who are ready for the challenge.
Get more lessons from the C-suite
See the Daily Briefing's archive of must-read interviews with other top hospital and health system leaders, including:
How to prove a boss wrong when he thinks you're the second choice? Do what this CEO did.

Today, Gene Michalski is the first CEO of Beaumont Health, a newly formed $4 billion health system. But almost 40 years ago, when Michalski applied for the position that launched his career…he was originally the second choice. In an interview with the Daily Briefing, Michalski shares his secret to convincing a wary leader to hire him, how it influenced his own management style, and how he sees the industry.  Read our interview with Gene.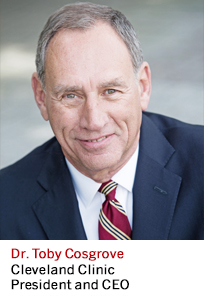 Cleveland Clinic CEO's single best tip on building a career: 'Shamelessly steal.'

Toby Cosgrove explains how—despite barely getting into med school—he's now the head of the Cleveland Clinic, how he sees the industry, and how one tactic is key to his management success. Read our interview with Toby.