Editor's note: This popular story from the Daily Briefing's archives was republished on Sept. 12, 2018.
Writing in U.S. News & World Report, career consultant Marcelle Yeager explains how email mistakes can derail your career or harm your reputation—and how to keep emails professional by avoiding these eight common errors.
Although emails have become less formal, a seemingly innocent typo or a flippant remark can have severe consequences. Yeager cautions that people should take email within the office more seriously than email among friends and family.
"The main point in all professional email writing is that you need to read over every part of the email, including the send fields and subject lines to ensure it's going to the right place with the right message," she writes.
Here are her eight tips to avoid email taboos.
Stick with a formal salutation. For correspondence with a new person, stick with "Dear" followed by a proper title, such as Dr. or Mrs. After that, follow the recipient's lead. "For example, if someone closes his email with his first name, you can address the next email in that way," she says.
Mind your recipients list. Yeager suggests thinking carefully about your "to," "cc," and "bcc" fields. "Everyone on the 'to' line should have a need to read the email's contents," she writes. For the others, use your discretion—but only copy people if it is absolutely needed.
Avoid shorthand. Yeager says avoiding abbreviations or shorthand, like "OMG", is a must because they can be easily misinterpreted. She recommends switching to shorthand only after establishing a good relationship with the contact and having confidence they will not misunderstand.
Avoid a "busy" signature. Avoid colored fonts or other non-standard formatting in your signature. "The purpose of [a signature] is to help someone find your contact information easily," she writes. So keep it simple.
No quotes in the signature. Some people like including an inspirational quote in their signature, as a way to "express their beliefs or personality." But Yeager recommends avoiding this urge in professional contexts, because they can also be offensive or misinterpreted. Save the quotations for social media.
Mind your language. Most importantly, "read over what you've written," says Yeager. Check for clarity and typos, with the aim of being more formal than when you speak. Your emails should sound more formal than your speech when chatting with your best friend.
Forward with care. Ensure that everyone included in the forwarding lines is necessary and in the appropriate address field (to/cc/bcc). Also, update the subject line to reflect your message and delete unnecessary content from the original email. These tweaks streamline communication and limit email overload.
Explain your attachments. "With the huge number of emails people receive these days, they don't have time to peruse text and open every attachment," writes Yeager. Make it easier for people by explaining attachments in the introduction of the email, so they can decide whether they need to open them (Yeager, U.S. News & World Report, 12/4).
Next, learn how to move forward in your career—by becoming an inbox ninja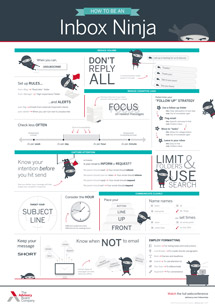 So, what does it take to be an inbox ninja? Check out our infographic to get best practices for email-specific writing and email management. You'll also find tips for email formatting, scripting, and structure, plus approaches to collaboration and decision-making over email.