The term "digital front door" describes the digital ways patients can interact with the health care ecosystem and encompasses a myriad of touchpoints. It is the mode through which members interact with the health care ecosystem, including digital tools that members can access, such as a provider search tool.
It is also the message that is being communicated to or from the member through these digital channels. For example, a health plan could text a member about their provider search tool to help the member find an in-network PCP. This member has entered the health care ecosystem through a digital front door.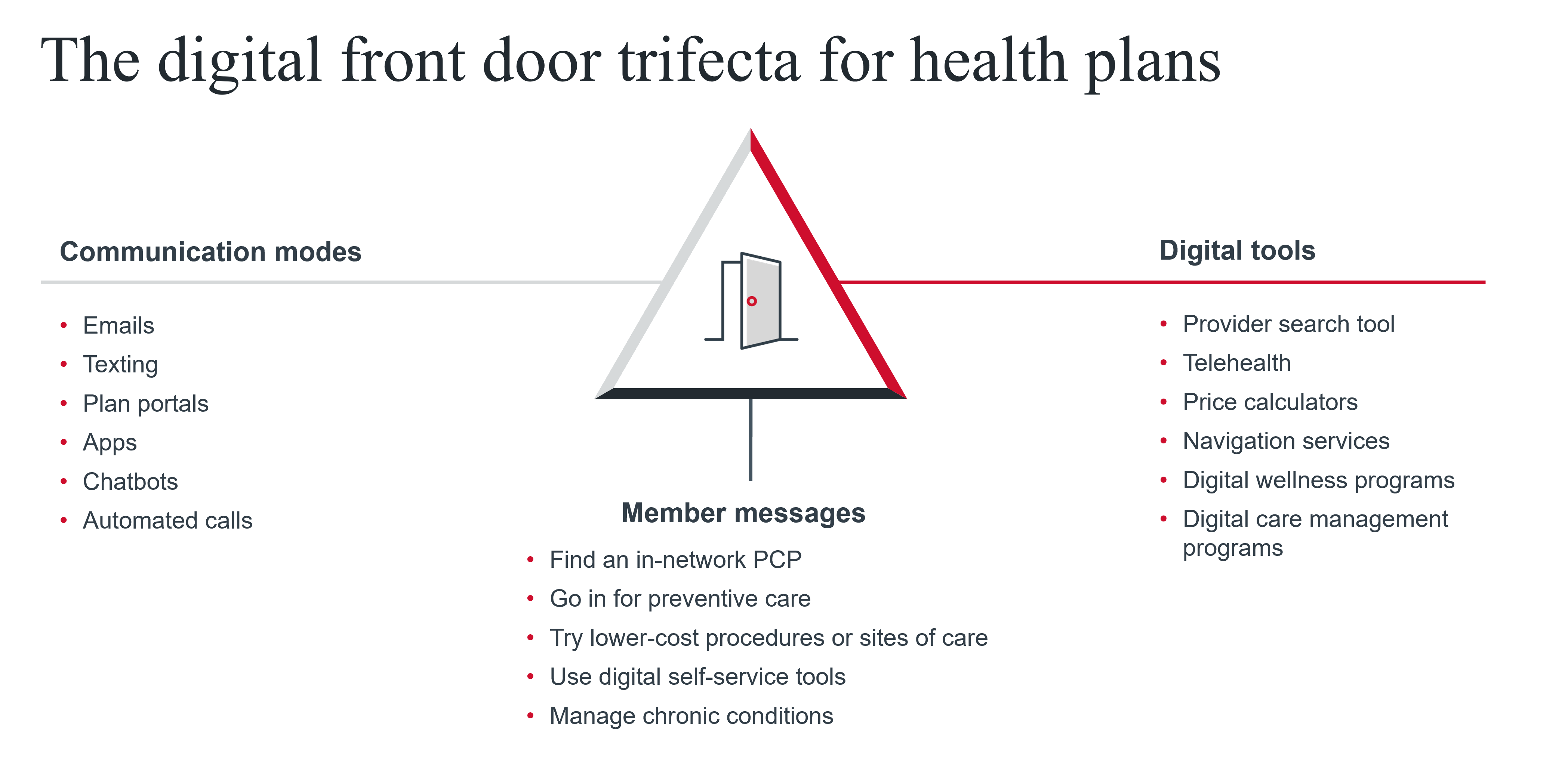 The four main goals of a digital front door are to improve satisfaction with a simplified member experience, expand access to care, optimize resource allocation (often through self-service tools), and reduce unnecessary treatment through better care coordination.

Although the term "digital front door" has grown in popularity in recent years it is increasingly top of mind for health plans right now. Read on for five reasons health plans are currently focused on improving the digital front door.
1. Consumers and purchasers came to expect digitization during the pandemic.
Plans are not just competing amongst themselves to improve their digital front doors. Consumers and purchasers expect their health care experience to mimic the on-demand experience they receive through apps from Amazon, Google, or Wells Fargo.
Additionally, the pandemic catalyzed the digitization of routine services—meetings held virtually, and groceries delivered through services like Instacart. As people continue to work remotely, employers ask plans for more digital tools to improve employee engagement and connect them to their benefits .
2. Member experience is weighed more heavily for 2023 star ratings so improving digital access and satisfaction is especially important for MA bonuses.
Member experience is a core component of Medicare Advantage star ratings, and it is becoming increasingly important, determining about 57% of star ratings by 2023. Further, with the expansion of Medicare Advantage, plans need to offer stand-out member experience to achieve success in the competitive MA market.
Investing in digital front doors is a high priority for plans to improve member experience. Plans could offer members more convenient care through telehealth or faster responses to questions via the plan portal, which could help improve star ratings.
3. Rising health care costs have made members more demanding of price transparency and proof of insurance value.
Inflation rates hit a 40-year high in 2022 and consumers are wary about costs, especially unpredictable costs. 1 in 11 adults stated they delayed or went without medical care due to cost reasons. As price transparency is top-of-mind for members, and new CMS guidelines about price transparency go into effect throughout 2023 and 224, plans are investing in more accurate price calculators, clear communications to members, and simplified claims information in plan portals. Scalable digital health programs are also a way for plans to show the value of health insurance to relatively healthy members who are scrutinizing every dollar they spend on their premiums.
4. Members need alternative, scalable entry points into health care due to provider shortages
Traditionally, many plans have relied on their provider networks to engage members because providers often have closer, more trusted relationships with patients. But recently, providers are overworked because of workforce shortages and additional administrative burden.
Over 50% of health-care workers are burned out and 30% have weighed leaving their profession. Health plans must encourage direct plan-member engagement and digital self-service because only engaging members through providers is not a sustainable option.
5. Current events have shed a spotlight on health inequity and digital access points could help reduce health disparities.
Digital front doors could help address health disparities through increased accessibility and new communication channels. For example, health plan staff could share resources for social needs with members through the member's preferred communication channel. Or members who can't take time off to go to an in-person doctor's visit could use telehealth.
However, health plans must also recognize how inequities appear in digital tools, and work to implement the digital front door in an informed, equitable way. Read our take on how to advance digital equity through literacy and design of digital tools.
All five of these reasons drive urgency for why health plans are investing in the digital front door. We will continue to publish research in the upcoming months on how health plans are investing to digitally engaging members. Contact Cole at thompc@advisory.com to learn more of our insights and to continue the conversation.