Our first conversation to start 2022 went: "We're both seriously worried about the physician workforce." It was quite a far cry from the optimistic tone we took in our November Radio Advisory podcast episode about how the looming physician shortage could be mitigated by the actions of health care executives.
Why are we so concerned now? Because physicians are burned out—more than ever before—and the current omicron surge has darkened any light they saw at the end of the tunnel.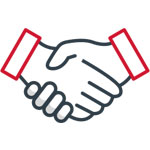 Our take: The mandate for workforce recovery
Some health care executives dance around the term "burnout." Many leaders prefer terms like "engagement," "resilience," or "physician wellness" that focus on the positive, proactive side of the equation instead of the negative one. But right now—almost two years into a pandemic and facing the biggest surge of Covid-19 cases we've seen yet—the crisis we're facing is absolutely one of burnout, not of physician engagement.
And there's a lot that's different about the health care industry in January of 2022 compared to March 2020. For starters, gone are the days of ringing bells at 5pm to celebrate our health care heroes. Instead, with higher case rates among unvaccinated patients, providers often face backlash from their patients as they try to treat them. And the government and employers themselves, who we might hope would support physicians at any cost, are instead passing guidance that they return to work five days post-Covid-diagnosis. Hospitals and emergency departments are overwhelmed with too much emergent and elective demand and too few beds. To top it all off, we are in the middle of a health care staffing crisis, which we don't expect to end anytime soon.
We both avoid analogies between war and health care because they often seem overblown—but it's the only reasonable comparison right now. Our physicians are fighting a war while injured and while the people they're trying to save often deny the war is happening. And they're acutely aware the quality of care is suffering because they are fighting without the necessary resources or support. So, it's no wonder that the conversation is going beyond burnout to moral injury and PTSD. According to Jackson Physician Search, 54% physicians have changed their employment plans because of the pandemic. Of those, 21% of physicians were considering early retirement and 15% were thinking about leaving the practice of medicine entirely at the end of 2020.
What can health care executives do about this burnout crisis now?
Assume all of your physicians—both those who practice in the hospital and in ambulatory settings—are burned out. One of the hallmarks of this current surge is that it's not just clustered in the hospital. Both ambulatory and acute health care settings are overwhelmed with patients seeking both regular and Covid care. At the same time, both settings are facing resource and staffing shortages like no other time in the pandemic. Wherever they work, physicians are under siege without the people, tests, beds, etc. they need to do their work. Now is not the time to do an engagement or burnout survey—that just adds one more thing to physicians' plates. Just assume everyone is burned out and act accordingly.
 
Find something to take off of physicians' plates—and not by redistributing it to other care team members. Are there meetings or trainings that can wait until after the surge? Are there pilots or technology go-lives that can wait a couple of months? Now is not the time to add to physicians' plates. Instead, figure out what things you can delay or stop doing altogether.
Assess whether you can afford recovery time now. If you can't accommodate physician PTO during this surge, you are going to need to offer meaningful PTO and recovery time after the surge. We have offered advice on physician recovery in the past, so we won't belabor those points here. But to the degree that flexible staffing is possible, we suggest using it now.
 
Bring back telehealth in earnest. Telehealth levels peaked in March-April 2020 and then steadily declined to about 10-20% of office visits. Yet we haven't yet seen the same rush to convert in-person appointments to virtual during this surge as we saw in the early days of the pandemic—despite the fact that case counts are significantly higher than they were then. Now is the time to proactively shift visits that don't need to be in person to virtual. You should also strongly consider moving providers to virtual-only care if you need to bring them back after their 5-day quarantine window but before they are ready to return to in-person care.
 
Focus on triage, especially around testing. With testing capacity strapped nationwide, patients are turning to primary care, urgent care, and emergency departments for their testing needs. Make sure your messaging is clear about what you can and can't offer in terms of testing. And use tried-and-true triage strategies to get patients to the right site of care before they enter your doors.
What are we watching for in the longer term?
We are alarmed about the implications this surge has for physician supply in the long-term. Whether it's during the omicron surge or shortly after it passes, there has never been a moment when we think doctors are more likely to quit. And even if they don't quit, we question the quality of care that's being delivered given that burnout leads to worse patient outcomes and increased medical errors.
Specifically, the physicians we see as most at-risk for leaving the workforce are our Achilles heel. These physicians are early-to-mid-career and clustered in specialties, like primary care, that will be the most instrumental for delivering on value-based care to an aging population, a segment of whom will be dealing with the long-term effects of Covid-19. We may be facing a perfect storm of losing our supply of soon-to-be-tenured physicians while future demand for physicians is being exacerbated.
We hope health care executives will be able to mitigate this looming crisis. And even more importantly, we are thankful for all of the physicians and health care workers who have shown up every day for almost two years of a pandemic that's end seems to keep moving further away.