As physicians go, so goes a market. And as with most things in health care, Covid-19 has shaken up many physician markets. Those shake-ups have the potential to shift the balance of power both in individual areas and nationwide.
Given the power of physician relationships in shaping the health care industry, we are consistently surprised at the number of misconceptions being touted about physician groups. These misconceptions could lead to an executive team crafting the wrong strategy or making a wrong bet, subsequently putting their organization at a disadvantage for years to come.
Here are four misconceptions about the physician landscape—and the underlying realities.
Misconception 1: Independent physician practices are going extinct
It's easy to underappreciate the strength of the independent physician market going into the Covid-19 pandemic and the resilience of physician groups. At the beginning of the crisis, the reigning narrative was that independent groups would be closing their doors en masse. While it's true that many independent groups faced reduced volumes and revenue in 2020, the biggest impacts were felt among small, single-specialty and primary care practices. Some of these groups have closed or had to seek financial partners, but those moves were likely to happen eventually even without the pandemic and stay-at-home orders. What is different from pre-pandemic patterns of consolidation is that the plans that survived the worst of the pandemic will be better positioned in terms of size, agility, and market position.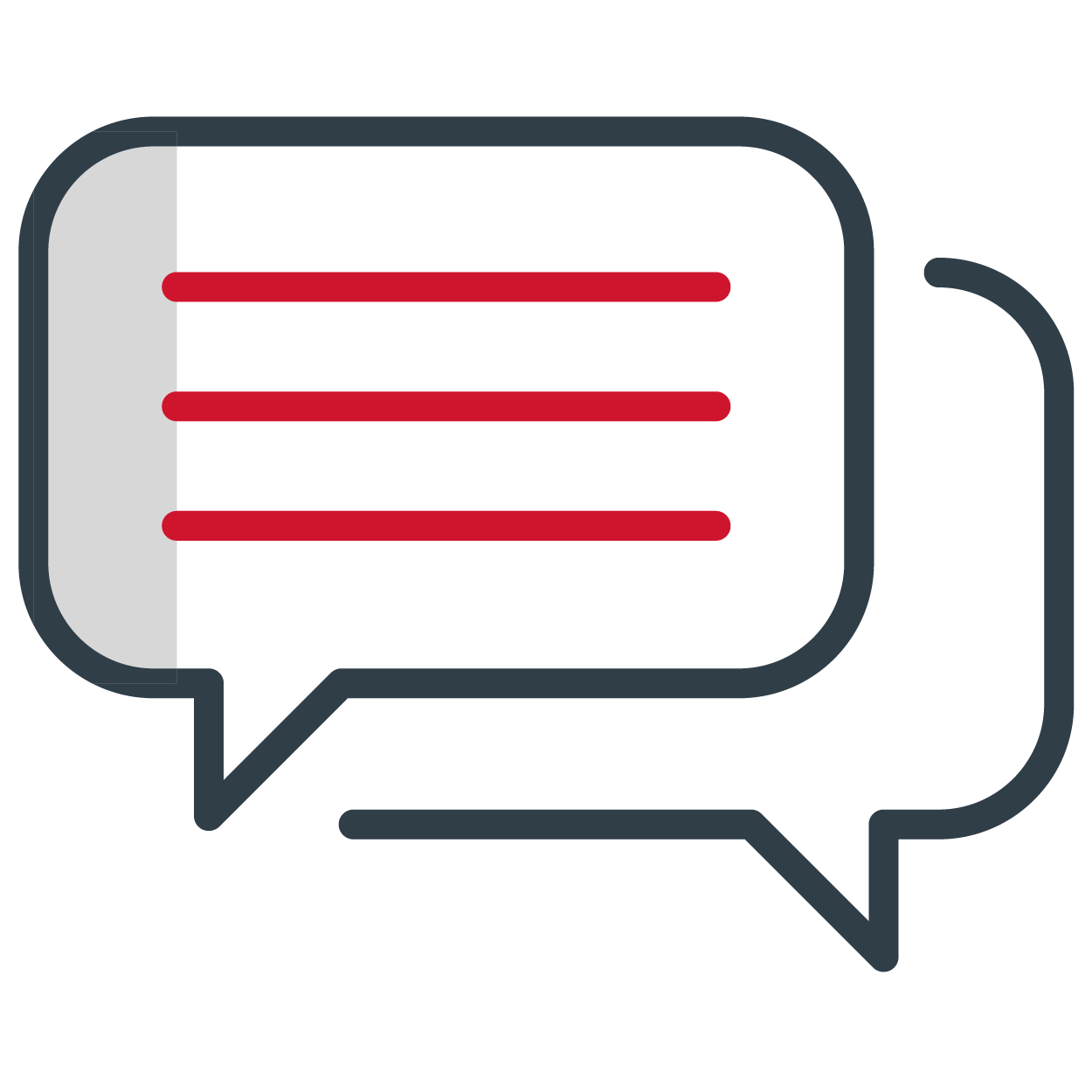 Reality: Most groups have proved they can weather the storm. The surviving groups will emerge tougher and stronger than ever before.
Misconception 2: Physicians must choose between independent practice and employment
The physician landscape is more complex than ever, with more partners and models of partnership available. The traditional, binary option of independent shareholder or health system employee is long gone. Physician groups can now partner with national medical groups, non-equity partners, private equity, health plans, and more.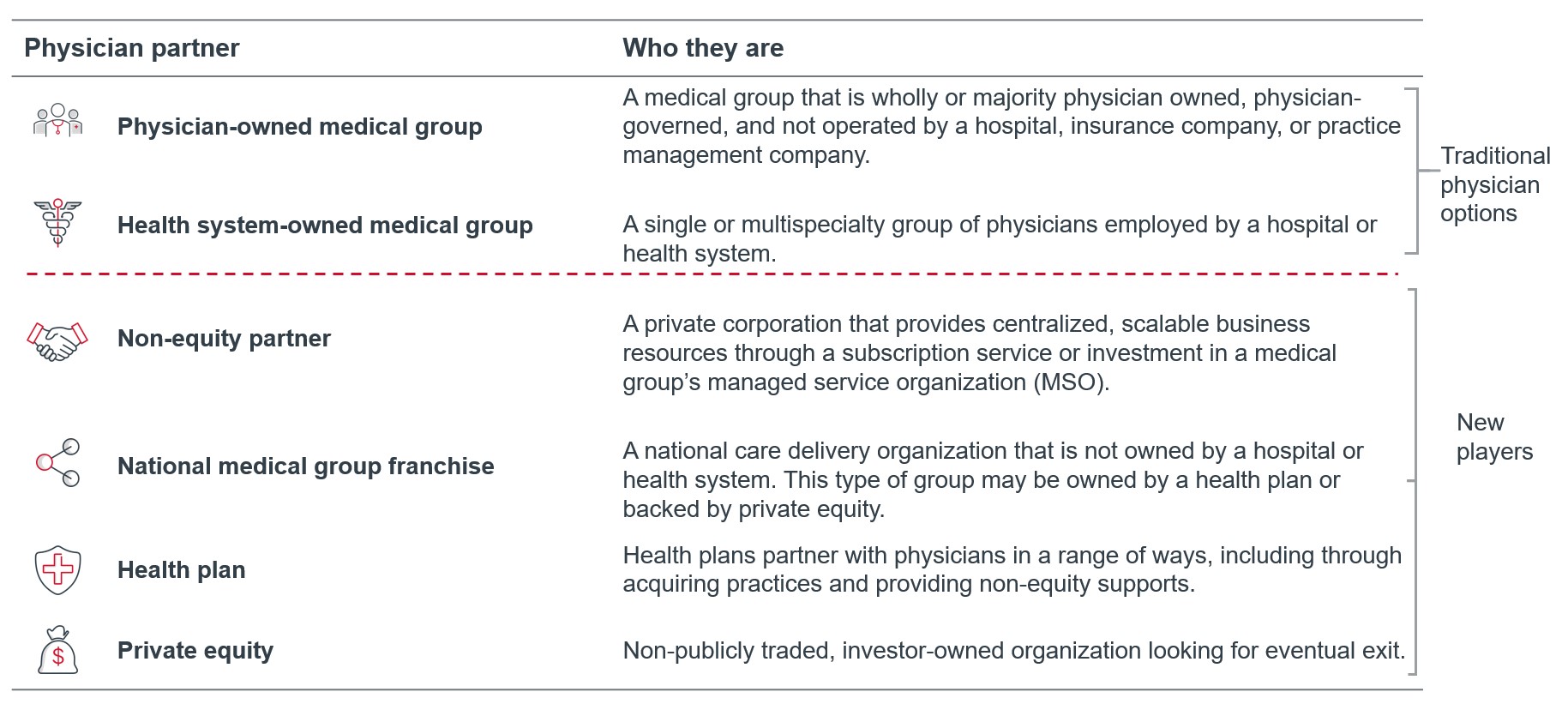 And each of the partners above can offer multiple models that are customized to a group's needs and desires. For example, some health plans now offer alignment arrangements where groups remain independent as well as acquisitions where the groups become employed. And non-equity partners offer physician groups an array of partnership options, from access to technologies to joining a network, in exchange for payment or a portion of incentives from value-based contracts. This means physician groups with interest in a partner have plenty of options to choose from—whether they're seeking outright acquisition, a financial investor, or the right partner to help them achieve their business goals. While there are more partnership opportunities than ever before, remember that it's a two-way relationship. Partners should always consider whether a deeper relationship with an independent physician group is worthwhile. And independent groups seeking the best deal must also ensure that they are positioning themselves as attractive allies.
Reality: Physicians have more agency and options than ever, and partners are willing to customize the right model for the right group.
Misconception 3: Physician groups want the partner that provides the most financial security
Even when physician groups do seek financial partnership, the factors that influence their decision-making have changed. The groups now considering partnership remained independent before the pandemic for a reason. Most either did not want to be employed or, frankly, buyers did not want to employ them. Though health system employment historically offered the greatest security against the potential turbulence of physician practice, Covid-19 shined a light on places where the traditional safe haven of a hospital can fall short. And now, with more options than ever before, physician groups are using a different set of trade-offs to decide which partner is right for them. Specifically, physician groups aren't necessarily flocking to the largest partner or the one with the most cash reserves. Instead, they are looking for partners that offer some financial protection while allowing them to retain the autonomy they so deeply value.
Reality: Physicians are looking for partners, not bosses—autonomy is just as important as security.
Misconception 4: Physician employment equals loyalty
Changing a financial arrangement and changing physician behavior are very different things. We've seen significant consolidation in this industry before, yet practice acquisition hasn't necessarily resulted in a boost in physician loyalty. In fact, we've heard from some hospital leaders that when they compare employed and independent physician referral patterns, their leakage rates are surprisingly similar. A contract alone doesn't change physician behavior. This lack of loyalty is even more prevalent when we look at changing physician alignments. A pre-pandemic trend that's quietly continued is that a small portion of health system-employed physicians leave their system contracts to return to independent practice. It's clear that while health systems partner with physicians to improve care and business performance, physicians have their own goals too. Whether it's a health system or health plan, a private equity firm or a national medical group, the models that earn physician loyalty will help all parties work toward mutually aligned goals.
Reality: Physician loyalty is earned through two-way partnerships, not a contract.
What should executives do with this information?
Understand the partnership dynamics in your market. Physician market dynamics have changed. Be sure you know who is talking to physicians in your area and what they're talking about. And remember, physicians have more potential partners and options for how to partner, so the callers may not be the ones you'd expect.
Be a partner, not a boss. If you're interested in partnering with physicians, think partnership first and contract last. Your first step should be to determine what physicians want. How does that compare with your organizations' goals? How can you both get those things working together?
Act now. If there are physicians in your market you want better relationships with, now's the time to deepen your relationship. Otherwise, another potential partner may get there first.
New research on hospital-independent physician partnership
What do these changes in the partnership landscape mean for long-standing relationships between hospitals and physicians? Our team is currently leading new research focused on these evolving partnerships. If you're the leader of a health system or independent group and interested in participating in a research interview, please email Gillian Hughes at hughesg@advisory.com.