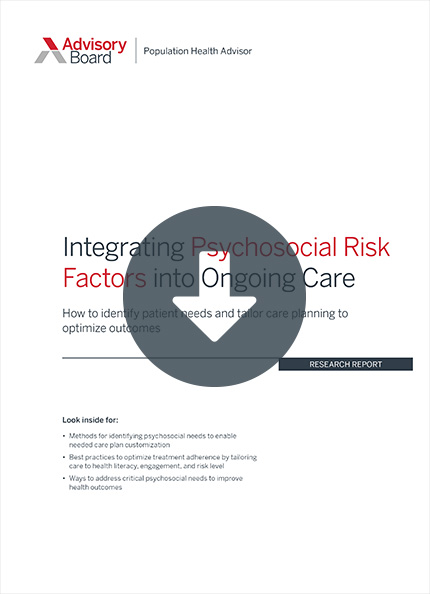 Health care delivery is incomplete without addressing patients' psychosocial needs. Left unaddressed, these needs drive avoidable utilization and readmissions, and excess health care spending.
To optimize outcomes and succeed under value-based reimbursement models, leading population health managers identify patients' psychosocial risks and tailor care plan interventions accordingly.
This research report makes the case for incorporating psychosocial needs into ongoing care, offers a blueprint for staff deployment across different interventions, and provides 18 case studies of providers that have successfully tailored interventions based on psychosocial needs.
Successfully tailoring interventions to advance population health goals requires a two-step approach tailored to patient risk.
Step 1: Assess psychosocial needs
All patients: Implement self-report questionnaires as part of routine interactions
At-risk patients: Conduct proactive telephonic outreach and work with community partners to fill knowledge gaps about patient needs
High-risk patients: Perform in-depth bedside assessments and home visits
Step 2: Tailor psychosocial support
All patients: List psychosocial needs in electronic chart across interactions and educate patient about community resources
At-risk patients: Accommodate health literacy and engagement levels, and ensure warm handoff to needed community services
High-risk patients: Actively navigate psychosocial care
Special Report: Evidence-Based Interventions for Key Psychosocial Needs
Synopsis of best-in-class programs to address psychosocial needs that significantly impact health outcomes, including: