Although hospitals and health systems have the benefit of time to prepare patients for elective surgeries, patients often arrive with inaccurate expectations on the day of their procedure. The problem: misaligned expectations don't just tarnish the patient experience—they negatively impact clinical outcomes.
Download this brief to learn how you can proactively align expectations for elective surgical patients, and simultaneously improve quality and experience across their surgical journey.
---
To deliver a quality-driven experience for elective surgical patients, physicians must proactively inform patients about what to expect during their procedure and equip them to participate in their recovery. Through our research, we identified four ways you can increase transparency and align physician and patient expectations across the surgical pathway.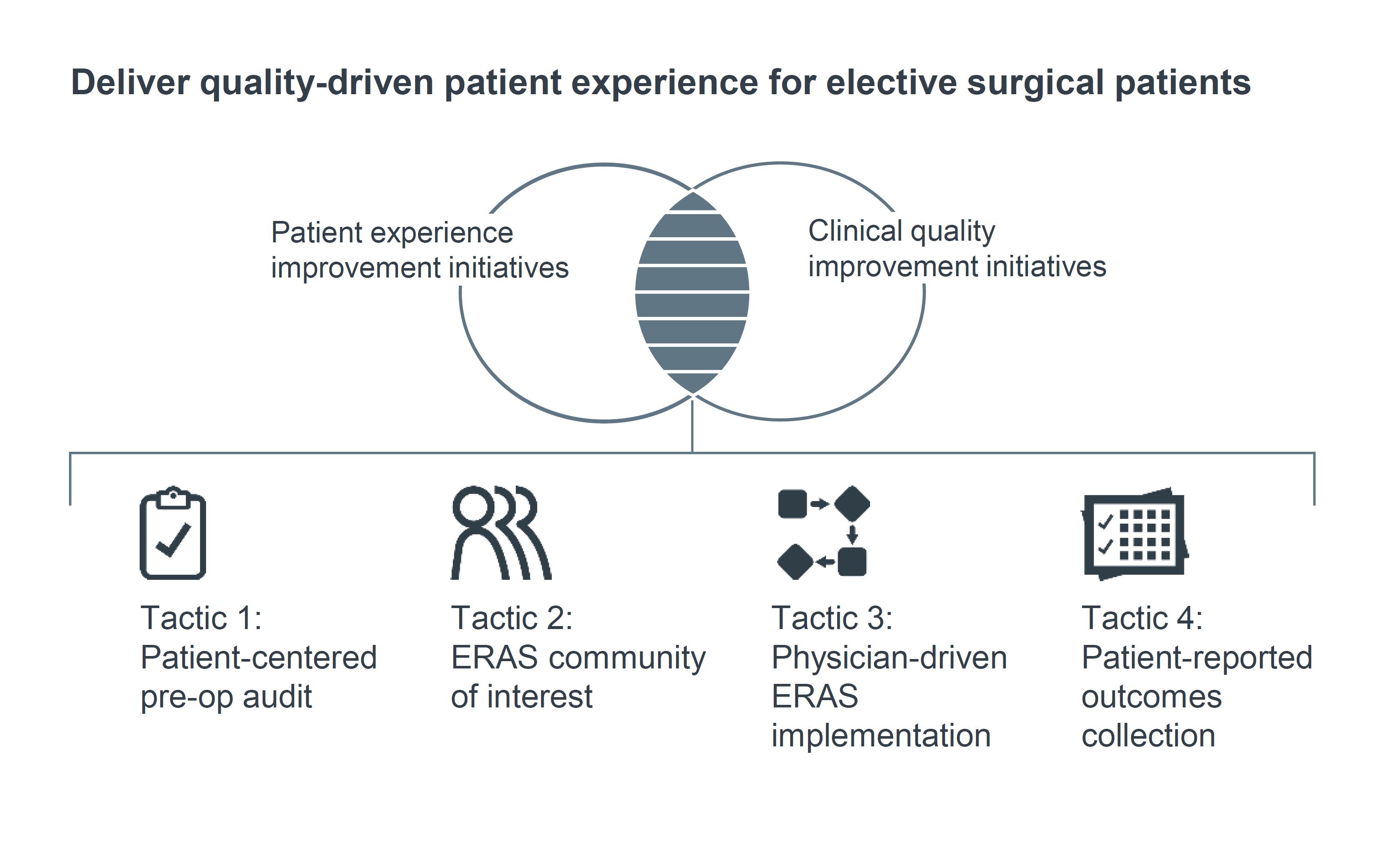 Four tactics to improve quality and patient experience for elective surgical patients 
Executive summary (p. 4): Redefining the patient experience ambition
Patient centered pre-op (p. 10) 
A disjointed pre-op process can undermine patient experience and clinical outcomes from the start. Audit your current pre-op process to identify opportunities to make it more patient-centered. Take the audit now.
Enhanced Recovery After Surgery (ERAS) (p. 13)
ERAS is a surgical protocol that combines evidence-based clinical components with rigorous patient education. Implement ERAS protocols to proactively set appropriate expectations and expedite post-op recovery for elective surgical patients. 
Related resources: 
Patient-reported outcomes measures (PROMs) collection (p. 27) 
Physicians and patients often use different metrics to evaluate quality of care, which can lead to misaligned expectations for surgical outcomes and diminish patient experience. Collect PROMs before and after procedures to better understand quality from the patient's perspective and set clear expectations for their care.