We've updated our Cancer Patient Experience Survey Results Portal with data from our 2019 survey. Our tool allows you to toggle between 2015 and 2019 data to explore and compare the results.
In our Cancer Patient Experience Survey, we asked over 1,200 cancer patients diagnosed within the past five years about their priorities and preferences for care.
The survey covered a range of questions including: the features cancer patients' value most/least in a cancer program; the services they value the most/least in a cancer program; top support services; top survivorship services; and, their preferred level of control in decision-making.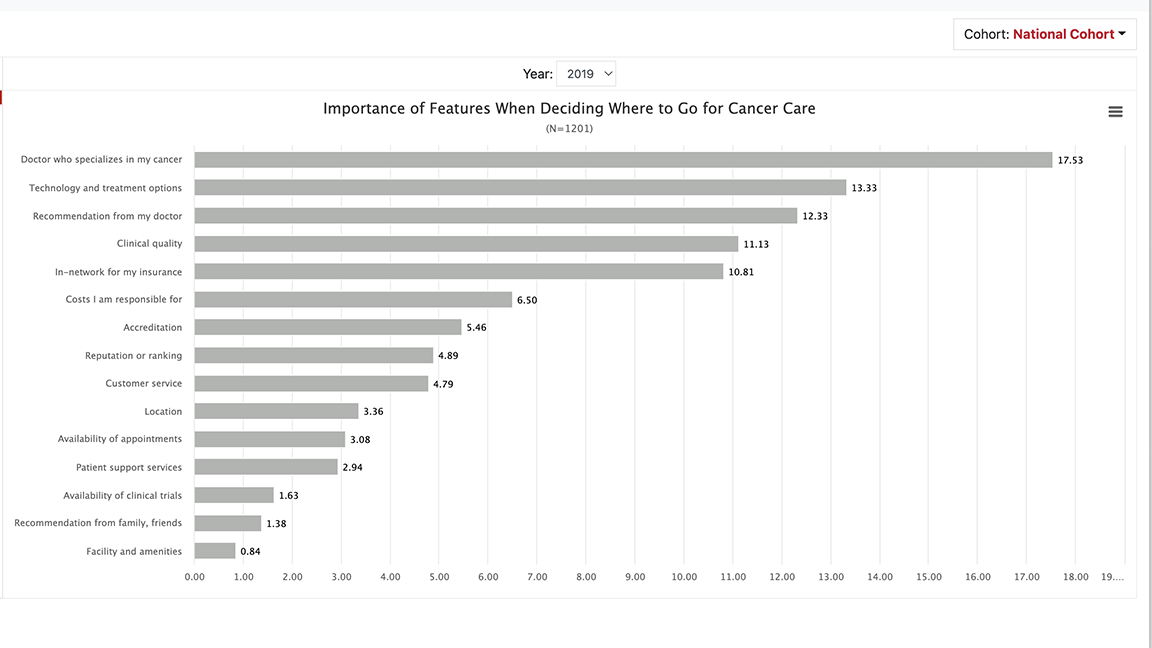 ---
How we calculated what cancer patients value most and least
MaxDiff analysis
To get a clear picture of how cancer patients value both features and services offered by the cancer program, we asked two MaxDiff questions:
When deciding where to go for cancer care, which factor is most important to you and which is least important to you?
Thinking about your experience with cancer, which service provided by a cancer center would have been the most valuable to you and which would have been the least valuable to you?
Unlike many other surveys, which allow respondents to rate all items as "important," MaxDiff analysis asks patients to make trade-offs among different factors. Patients reply to each question multiple times and each time they are shown a different set of factors—resulting in a ranked list of utility scores that represents the relative value of each factor.
Our interactive survey results portal enables you to slice and dice the data by multiple factors, such as tumor type and age, to analyze the priorities of unique patient sub-populations.
---
Tool Basics
Purpose
Analyze patient survey data using different criteria, such as age, tumor type, gender, or region
Suggested users
Oncology service line leaders
Strategic planners
Patient experience officers
Business development officers
Example uses
A cancer program trying to grow their breast center volumes uses this tool to better understand how breast cancer patients in their region select a provider.
 
A cancer program working to improve the patient experience uses this tool to evaluate which services patients would value most. The program leader uses the data to develop a business case for investment in specific services.