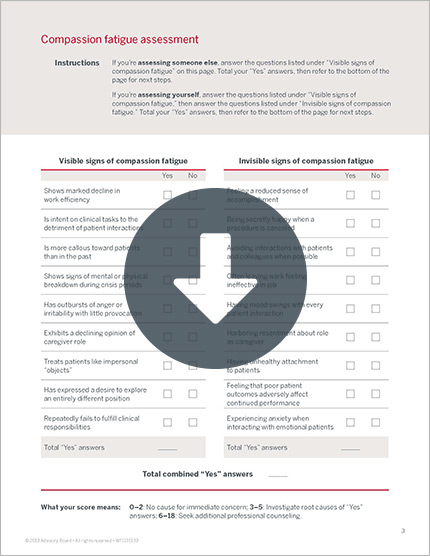 Compassion fatigue is a condition that occurs when caregivers are overwhelmed by stresses stemming from either the clinical or interpersonal components of their role. Individuals affected by compassion fatigue are unable to deliver highest‑quality care and are at risk for burnout.
To successfully build frontline staff's emotional capacity and decrease the likelihood of compassion fatigue and burnout, organizations should adopt a proactive approach to demonstrating emotional support.
The first step of this approach involves proactively assessing the emotional capacity of your staff. They often don't think about it until it's too late—like when a crisis occurs or when they have already reached a point of emotional exhaustion.
Use this Compassion Fatigue Assessment tool to help staff recognize the visible and invisible signs of compassion fatigue, investigate the root causes of compassion fatigue, and seek additional help, if necessary.