Hospitals, physician practices, and integrated health systems have seen periodic flurries of deal-making in the past, but rarely has the American health care provider sector experienced such sustained increases in mergers and acquisitions (M&A) activity as it has in recent years.
88% of provider executives plan to pursue M&A within the next 12 months
This growth, driven largely by increasing pressure on hospital margins, heightened competition for physicians, and the growth of accountable care, is likely to continue. Interviews with hospital and health system executives, as well as our own analyses, suggest that robust hospital and health system M&A activity will continue apace in 2014.
---
Plenty to gain from M&A, but risks abound
The Good
In theory, M&A can generate significant benefits. Scale can allow organizations to improve cost structure. Expanding into a new parts of the continuum can increase opportunities to capture a larger share of total services spend. Moving into new geographies can also strengthen the reach of the clinical enterprise.
Administrative department consolidation into a centralized corporate office can also reduce staffing and office supply costs, and centralized office functions in finance, marketing, HR, and IS can lead to greater efficiencies.
How shared services organizations can give your health system an edge
On the clinical side, a merger or acquisition can result in principled service line consolidation, eliminating duplicative service offerings, while also achieving cost and quality improvements by standardizing evidence-based clinical protocols.
The motivation for consolidation goes beyond merely standardizing care and improving operational efficiency. Hospital consolidation has the potential to unite complementary assets to create a more seamless care continuum, improving patient outcomes and reducing overall costs.
The Bad
When deals are executed poorly, M&A can actually bring on additional administrative complexities and management responsibilities to existing resources and roles that may actually impede efficiency, ultimately hurting margins.
In some cases, consolidating clinical departments may result in tensions around leadership and ownership of highly profitable clinical services, with unresolved disagreements alienating valuable talent and disrupting referral streams.
And in some extreme cases, mergers collapse entirely. More often than not this results from soft assumptions behind the original theory of the deal or late recognition of cultural incompatibility.
---
Investing in M&A function pays off
Interviews with hospitals and health systems, as well as M&A professionals in other industries, suggest that a well-organized and directed internal M&A function can help organizations make better decisions about which deals to pursue, increase the amount of value that is unlocked when deals are executed, and mitigate execution risk during the integration phase.
These results square with a recent cross-industry survey of M&A professionals conducted by Forrester consulting group.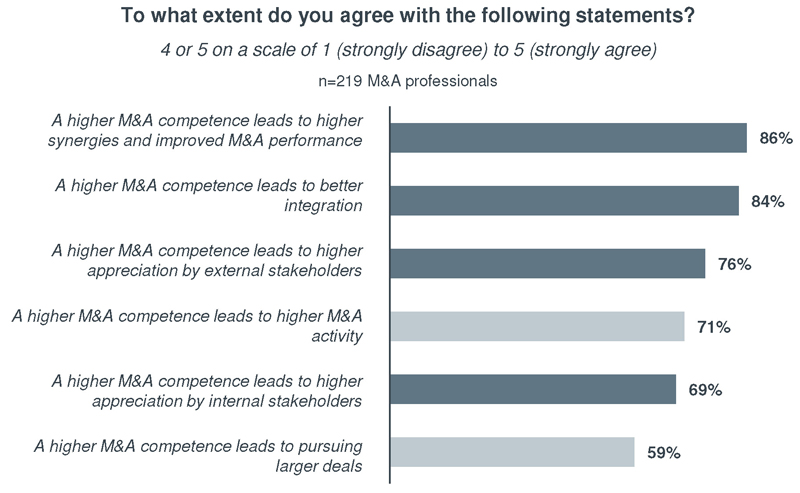 It should also come as no surprise that a high-performing internal M&A function leads to improved M&A performance. At its most fundamental level, the purpose of an internal M&A function is to answer the four questions most germane to any M&A deal. The more effectively your organization expends resources, talent, and experience against answering these questions precisely, the greater the likelihood of a successful deal.

---
Three goals for improving M&A performance
Hospitals and health systems looking to improve the performance of their M&A function, or put in place a function should pursue three main goals:
1. Create an organizational support structure for M&A
Sourcing and deal-making can only proceed efficiently when responsibilities are clearly assigned, and formal processes are hardwired.
Tactics: Staff dedicated M&A team, cultivate functional M&A experts in key business units, outline clear reporting structure
2. Improve the discipline of the deal-making process
Ensure that each step of the process is carried out as rigorously as possible.
Tactics: Continuously monitor discrete sourcing pathways, leverage a simple and consistent screening framework, conduct comprehensive scenario analysis, delineate explicit decision-making structure
3. Hardwire a system for continuous improvement
Dedicated resources and hardwired processes can only take you so far. To ensure high performing deals each time, institutions must track and analyze their performance across deals, codifying lessons and insights.
Tactics: Tie deal performance metrics to core strategic objectives, financially incentivize M&A team, codify experience into knowledge asset