One of the most compelling use cases for PROs is in care delivery. (Historically, the use of PROs was largely limited to the clinical trial setting). During the course of routine care, providers can monitor patients using PROs and use them to inform treatment plan adjustments or assess the need for symptom management services.
Today, most of this monitoring happens reactively: patients report symptoms and side effects through validated surveys (referred to as patient-reported outcome measures, or PROMs) during scheduled visits with their doctor. Typically, patients are handed an iPad in the waiting room, and their reported data gets fed to the physician just before the visit takes place. In many cases, patients might report serious side effects like vomiting or extreme nausea. In this "reactive" model, the patient may have already discontinued their medication by the time the physician is aware of the problem.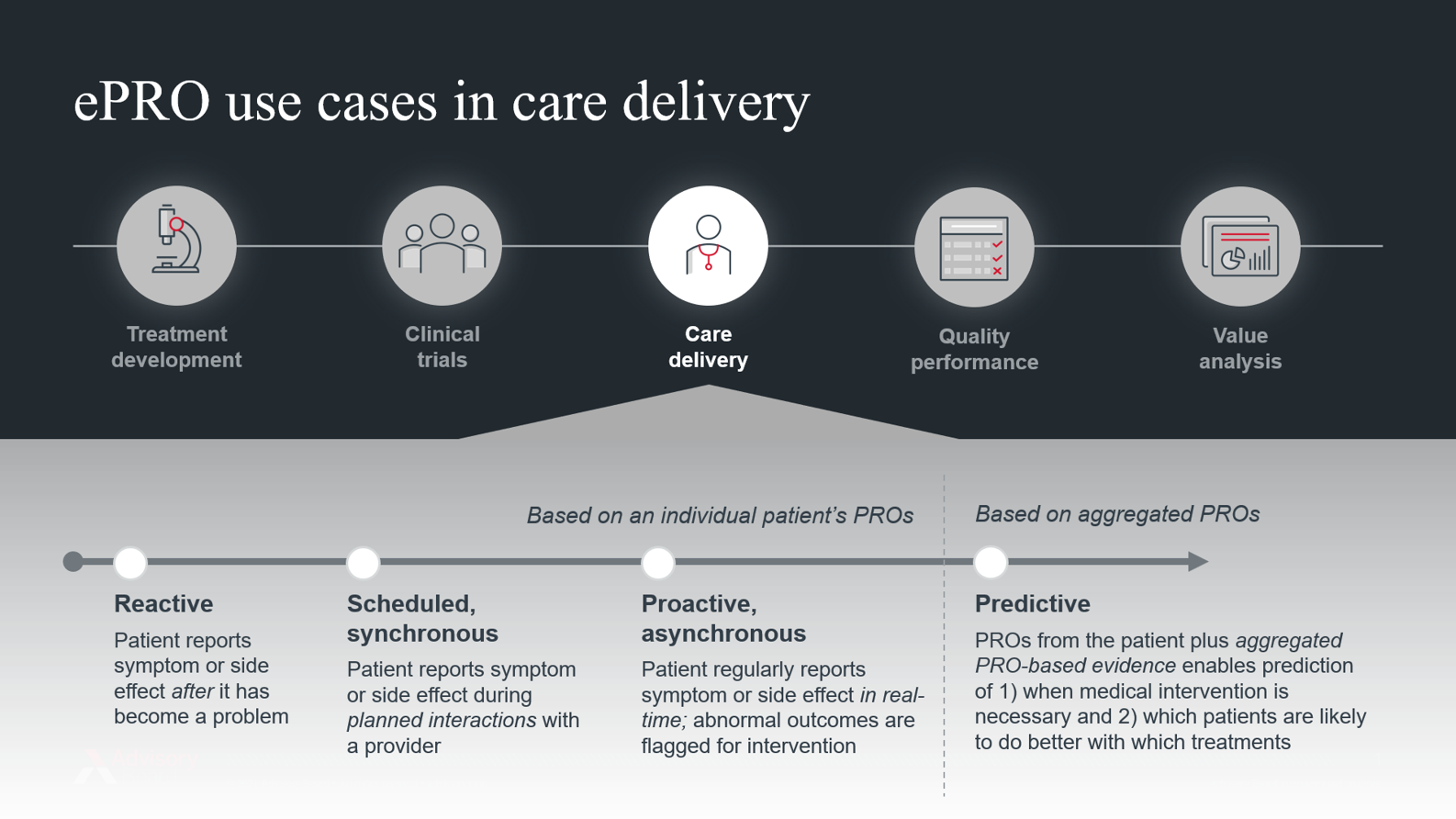 But as digital tools like smartphones, wearables, and patient portals become more widely adopted, there are new opportunities to collect PROs electronically, asynchronously, and in real-time. By capturing electronic PROs (ePROs) while patients are at home, outside of scheduled visits, providers are better equipped to provide proactive—as opposed to reactive—treatment management.
By collecting ePROs asynchronously, providers can leverage analytic tools to proactively flag outlier outcomes that require medical intervention. Conversely, if outcomes indicate the patient is doing well, it can reduce the need for in-person or resource-intensive touchpoints.
Ideally, ePRO-enabled treatment management can prevent unnecessary utilization, increase provider efficiency, and improve the patient experience. But today, a host of challenges around workflow, interoperability, and data standardization remain, which raise questions about how to scale this kind of program. And, even if ePROs enable more proactive "flagging" of patient issues, they do not necessarily help physicians determine the best course of action.
"One key barrier is providing clinicians with the ability to use the information from ePROs, especially when they haven't been formally trained on it."
- Research Leader
Don't forget: ePROs can't be collected if they are not reported. The utility of ePROs requires patients to be actively involved in consistently and accurately sharing data. This requires patient education as well as feedback from physicians demonstrating that the patient's reported data is being reviewed, understood, and acted upon.
"There are so many ePRO tools that collect data but don't provide anything back. Patients need to see value from what they're sharing, in terms of how it impacts their support and navigation."
- Technology Executive
Don't forget: ePROs are collected through devices such as smartphones, smartwatches, and laptops—technologies that much of the U.S. still does not have access to and/or cannot easily use. As ePROs become more integral to care delivery, health care leaders must account for this "digital divide" in their planning (and ensure products are designed for non-English speakers and those with audiovisual impairments).