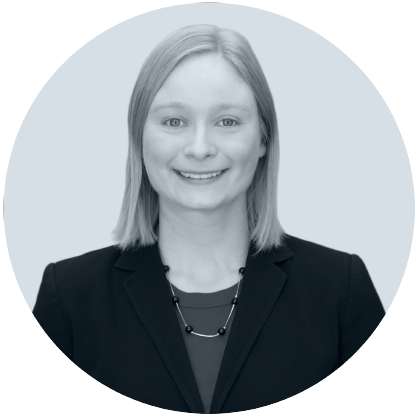 By Kate Vonderhaar Johnson
, Managing Director
Staff turnover rates are at the highest levels we've seen in 15 years. Given this reality, every leader is all too familiar with the conversation that starts with a team member saying, "I have some news to share." The team member proceeds to explain they have a new job and will be leaving in two weeks.
Leaders typically have one of three responses to this scenario. Some may feel angry and even personally betrayed. (They think "how could this person not appreciate all we've done to support their career and blindside me like this?") Others may immediately try to convince the person to stay with the organization. But the most common response—especially with the pace of resignations right now—is a numb acceptance.
Leaders tend to jump immediately to figuring out what the loss will mean for the team's capacity. The departing employee can feel undervalued when their manager accepts the resignation as inevitable and immediately starts discussing logistics of their last few days. And the manager misses an opportunity to learn from the person handing in their resignation.
How to learn from resignation conversations
Even if the team member's departure is inevitable, they can provide valuable feedback that can help you build a team environment that prevents future resignations. So the next time a team member shares their resignation with you, follow these four steps to learn as much as you can:
1. Take a quick moment to pause and notice your emotions.
Many teams are stretched to capacity and have open vacancies right now. Hearing that one more team member is leaving can trigger all kinds of emotions, from frustration to overwhelm to exhaustion. Take a moment to check in and notice what you're feeling. Research shows putting a label on our emotions can help provide a bit of distance from them. That space will allow you to productively continue the conversation with your team member.
2. Acknowledge the team member's value
.
This is a team member who has provided real value to your team and organization during their tenure. It's part of why it's so hard to hear they're leaving! Say aloud what you have appreciated about having them on the team before jumping into logistics.
3. Ask questions to learn as much as you can .
Your goal here is not to attempt to change the person's mind. It's simply to gather information. You may be able to use the intel you gather to change their decision (more on that below), but at a minimum, you'll gain valuable information that can help you identify ways to prevent future departures. Here are some worthwhile questions to review:
What is the team member doing next?
What will you do when you leave?
Are you moving to another neighborhood or city?
Are you taking time off between this job and your next move?
What do you expect to be most different about your new role (compared to this job)?
What are you most excited about?
How did they make the decision?
How will your new role advance your career goals?
What about your role here made you interested in other options?
What could we have done more (or less) of that would have prevented you from looking elsewhere?
Is the departure an absolute certainty?
Have you signed a new contract?
Is the timeline for your departure fixed?
Can you think of anything that might make you want to stay here?
If you were to return to this organization in the future, what change would you hope to see?
4. Earn the right to a follow-up conversation.
In many cases, you will learn that your team member's departure is a sure thing. But occasionally, you'll see a clear opportunity to redirect them. Maybe there's a similar role within the organization they should consider, or perhaps there's a solvable frustration they've raised. In these cases, you want to quickly see if you can re-engage them. Use language like the following examples:
"I'd like to see if we might be able to find something just as good for you here. Would you be open to waiting a few days for me to connect with some leaders about what we may be able to do for you?"
"Thank you for being so open. I really appreciate it. I'd like a chance to fix the issues you brought up. Would you be open to continuing our conversation next week?"
Ask senior leaders or HR for help brainstorming ways you may be able to retain the team member within the organization, if not within your specific team.
The message you send to remaining team members matters
The way you respond to a team member's resignation matters—it impacts how the departing team member feels about their experience at the organization and it signals to your team how forthcoming they should be with their future plans.
It's much easier to re-direct a team member to another opportunity within your organization if they share that they are starting to consider different paths—versus sharing they've secured a job at a different organization and are leaving in two weeks. But team members will be reluctant to suggest they may leave in the future if they see that departing team members are isolated and quickly forgotten. That's why it's so important to thank departing team members for all they've contributed in that initial conversation and to look for ways to publicly acknowledge their contributions before they leave. The departing team member will be an ambassador for your organization and for your team—ideally, encouraging people to work with you because of the positive experience they had across their tenure. And don't forget to consider re-recruiting the team member themselves in the future.