Despite the trials of the Covid-19 epidemic, physician compensation in 2020 and through early 2021 remained fairly steady compared to the start of 2020, according to Medscape's Physician Compensation Report 2021.
How Covid-19 is changing the future of the health care industry
Report details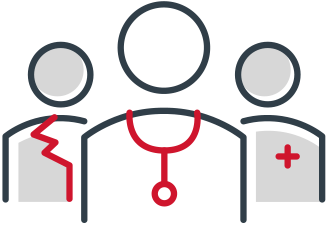 Cheat sheet: Snapshot of the physician workforce
For the report, Medscape surveyed 17,903 physicians across more than 29 specialties from Oct. 6, 2020, to Feb. 11, 2021. Medscape then weighted physicians' responses based on the American Medical Association's physician distribution by gender, specialty, and state.
For the report, physicians provided the total amount of compensation they received for providing care. For example, employed clinicians reported their salary, bonus, and income from profit-sharing arrangements, while physician partners and those with solo practices reported their earnings before factoring in income taxes but after factoring in business taxes and deductibles. The report included only full-time salaries in its results.
Compensation remains steady
Overall, Medscape found that, despite the Covid-19 epidemic, overall compensation for physicians remained steady. On average, primary care physicians earned $242,000 in early 2021, compared with an average of $243,000 in early 2020. Meanwhile, specialists earned an average of $344,000 in 2021, compared with $346,000 in 2020.
According to Michael Belkin, divisional VP of Merritt Hawkins & Associates, "Many physicians used the Paycheck Protection Program to help keep them afloat; some were able to renegotiate their lease contracts; a large percentage reduced their staff, which reduced their expenses; and those in capitated plans were still getting paid even though they weren't seeing as many patients."
Belkin added that uptake in the use of telehealth—and its coverage by more insurers—also helped physicians during that time. Additionally, according to Medscape, more than half of both primary care providers (59%) and specialists (55%) have an incentive bonus.
Highest, lowest compensation by specialty
According to Medscape, the highest-paying specialty in early 2021 is plastic surgery, with an average annual compensation of $526,000, a 10% increase over the year prior. Meanwhile, pediatrics was the lowest-paying specialty, with an average annual compensation of $221,000, a 5% decrease compared with the year prior.