Coronavirus prevention protocols often recommend that people stay six feet away from each other to prevent the virus' spread, but a new BMJ analysis suggests those six feet may not always protect you from the pathogen, Ben Guarino reports for the Washington Post.
How Covid-19 is changing the future of the health care industry
Where did the 6 feet rule come from?
CDC currently recommends that people say "at least six feet (about two arms' length) from other people who are not from your household in both indoor and outdoor spaces" to help prevent coronavirus transmission.
According to Guarino, the recommendation that six feet of separation can prevent a virus' spread stems from research conducted by Carl Flügge in the late-1800s, which suggested that a microbe-containing droplet couldn't travel further than six feet.
Why—and when—6 feet may not be enough
However, in later research, scientists found that Flügge's research didn't account for smaller droplets and particles that were invisible to the naked eye and could travel farther than six feet, Guarino reports. And when it comes to the novel coronavirus, experts say a variety of factors—including air circulation, ventilation, and crowd density—could contribute to whether six feet is enough separation to prevent the virus' spread.
Lydia Bourouiba, an author of the new analysis published in BMJ and a researcher of the fluid dynamics of infectious disease at the Massachusetts Institute of Technology, said, "It becomes very important to not think just about a fixed distance" with the new coronavirus. "It's very important to think about the air flow," as well.
For the new analysis, Bourouiba and colleagues reviewed several studies on how far respiratory droplets and areoles that could contain the new coronavirus can spread and how different activities, situations, and mitigation measures could affect those distances. Based on their review, the researchers put together a chart categorizing low-, medium-, and high-risk scenarios for spreading the new coronavirus. The chart, they wrote, "presents a guide to how transmission risk may vary with setting, occupancy level, contact time, and whether face coverings are worn," and applies "when everyone is asymptomatic"—meaning no one in the scenarios is experiencing symptoms of Covid-19, the disease caused by the coronavirus.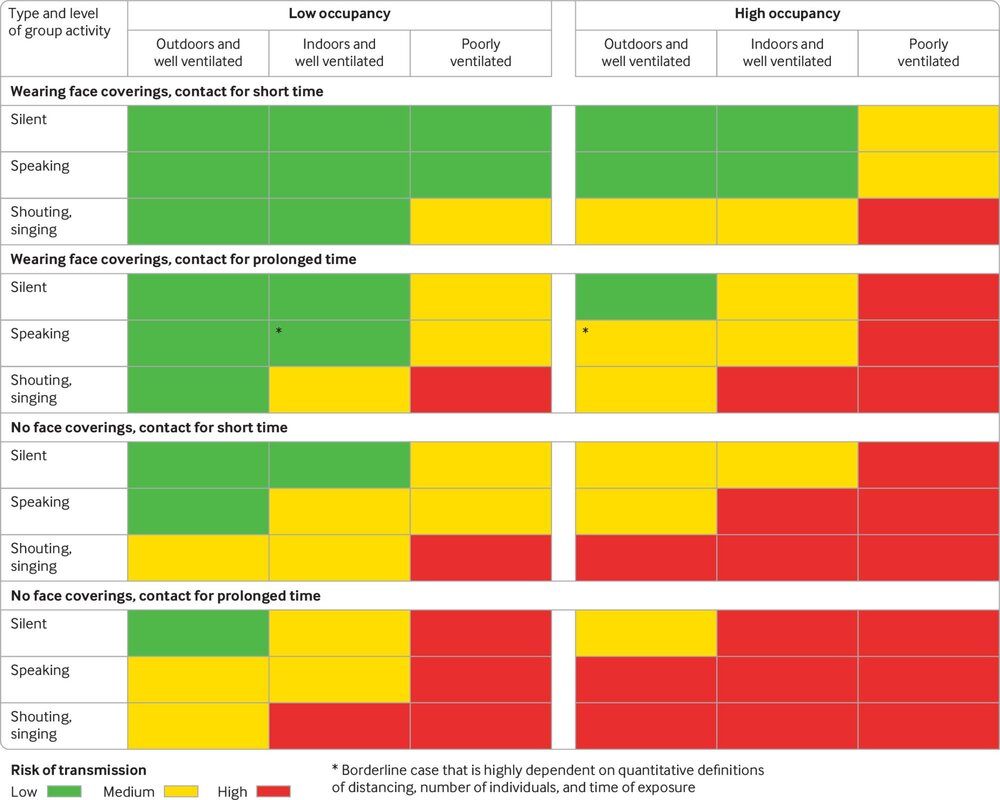 The researchers explained that, "[i]n the highest risk situations (indoor environments with poor ventilation, high levels of occupancy, prolonged contact time, and no face coverings, such as a crowded bar or night club) physical distancing beyond [six feet] and minimizing occupancy time should be considered." However, they added, "[l]ess stringent distancing is likely to be adequate in low risk scenarios."
But the researchers noted a key caveat: The levels of risk represented in the chart "are relative not absolute, especially in relation to thresholds of time and occupancy, and they do not include additional factors such as individuals' susceptibility to infection, shedding level from an infected person, indoor airflow patterns, and where someone is placed in relation to the infected person."
According to Bourouiba, the chart can help people "evaluate relative risk in a way that is more subtle than just a one-rule-hammers-it-all." For instance, she said, "If you're outside, it's very well-vented, it's completely open air, there are no stagnation points in the air flow and people are wearing masks," you're in a low-risk setting and likely can be closer to others than six feet with relative safety, Bourouibia said.
What does this mean for the 6-feet rule?
Overall, experts say the six-feet rule is a good place to start, but people should be aware that it's not panacea for preventing coronavirus transmission.
"I think six feet is a fine number, but we need to convey that this is a starting point," Linsey Marr, a civil and environmental engineering professor at Virginia Tech who was not involved with the BMJ analysis, told Guarino. Even "[b]eyond six feet doesn't mean there's zero risk," she added.
Jose-Luis Jimenez, an aerosol expert from the University of Colorado, told Guarino, "Distance alone will never solve the … problem" of the coronavirus likely spreading via areoles. In such a case, "[i]f you are in the same room, you can get infected," he explained.
Instead, Jimenez said, "[o]utdoors, distanced, and with well-fitted masks is the only thing close to a silver bullet" against coronavirus transmission (Guarino, Washington Post, 8/27; Jones et al., BMJ, 8/25).