NIH Director Francis Collins on Wednesday in a statement said he will decline invitations to speak at conferences that do not feature a sufficient number of women in prominent speaking slots.
Your 6-step plan to become a better public speaker
The rise of the 'manel'
Several studies have documented that men are overrepresented as speakers at scientific conferences. In fact, the phenomenon has spurred several mocking nicknames, including, "manference," "himposium," and "manel," according to the New York Times.
This overrepresentation occurs despite the fact, women, according to a 2017 NIH report, have earned the majority of doctoral degrees in biological science over the previous decade.
As head of NIH, Collins is one of the most prominent scientific speakers in the country. According to NIH, he has about 125 speaking engagements each year. He's often the keynote, but sometimes is a panelist.
Collins' pledge
In recognition his position as a leader in the field, Collins in a statement said, "I want to send a clear message of concern: it is time to end the tradition in science of all-male speaking panels, sometimes wryly referred to as 'manels.'" He continued, "Too often, women and members of other groups underrepresented in science are conspicuously missing in the marquee speaking slots at scientific meetings and other high-level conferences."
Collins said that when he's asked to speak at conferences, he will ask organizations to show "exactly how [they] handled this issue of inclusiveness." He will request a final roster 30 days before the engagement.
"If that attention to inclusiveness is not evident in the agenda, I will decline to take part," Collins said.
Collins said he would not specify a quota of female speakers or direct other NIH scientists to follow his lead because he "would not want anybody to do this because they're forced to." However, in the statement, he urged other scientists to adopt the practice as well.
Reaction
Scientists who have "long urged speaker diversity" applauded Collins' announcement, the Times reports.
Yael Niv, a Princeton neuroscientist, who started the website biaswatchneuro.com to monitor the gender balance of speakers at neuroscience conferences, said, "We've been working on this for years, and it's great to have someone who's a leading figure and a man do the same thing." She added, "People really want him at a conference—he brings the crowds. So if he says, 'I'm not coming to your conference to give the keynote speech because I don't see adequate representation,' that is huge."
Some prominent men in science echoed Collins' pledge, according to the Times. Jeremy Farrar, the director of the Wellcome Trust, tweeted to Collins that Farrar and others at his global health nonprofit organization "agree and have made a commitment and refuse to serve on panels or talk at events that do not honor the same commitment" (Bernstein, Washington Post, 6/12; Belluck, New York Times, 6/12; NIH statement, 6/12).
Here are 4 ways to be a less-stressed leader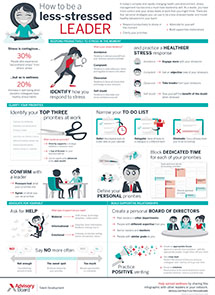 Stress is endemic in today's health care workforce, but the good news is that leaders have much more control over their stress levels at work than they might think. The most effective leaders take steps to proactively keep their own stress in check—while modeling healthy habits for their teams.
Use this infographic to review effective stress management strategies that can help you become a less-stressed leader.