More than 25% of rural U.S. residents have had trouble accessing health care in recent years, and almost half of them said it was because they couldn't afford it, according survey results NPR released Tuesday.  
Telehealth 101: Get the primer series
Poll details
The results represent findings from a survey NPR conducted with the Robert Wood Johnson Foundation and the Harvard T.H. Chan School of Public Health. Researchers conducted the survey to learn more about economic security and health after a separate survey last fall found 55% of rural U.S. residents characterized their economy as fair or poor.
The latest survey was conducted between Jan. 31 and March 2 and includes responses from 1,405 adults ages 18 and older who live in the rural United States. The researchers defined "rural" as areas that are not part of a Metropolitan Statistical Area, as defined by the 2016 National Exit Poll.
One quarter of rural adults struggle with health care access
The share of rural U.S. residents who are uninsured today is lower than it was a decade ago, according to the survey. The gains are due to in part to Affordable Care Act (ACA), including Medicaid expansion in states that have expanded the program under the law, NPR's "Shots" reports. 
However, while almost 90% of respondents reported having health insurance, 26% said they were unable to access the health care they needed at some point in the past few years.
Of the respondents who said they did not receive health care they needed:
45% said it was because they could not afford it;
23% said the health care location was too far away or too difficult to get to; 
22% said they could not get a health appointment that worked with their schedule; and
19% said they could not find a doctor who would take their insurance.  
Respondents' financial security, including their ability to afford unexpected expenses such as a medical bill, may have played a part in their ability to seek care, the report said. When asked if they would be able to pay off an unexpected expense, including medical bills that came to $1,000, 49% of respondents said they would not be able to afford it. The researchers found that figure varied by race. The share of rural residents who could not afford a $1,000 bill was:
68% among black rural residents;
62% among Latino/a rural residents; and
45% among white rural residents.
The survey also revealed that when rural residents do receive care, they sometimes experience problems with health care quality. According to the survey, 28% of rural U.S. residents reported having had issues with the quality of the health care they received in recent years.
Access and quality issues stem in part from hospital closings, which force residents to travel long distances for care, according to "Shots." When asked about the state of rural hospitals in their communities, about 8% of respondents said local hospitals have shut down in recent years. About two-thirds of respondents characterized the closures as a "problem" for their communities, while 38% said the closures were a "major problem."
The survey revealed that more rural U.S. residents with high-speed internet access are turning to telehealth to meet their health care needs, and the vast majority of people who are using telehealth are satisfied with the treatment. Of the 24% of rural adults who reported using telehealth for health care, 90% said they were very or somewhat satisfied with the treatment or diagnosis they received during the appointment.  
Implications
Robert Blendon, co-director of the survey and professor of health policy and political analysis at the Harvard T.H. Chan School of Public Health, said the survey results reveal a gap in health care access in rural America. "Either it is still not affordable for them or the insurance they have doesn't work—or they can't get care from the health providers that are in their community," he said. "At a time when we thought we had made major progress in reducing barriers to needed health care, the fact that one in four still face these barriers is an issue of national concern."
Further, Dee Davis, president and founder of the Center for Rural Strategies, said while Medicaid expansion and other parts of ACA did help rural communities gain better access, rural America is "not out of the woods yet." Davis added, "People in this congressional district have the shortest life span in the United States; we also are the poorest. We're poor and we're sicker" (Gooch, Becker's Hospital Review, 5/21; Neel/Neighmond, "Shots," NPR, 5/21, NPR/Robert Wood Johnson Foundation/Harvard T.H. Chan survey, May 2019).
Telehealth 101: Get the primer series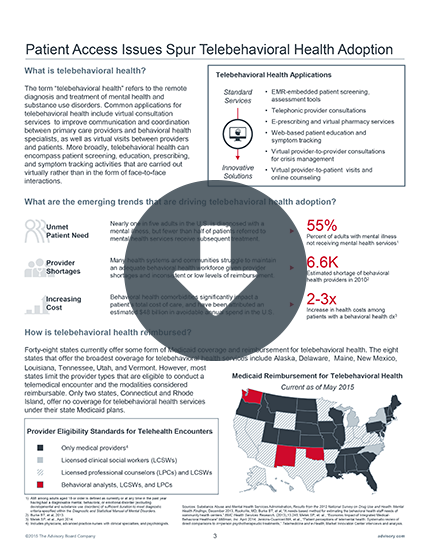 Need to get up to speed on the top issues in telehealth? Each installment in our primer series includes emerging trends, investment considerations, and case studies from top organizations, focusing on top areas such as: