For cancer patients, online groups can serve as a source of empathy and support at a vulnerable time, but it's not uncommon for these groups to be infiltrated by fraudsters who don't have cancer at all, Rósín Lanigan reports for The Atlantic.
Ready-to-present slides: Oncology market trends for 2019
An invite-only support group unearths a cancer 'faker'
When Stephany Angelacos was diagnosed with breast cancer, the internet was one of the first places she went for support, Lanigan reports. She found several groups filled with knowledgeable, supportive members who helped her through her treatment.
The experience encouraged her to start her own breast cancer Facebook support.
Angelacos' invite-only group has about 1,700 members, including patients, family members, and doctors, who serve as sources of information and comfort for those with cancer. But about two years ago, a woman named Marissa Marchand joined the group. Marchand told the group she was terminally ill and posted pictures of herself with her IV drip. Her head was bald.
Marchand became one of the most active and popular members in the group, Lanigan reports. She received sympathy as well as gifts and money from others in the group to help cover her medical costs.
Marchand's posts grew more extreme, members said. She posted that her son was being bullied over her diagnosis and that her dog had been shot.
One day, Marchand told the group that her cancer had spread and that her days were numbered. Then, she stopped posting.
Assuming the worst, Angelacos reached out to Marchand's family, to offer her condolences. It was then that she learned Marchand was alive and had never had cancer, Lanigan reports.
It turned out that around the time she stopped posting in the group, police had arrested Marchand for using a fake terminal diagnosis to solicit money on GoFundMe.
"The entire group was devastated, angry, and in a state of disbelief," Angelacos said.
Marchand isn't the only person to fake cancer. In fact, there have been several high-profile cases in recent years, Lanigan reports. Wellness blogger Belle Gibson in 2015 admitted she'd lied for years about having brain cancer. That same year, Candance Ann Streng was sentenced to up to 15 years in prison for fraudulently raising $30,000 on GoFoundMe for a cancer diagnosis she didn't have.
Lanigan spoke to 10 people from three online cancer support groups, and each of them said they were aware of at least one person who was outed for not having cancer. Some people said it had happened more than once.
Why do this? And why cancer?
While the fraudulent online contributors don't have cancer, they may have a factitious disorder, called Munchausen by Internet (MBI). The condition is a form of the mental disorder Munchhausen syndrome whereby people pretend to be sick or in fact make themselves sick to gain attention and sympathy.
Marc Feldman, the psychiatrist at the University of Alabama at Tuscaloosa who came up with the term MBI, said people who have the condition typically seek a need to control other's reactions, particularly if they feel out of control themselves.
Dawn Branley-Bell, a psychologist at Northumbria University who studies extreme online behaviors, said, "The internet makes it easier to portray ourselves as something we are not." She added, "Trolls often justify their actions by saying the online world is not 'real life,' so it doesn't matter what they do or say online. It is possible some users refuse to believe their [actions] online have real, psychological effects upon others."
But what makes online support groups for cancer patients specifically an attractive target for people with MBI?
There are several reasons, according to Branley-Bell and Feldman. For one, cancer is common and is talked about often enough that it can be easy to replicate, Branley-Bill noted. On top of that, there's lots of variability in circumstances for cancer patients. Lifespan varies, it's possible for cancer to go into remission then reappear, symptoms don't necessarily appear early on, and the illness can strike anyone.
"So few people would question an individual's self-report of having it," Feldman said.
Finding a 'faker'
It can be very difficult for groups to find a "faker," Lanigan reports, in large part because groups want to take people at their word and help those who are suffering. On top of that, the internet adds a layer of anonymity to the equation.
In such cases, to detect a "faker," Group members who suspect a member may be faking their diagnosis typically cross-post their findings in other groups that the member in question has also joined, Lanigan reports. Typically, Lanigan reports administrators take action only when other members have presented evidence that there's a "faker."
A word from cancer patients
Cancer survivors are often taken aback by scams from people with MBI.
Angelacos calls such people "soulless manipulators." She added, "They're missing the empathy chip that makes the rest of us truly human."
Incidents where imposters infiltrate a group take a toll on group morale, according Becca Jean Munoz, a breast-cancer survivor who runs her own Facebook support group.
"It really affects [a support group's] members when a fraudster is uncovered," she said. "We're sharing really personal details of our lives here, and fakers make a mockery of things."
Munoz said, "It blows my mind that someone would fake this disease for attention. It's sick" (Lanigan, The Atlantic, 5/6).
Get caught up on the latest trends in oncology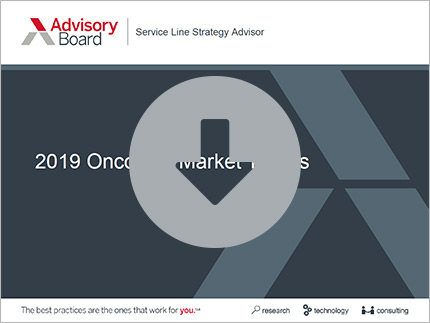 Our ready-to-use presentation contains the Advisory Board's most popular slides on oncology market trends, from growth outlook and financial considerations to new care management priorities and technology innovations.
Use the slides to frame your next strategy meeting and build a strong foundation for your presentation.