The Pennsylvania Supreme Court next month will hear oral arguments in a case brought by the state to compel two feuding health care players in western Pennsylvania to extend their in-network insurance contracts—marking the latest development in "one of the fiercest health care fights in the country," Fortune reports.
15 things your C-suite needs to know in 2019
Background
The tension between UPMC, a health system known for its research and university-affiliated hospitals, and Highmark Health, one of the biggest insurers in the country, dates back to 2011.
That year, as Highmark faced a request for a major rate increase from UPMC, it announced it would enter the provider space itself by acquiring a hospital system now known as Allegheny Health Network.
UPMC fired back, announcing that it would stop accepting Highmark-insured patients at the end of their existing contract. UPMC also moved aggressively to expand its own health plan.
State officials warned the dispute could reduce patients' access to care. In 2014, state regulators brokered a consent decree between the two organizations that provided certain Highmark-insured patients with in-network access to UPMC providers. According to Fortune, the 2014 deal aimed to ensure "vulnerable populations," such as the 227,000 people enrolled in Highmark's Medicare Advantage plans and several thousand enrolled in an employer-based Highmark plan, were able to continue seeing their UPMC providers at in-network rates.
However, the consent decree is set to expire June 30. UPMC has said Highmark enrollees will no longer have in-network access to its providers after that date. The state is again seeking to intervene and compel UPMC to continue accepting Highmark patients.  
The 'battle' continues
Pennsylvania's attorney general Josh Shapiro on Feb. 7 filed motions requesting the Commonwealth Court modify and extend the existing consent to require UPMC to contract with any insurer, including Highmark, that seeks access. Shapiro requested that the court mediate the process if the companies fail to agree to the changes. Highmark ultimately supported the changes, while UPMC contested them.
Aaron Billger, a spokesperson for Highmark, said the insurer supports Shapiro's motion and efforts to establish "a wide choice of providers for patients." However, UPMC in a filing opposing the motion said, "[Shapiro] is trying to take the consent decree out of existence and implement—by coercion—an entirely new agreement that would take effect when the current one expires."
A Pennsylvania court earlier this month sided with UPMC and denied Shapiro's motion, saying that the companies should adhere to the existing June 30 expiration date. But Shapiro appealed the ruling to the Pennsylvania state Supreme Court, which last week agreed to hear arguments in the case in May.
The implications for other health systems will be 'a big deal'
The impending ruling will have implications for health systems in Pennsylvania and nationwide, according to Fortune.
A ruling in Shapiro's favor could set the precedent for states to intervene on behalf of consumers when their access to care is made limited or when a health network gains too much market power, according to Fortune.
Martin Gaynor, a professor of economics and health policy at Carnegie Mellon University and former director of the Bureau of Economics at the Federal Trade Commission, said Shapiro's actions are unprecedented. "No other state attorney general has gotten this deeply involved in a health care dispute," he said. "He is asking for a major change in the way this marketplace works. If the litigation goes a certain way, it will certainly resonate nationally. It's a big deal."
Some experts, like Paul Ginsburg, director of the USC-Brookings Schaeffer Initiative for Health Policy, said Shapiro's actions could potentially have negative implications for health systems moving forward. "Insurers must be free to create their own networks of providers based on a host of factors, including quality of care and the fees they'll accept," he said. "That enhances competition, can lower costs and is good for consumers."
For its part, UPMC in February filed a federal lawsuit against Shapiro, claiming the AG's attempts to extend the agreement are "not legally enforceable" because they infringe on the operations of a competitive marketplace. The provider also claimed that the state offers "some of the lowest-cost health plans available anywhere." But U.S. District Judge John E. Jones last week dismissed UPMC's lawsuit (Findlay/Kaiser Health News, Fortune, 4/24; Meyer, Modern Healthcare, 4/27; Meyer, Modern Healthcare, 4/25; Mamula, Post-Gazette, 4/24; Gough, Pittsburgh Business Times, 3/18; Miller, PennLive.com, 7/27/2014).
15 things your C-suite needs to know in 2019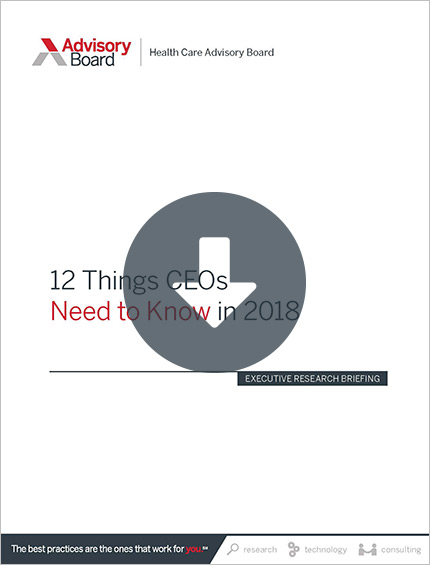 Mega-mergers. Vertical integration. Ever-changing policies and regulations. Amid all these new threats of disruption, no hospital or health system can afford inaction.
To survive and thrive in this rapidly changing landscape, leaders must develop a comprehensive margin management strategy—one that includes sustainable approaches to cost control and revenue growth. Download this briefing to learn the top 15 insights that will drive your health system's success in 2019 and beyond.