The average physician salary rose to $313,000 in 2019, but the gender pay gap among physicians grew, according to the Medscape Physician Compensation 2019 report.
Our take on how to address the physician gender wage gap
Report details
For the report, Medscape surveyed 19,328 physicians across more than 30 specialties from Oct. 25, 2018, to Feb. 14, 2019. Their responses were weighted based on the American Medical Association's physician distribution by gender, specialty, and state.
For the report, physicians provided the total amount of compensation they received for providing care. For example, employed clinicians reported their salary, bonus, and income from profit-sharing arrangements, while physician partners and those with solo practices reported their earnings before factoring in income taxes but after factoring in business taxes and deductibles.
Overall increase in compensation
Medscape found the average overall physician salary in 2019 is $313,000, up from $299,000 last year. The average primary care salary increased from $223,000 to $237,000, while the average specialist salary increased from $329,000 to $341,000.
Highest, lowest compensation by specialty
According to Medscape, the highest-paying specialty in 2019 is orthopedics at $482,000, while the lowest-paying specialty is public health and preventive medicine at $209,000.
The survey also found the top 10 states for physician compensation in 2019 are:
Oklahoma ($337,000);
Alabama ($330,000);
Nevada ($329,000);
Arkansas ($326,000);
Florida ($325,000);
Kentucky ($324,000);
Tennessee ($323,000);
Connecticut ($323,000);
Georgia ($322,000); and
Indiana ($322,000).
Gender, racial disparities persist
The survey also asked participants about their race and ethnicity. It found that Caucasian/white physicians had the highest average annual compensation, while African American/black physicians had the lowest.
Meanwhile, the gender compensation gap grew in 2019, according to Medscape. In 2019, male physicians earned 25% more than female physicians, up from an 18% pay gap in 2018.
(Kane, Medscape, 4/10).
What the future might hold for physician compensation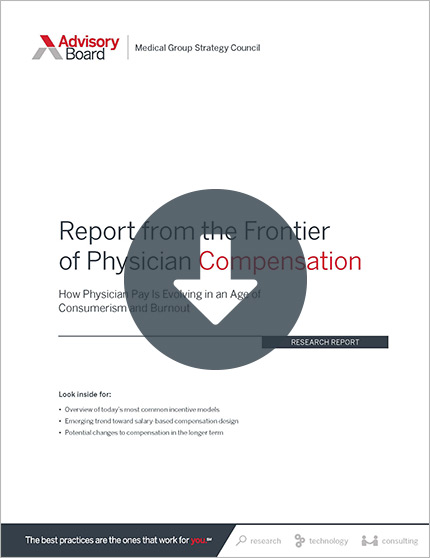 Learn about today's most common incentive models, the emerging trend toward salary-based compensation design, and potential changes to compensation in the longer-term.