Two large operators of Blue Cross and Blue Shield (BCBS) health plans on Monday announced that they plan to merge their administrative, management, and other functions to create one combined structure.
Learn 4 ways to unlock cost reduction through effective integration
According to the Wall Street Journal, mergers among BCBS insurers have been rare in recent years, but in the 1990s and early 2000s, merger agreements between BCBS insurers formed Anthem, which is the second largest health insurer in the United States.
BCBS of North Carolina, Cambia Health Solutions to merge
BCBS of North Carolina and Cambia Health Solutions, two nonprofit operators of BCBS health plans that offer coverage in a total of five states, said they intend to enter a 20-year agreement to share their administrative, management, operational, and other corporate services. The companies said they expect to generate operational savings by combining functions.
Under the agreement, the health plans will operate under Cambia Health Solutions' name, but will legally remain separate companies. Neither of the insurers will be formally acquired or receive a financial payout under the agreement, the Journal reports.
Patrick Conway, BCBS of North Carolina's CEO, will lead the combined structure, and Mark Ganz, Cambia's CEO, will serve as its executive chair. The combined structure will have a new board that will include nine members of Cambia's current board and 10 members of BCBS of North Carolina's current board.
BCBS of North Carolina, which generated $9.9 billion in revenue last year and covers 3.7 million U.S. residents, and Cambia, which generated about $6 billion in revenue last year and covers about 2.6 million U.S. residents, called the deal a "strategic affiliation."
The insurers said the deal is intended to allow both health plans to retain their local presence and have the flexibility to combine resources to invest in technology and other services. Specifically, the insurers said the agreement aims to accelerate the companies' progress toward developing new consumer tools and approaches for managing health data, the Journal reports. According to the Journal, Cambia already has made significant investments in technology and health offerings, and BCBS of North Carolina recently has taken steps to explore value-based payment options.
Ganz said, "This is about getting scale in innovation and moving faster." Ganz said both health plans "are focused on the communities [they] serve, and [they] think this will allow [the insurers] to deliver better results to them."
The companies said the agreement will require state regulators' approval. According to the Journal, the deal likely will "draw close national attention because both are members of the [BCBS] group of insurers … with deep local market share and a key role in the Affordable Care Act marketplaces" (Wilde Mathews, Wall Street Journal, 3/12; Japsen, Forbes, 3/12; Baker, "Vitals," Axios, 3/13; Goldberg, "Pulse," Politico, 3/13; Cambia release, 3/12). 
Next, learn how mega-mergers could impact your organization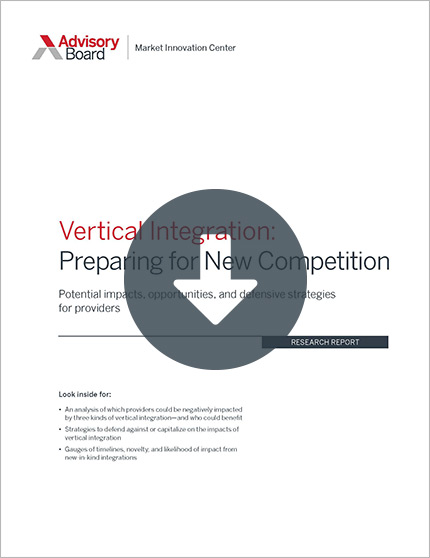 Health care mergers and acquisitions are hardly new, but many recent transactions involve vertical integration: new-in-kind combinations of major players resulting in unprecedented scale and scope.
Use this research report to plan for integrators' possible moves, forecast potential effects on your organization, and create a plan to defend against or capitalize on the changes.