Some of the country's largest medical schools have launched senior mentoring programs that seek to combat ageism in the health care industry and educate future doctors about the generation that makes up a large portion of today's patient population, Paula Span writes for the New York Times.
Market Scan: Review 4 primary care models for geriatric patients
Ageism in the doctor's office
One of the main goals of senior mentor programs is to help students identify ageism and learn about how it occurs. According to Span, geriatric providers say ageism can take many forms: interrupting elderly patients when they're speaking, using "infantilizing language" like sweetie, or having a family member speak on their behalf.
Ronald Adelman, co-chief of geriatrics at Weill Cornell who developed the school's senior mentoring program, said he's recorded and analyzed a number of visits in which a spouse or adult child accompanies a senior and starts asking all of the questions related to the patient. "The older person, who is cognitively fine, is just excluded, referred to as 'he' or 'she,'" Adelman said. "It can undermine the relationship between the older patient and the doctor."
What's more, Span writes that a large amount of medical research excludes seniors, which means doctors have to "make educated guesses about drugs and procedures, and how much they will help or hurt."
Marcia Levine, a retired family therapist, experienced ageism in the doctor's office firsthand, Span writes. Levine complained to her gastroenterologist that she was feeling fatigued and the doctor responded by saying, "At your age, you can't expect to have much energy." Levine later switched doctors and discovered that she actually had a low-grade infection.
How senior mentoring programs work
With patients like Levine mind, as many as 20 medical schools in the United States have introduced senior mentoring programs, according to Amit Shah, a geriatrician who helps direct the Mayo Clinic School of Medicine's Senior Sages program.
The structure of the programs varies by school. At the Medical University of South Carolina and at the Icahn School of Medicine at Mount Sinai, students are matched up with elderly patients they follow throughout medical school. Meanwhile, the University of North Carolina School of Medicine offers a senior mentoring program that is a semester long and Weill Cornell's program consists of a two-hour introduction.
Adelman said these programs give students an important perspective on the elderly. "Unfortunately, most education takes place within the hospital," he said. "If you're only seeing the hospitalized elderly, you're seeing the debilitated, the physically deteriorating, the demented. It's easy to pick up ageist stereotypes." He added that students need to take these programs because "[t]he elderly are who they will be caring for."
Positive results
So far, the programs seem to be helping patients better understand seniors, Span writes. Some administrators have found that students in the longer programs develop friendships with seniors, and often spend time together outside of the required interviews.
An evaluation of 10 senior mentoring programs published in the Journal of the American Geriatrics Society found that "the universal goal of positively influencing student attitudes toward older adults was resoundingly achieved."
Zachary Myslinski, a 24-year-old student at Weill Cornell who enrolled in their program, reflected on his own positive experience. "It made me more interested in working with an older patient population," he said.
The seniors seem to appreciate it too. Elizabeth Shepherd, one of the seniors involved in Weill Cornell's program, said the sessions are "a gift to us, as well as to them. It's an acknowledgement that we are important and of interest" (Span, New York Times, 10/12/18).
Cheat sheet: What you need to know about the geriatrics market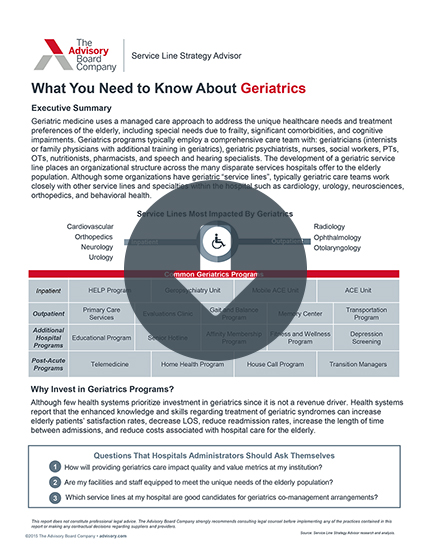 The United States Census Bureau projects the country's elderly population to double by 2050—and it's time for your geriatrics program to grow along with it.
Download this cheat sheet for everything you need to know about starting and running a successful geriatrics program.