Editor's note: This popular story from the Daily Briefing's archives was republished on Nov. 19, 2019.
While there's been some debate in the media over guidance to abstain from alcohol while pregnant, Jen Gunter, an OB-GYN shares what she deems "an inconvenient truth": "It's medically best not to drink alcohol in pregnancy. Not even a little."
Survey results: How do women choose their pregnancy care?
Pregnant women used to drink in the old days—what changed?
Prior to the 1970s, Gunter writes some doctors recommended alcohol to pregnant women "for relaxation and pain relief, or even prescribed it intravenously" to avoid premature labor.
But those recommendations changed in 1973 after an article published in The Lancet revealed that alcohol consumption during pregnancy can cause fetal alcohol syndrome (FAS), which impedes brain development, affects growth, and causes distinctive facial features.
Once the syndrome was formally recognized, "the pendulum swung hard," Gunter writes. Congress in 1988 passed the Alcoholic Beverage Labeling Act, which added warning labels to all alcoholic beverage. The warnings read, "[W]omen should not drink alcoholic beverages during pregnancy because of the risk of birth defects."
Some people saw the warning labels as "an opportunity to police pregnant women in public," Gunter writes. And this prompted many women to "rightly" be critical of sexism in medicine. But, they also began to wonder if the no-alcohol recommendation was employed as a way to control women's bodies.
But, while Gunter "believes strongly" that women have the right to make decisions about their own bodies, her experience as an OB/GYN has led her to an "inconvenient truth": pregnant women should not consume any alcohol, period.   
What the research says
According to Gunter, research on the issue is at a bit of a stand-still, since "giving pregnant women alcohol for medical testing is not likely to be accepted by ethics committees." But the results of existing studies are "staggering," she writes.
One European study surveyed pregnant women and new mothers for two months and found that 11.5% of the women said they consumed alcohol after they found out they were pregnant. However, 72% of the women who reported drinking had one five-ounce glass of wine or less for the duration of their pregnancy.
And there's new evidence that rates of fetal alcohol spectrum disorders in the United States "are higher than we knew," Gunter writes. For example, a study published in JAMA in 2018 evaluated 3,000 children and found "[t]he way we are consuming alcohol in pregnancy is resulting in a conservative estimate of 1.1 to 5% of children—up to 1 in 20—with" fetal alcohol syndrome. By those numbers, Gunter writes, FAS is more prevalent than autism, according to the American College of Obstetricians and Gynecologists.
Evaluating the risk
"The truth is that … (FAS) is far more common than people think, and we have no ability to say accurately what level of alcohol consumption is risk free," Gunter writes.
"The best analogy for the risk ... is driving with your newborn unbuckled in the back seat," Gunter writes. "Maybe you'll get into a car accident and maybe you won't ... if you do, maybe it will be a fender bender or maybe it will be catastrophic."
While Gunter writes that "medicine has been hopelessly patriarchal since, well, medicine started," she writes that giving women the "accurat[e]" information they need to make informed decisions about their bodies "is the antithesis of the patriarchy. It is power" (Gunter, "The Cycle," New York Times, 2/5).
Next: How do women choose their pregnancy care?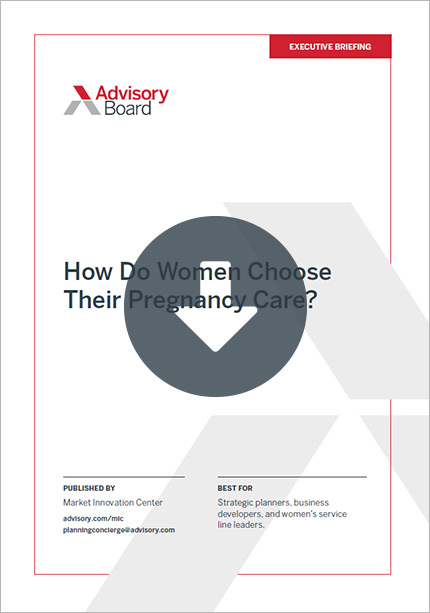 Learn what nearly 2,000 consumers said about what is most important when choosing a new gynecologist or provider to oversee their pregnancy.