The purchase marks Tenet Healthcare's exit from the Chicago market, in today's bite-sized hospital and health industry news from the District of Columbia, Illinois, Massachusetts, and Wisconsin.
District of Columbia/Wisconsin: Rep. Gwen Moore (D-Wis.) during a House Ways and Means Committee hearing Tuesday announced that she was diagnosed with small cell lymphoma about 10 months ago and that the cancer is now in remission. Moore said she made the announcement to show the committee that she is "a living example of the lifesaving value of essential health benefits" (Sonmez, Washington Post, 1/29).
Illinois: Tenet Healthcare announced Tuesday that it sold its three remaining Chicago-based hospitals to Pipeline Health, finalizing the company's exit from the Chicago market. The hospitals sold to Pipeline Health were West Suburban Medical Center, Louis A. Weiss Memorial Hospital, and Westlake Hospital. With the deal, Pipeline Health became an eight-hospital system (Ellison, Becker's Hospital Review, 1/29; Kacik, Modern Healthcare, 1/29).
Massachusetts: Partners HealthCare announced Tuesday that President and CEO David Torchiana will retire in April. Torchiana has served as CEO of the health system since March. Torchiana previously served as chair and CEO of the Massachusetts General Physicians Organization (Kacik, Modern Healthcare, 1/29).
Next, learn how mega-mergers could impact your organization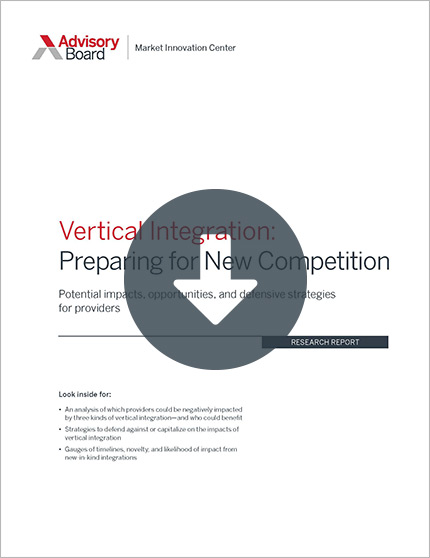 Health care mergers and acquisitions are hardly new, but many recent transactions involve vertical integration: new-in-kind combinations of major players resulting in unprecedented scale and scope.
Use this research report to plan for integrators' possible moves, forecast potential effects on your organization, and create a plan to defend against or capitalize on the changes.