By Jackie Kimmell, Senior Analyst
While hospital leaders may discount labor and delivery as a lower-revenue service, a new survey conducted by Advisory Board researchers found that attracting expecting mothers can pay off by creating long-term hospital loyalty. In fact, 74% of mothers surveyed say they received subsequent care at the facility in which they delivered. And this isn't just because they chose to deliver at their usual facility—35% of mothers who gave birth at a system they didn't usually frequent said they returned for other care.
But how can your hospital or health system attract expectant mothers? And how can you keep them loyal to the system once they've delivered? Our new research brief, exploring How Women Chose Their Pregnancy Care, shows that the answer lies with building loyalty in the years before pregnancy. To learn more about how do this, as well as two other insights from our survey of nearly 2,000 women, read on.
Then, be sure you register for our webconference tomorrow at 1 pm ET where we'll be reviewing this survey in more depth, as well as diving into the results of four other studies that planners should know about in 2019.
Three insights into how women chose where to deliver:
Choosing an OB/GYN and delivery site is no easy task. Expectant mothers need to feel safe and secure in their birthing environment and must trust their provider to handle both theirs and their unborn child's life. So what are the main factors that women use to make those decisions? Advisory Board's survey highlighted three main insights.
1. The pregnancy pathway begins with gynecology
One of the key findings in the survey was that a majority of women—61%—were not planning on finding a new provider when they became pregnant, but rather aimed to use their current gynecologist for their delivery. For hospitals looking to attract new patients, this may seem like a discouraging statistic. But it actually highlights a new marketing opportunity targeting preliminary gynecology services.
And this marketing should be consumer-oriented. OB/GYNs attract the most self-referrals (45%) of any other service line. This means that, compared to a service line like cardiology where only 14% of those with private insurance are self-referred, it's incredibly important for providers to look beyond referral networks and appeal directly to the consumers themselves.
2. ...But that doesn't mean women aren't already thinking about obstetrics
Perhaps because so many women are planning on delivering with their current gynecologist, obstetrics-related factors are an important part of their provider choice. This is true even for women who don't plan to get pregnant for at least 10 years. Indeed, when the survey asked women to rank the most important of 47 attributes in selecting a gynecologist, half of the top 10 attributes were related to delivery. For instance, women wanted an OB/GYN who delivers babies at a facility with good quality scores (ranked second most important) and with specialized services for babies, like a NICU (ranked fourth most important).
In comparison, routine gynecology quality scores (like having a high rate of preventative cancer screenings) ranked 9th most important of the 47. This means that advertising for gynecology alone isn't enough to appeal to women. Rather, it's best to emphasize your gynecologists' affiliations with delivery facilities, and to clearly highlight those facilities' delivery quality scores, accreditations, and specialized birth services.
3. In bridging the gap between gynecology and obstetrics, the ability to have a private and intimate experience is highly appealing
So what makes a woman decide to stay with their gynecologist through delivery?
While a number of factors matter, such as the gynecologist's bedside manner, the delivery facility dominates most women's preferences in where they'll actually deliver. Some attributes they are looking for in the facility, like whether they are in-network or close to the woman may be hard to influence, but one seems to have an outsized influence: Having a private family space.
This privacy trumps even the most luxurious amenities. Women rank that "the postpartum room is not shared with another woman" far above an en suite bassinet or spa-like amenities such as message or luxury linens. Indeed, many of the factors indicating a private and intimate delivery experience, such as the ability of the newborn to sleep in the mother's room instead of a separate nursery, were highly ranked by survey respondents.
These insights just scrape the surface of what our researchers discovered about what women want in their pregnancy care. To learn much more, including what drives loyalty once a woman has given birth and why women may switch providers between pregnancies, be sure to download the full report.
And don't miss out on the opportunity to hear our experts explain these findings and their implications for planners. They'll be diving into the results, as well as the results of a survey of 2,000 orthopedic patients, their research on how to build an innovative digital strategy, and what you need to know about how to prepare for vertical integration tomorrow, January 16th at 1 pm ET.
Take a closer look at women's pregnancy care preferences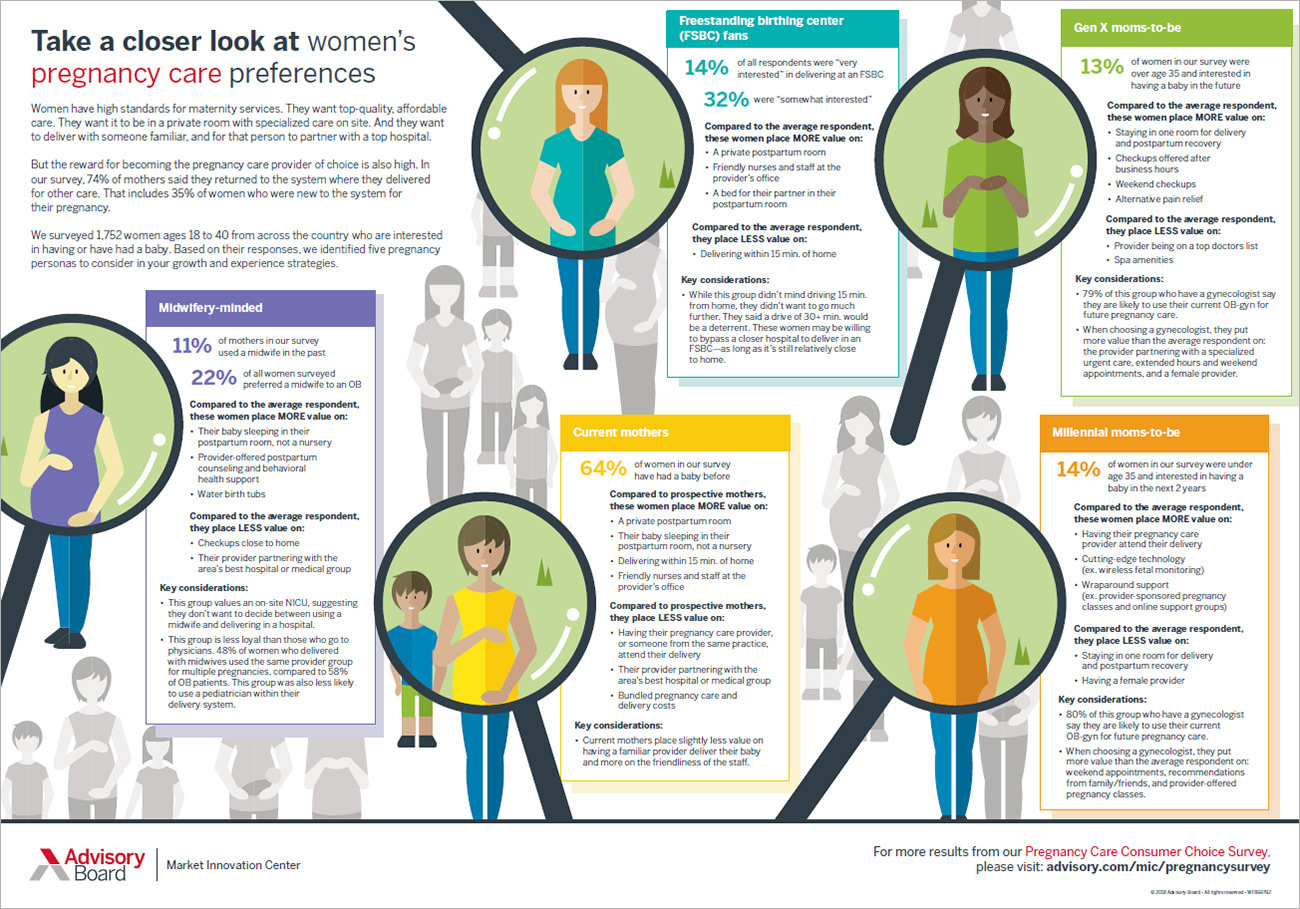 In How do Women Choose Their Pregnancy Care?, we found that 74% of surveyed mothers returned to the system where they delivered for care. Given the loyalty implications of appealing to and providing a positive experience for pregnant women, we identified five key pregnancy personas to consider in your growth and experience strategies. Use this infographic to explore the care preferences of these different patient segments.