Drugmakers Bristol-Myers Squibb and Celgene on Thursday announced that they have reached an agreement for Bristol-Myers to purchase Celgene in a cash and stock deal valued at $74 billion. 
According to CNBC, the boards of both companies have approved the deal, which is subject to regulatory and shareholder approval and is expected to close in the third quarter of this year. The combined company could be "the fourth largest pharmaceutical company in the United States," CNN Business reports.
Agreement details
The companies said Bristol-Myers Chair and CEO Giovanni Caforio will serve as the combined company's CEO and chair if the deal is finalized, and two members of Celgene's board will serve on Bristol-Myers' board.
If the deal is finalized, the combined company will own nine products that each generate more than $1 billion in annual sales, the Journal reports. The companies said their current pipelines also include six products that are expected to launch in the near-term and represent more than $15 billion in potential revenue.
Under the agreement, Celgene shareholders would receive $50 in cash plus one share of Bristol-Myers for each share of Celgene that they hold. That combined offer is valued at $102.43 per share of Celgene, which is about 53.7% higher than Celgene's share price when the market closed Wednesday, CNBC reports. If the deal closes, Bristol-Myers shareholders would own about 69% of the combined company, while Celgene shareholder would own about 31%.
According to the Wall Street Journal, Celgene shareholders under the agreement also would receive one tradable Contingent Value Right (CVR) for each of their shares. "Each CVR will entitle its holder to receive a one-time potential payment of $9 in cash upon FDA approval of three drugs," the Journal reports. According to the Journal, companies typically include CVRs in their agreements when the buyer and seller cannot agree on a purchase price. CVRs usually are tied to regulatory or sales targets, the Journal reports.
According to CNBC, Celgene focuses on manufacturing cancer treatments, and has been working on an experimental CART T-cell therapy, which "is a highly competitive and potentially lucrative area of biotechnology."
Bristol-Myers Chair and CEO Giovanni Caforio said, "Together with Celgene, we are creating an innovative biopharma leader, with leading franchises and a deep and broad pipeline that will drive sustainable growth and deliver new options for patients across a range of serious diseases."
According to CNBC, Celgene's share prices increased by 28% to nearly $85 per share in premarket trading after the companies made the announcement, while the price of Bristol-Myers shares fell by 11% (Lovelace, CNBC, 1/3; Al-Muslim, Wall Street Journal, 1/3; Isidore, CNN Business, 1/3).
Next, learn how mega-mergers could impact your organization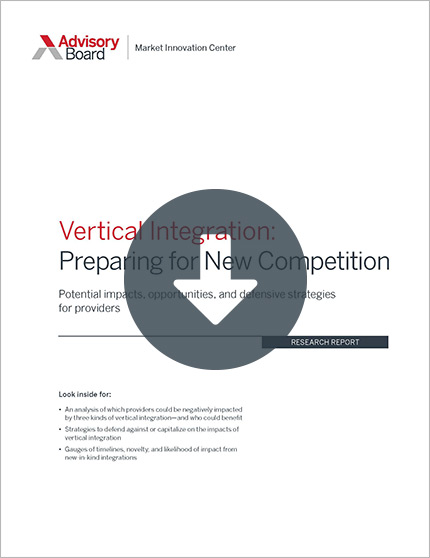 Health care mergers and acquisitions are hardly new, but many recent transactions involve vertical integration: new-in-kind combinations of major players resulting in unprecedented scale and scope.
Use this research report to plan for integrators' possible moves, forecast potential effects on your organization, and create a plan to defend against or capitalize on the changes.