U.S. hospitals annually treat tens of thousands of seriously ill patients who've travelled from abroad, but care for these patients "is complex and, often, messy" in part because providers lack "effective tools to screen potential patients in real-time for who would most benefit" from care in a U.S. hospital, Richard Leiter, a palliative care physician and researcher at the Dana Farber Cancer Institute, writes for the New York Times' "Well."
Why foreign patients come to the US
Between 100,000 and 200,000 seriously ill patients travel to the United States for treatment each year, according to a 2015 report from the United States international Trade Commission.
The patients are usually very ill when they arrive, with conditions such as cancer or heart disease.  According to Leister, "Many of these patients are personally wealthy," while others "are financially supported by their governments to seek out lifesaving care." As such, some of the largest and most elite U.S. health care institutions are seeking international patients out to stabilize their bottom line.
"On its face, this arrangement is a win-win," Leiter writes, adding, "We provide patients with diagnostics and treatments unavailable to them at home, and they provide us with additional funds to fulfill our academic and social missions."
But, "[w]hen you dig deeper ... it becomes clear that care for international patients is complex," Leiter writes. A patient who is not sick enough could have benefited from treatment in their home country, while a patient who is too sick comes "here to die," away from their family and friends.
Ethical and moral dilemmas
For large academic medical centers, international patient programs can bring to light the hospitals' conflicting obligations to the local community and the world as a whole: "Is an international patient 'taking up a bed' that could otherwise be used for a vulnerable domestic patient? Or is the international patient providing funds that can be used toward other clinical and research programs," Leiter asks.  
And while patients who travel from abroad gain access to advanced end-of-life or palliative care they may not otherwise have at home, they also face challenges when they come to the United States for treatment, Leiter writes.
These patients must "enter a foreign medical culture, which may have different standards and expectations for doctor-patient communication, especially around sensitive issues like serious illness and death," Leiter explains.
Further, if treatment is ineffective the patients have to decide whether they'd rather die at home or in the United States, a question that comes with both cultural and physical challenges as "[a]ir travel for a seriously ill patient is medically, financially, and logistically challenging," Leiter writes.
Leiter recalls his own international patient, a middle aged man from Saudi Arabia who had an incurable gall bladder cancer and came to the United States with his son in search of treatment.
"I need you to do everything for him," the patient's son told Leiter in Arabic through an interpreter. But, Leiter explained that there was no cure.
"We were at an impasse," Leiter writes. "We had many tools available to treat our patient's pain and ease his suffering. But the young man wanted something more —a cure for his father, my patient."
The patient continued to get sicker and eventually could no longer make decisions for himself. "We compassionately tried to help his son understand that if he wanted to take his father home alive, now was the time." But with tears streaming down his face, the son said, "I can't do that. ... No one else in the family knows he has cancer."
Leiter's patient passed in the ICU.
Understanding international patients
As U.S. hospitals continue to seek out international patients—and as those patients continue to seek out U.S. care—Leiter writes that it's imperative for providers to learn more "about the experiences and challenges faced by our patients from abroad."
Leiter writes, "To move forward, clinicians need to engage with health system administrators, economists, ethicists, social scientists and, most importantly, the patients and communities we serve, be they in our backyards or half a world away."
He continues, "I've cared for many other international patients over the years. Some of their stories ended within our walls. Some had happy endings with cured patients traveling home to grateful families. Many ended with patients returning to their home countries to spend their remaining weeks with their loved ones in familiar surroundings. For others still, we simply do not know" (Leiter, New York Times, 12/13).
What your patients expect from their care—from millennials to the silent generation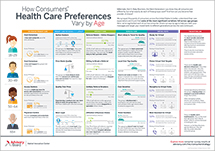 Millennials, Gen X, Baby Boomers, the Silent Generation—what exactly do each of these groups want from their health care?
We surveyed thousands of consumers across the United States to find out. Download this infographic to learn how to tailor your messages and target your investments to each generation.