At a time when physician burnout is rising, some physicians are opting to ditch the busy brick-and-mortar practice across town and instead see patients from the comfort of their own homes, Catherine Ho reports for the San Francisco Chronicle.
Where all 50 states stand on telehealth, mapped
Telemedicine is 'booming'
Ian Tong, an internist who trained at University of Chicago, hasn't had an in-person appointment with a patient in two years. He usually conducts appointments at home with his laptop, often guiding patients through self-exams over nine-minute video calls, Ho reports.
Tong is the CMO for Doctor on Demand, a telemedicine company that employs about 150 physicians, who mainly work from home in locations throughout the country.
Heather Hawthorne, a family doctor in Overland Park, Kansas, is one of those physicians. Hawthorne one day recently picked up a two-hour shift on a whim, while her toddler son napped nearby. She signed on later to work her usual four-hour shift after her husband got home.
"I'd never have imagined this is a job I'd be able to do from home," she said.  
Doctor On Demand is one of the many organizations that are "riding the telemedicine boom" by providing patients with accessible, fast care through video chats and phone calls, Ho reports. Doctor on Demand reached one million patient visits this spring, and, given the increasing popularity of telemedicine, the company projects that the number will double by next year.
What doctors like about telemedicine
About 15% of the American Academy of Family Physicians reported practicing telemedicine in 2014. The share increased to 20% by 2017, according to Steven Waldren, a member of the academy. "Over the last decade we've seen significant growth in telemedicine, and in the last five years we've seen significant growth in consumer-generated telemedicine where the patient is at home or on vacation," Waldren said.
Telemedicine not only makes treatment more accessible for patients, it also simplifies the day for doctors to conduct appointments, Ho reports.
Telemedicine provides doctors with scheduling flexibility that "just isn't there in a traditional brick and mortar practice," Hawthorne said.
According to Tong, the flexible hours ease physician burnout. He noted that the company's physician retention rate is over 90%.
"In the [ED], I worked daytime, evenings, nights, weekends," said Tony Yuan, a former emergency physician and medical director for Doctor On Demand. "The toll of the schedule, the stress of work, it made me pretty unhappy about continuing to practice medicine," he said.
Some drawbacks
In some ways, Doctor on Demand is similar to a traditional practice, Ho reports. But the video-chat appointments do come with "clinical limitations," Ho reports.
The doctors can order lab tests and prescribe medications, but without the ability to do physical exams, perform tests, or administer injections, doctors are limited in how they can treat patients. Doctors also may find it more difficult to build relationships with patients. Telemedicine patients tend to contact the first doctor available for a "one-off problem" like a cough instead of waiting to meet with a doctor they've seen before, Ho reports.
And, when it comes to treating patients, doctors are mostly on their own, Ho reports. Hawthorne explained, "If you talk to physicians in other settings, a big part of taking care of patients is (talking to) your colleague like, 'Hey, I don't know what this rash is,' and you'll ask the doctor in the next exam room. ... I don't have that" (Ho, San Francisco Chronicle, 12/1).
Telehealth 101: Get the primer series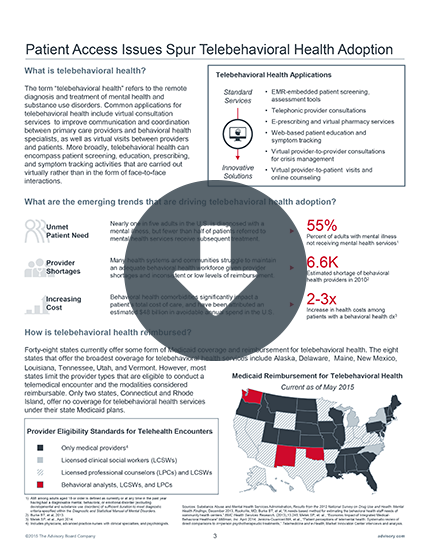 Need to get up to speed on the top issues in telehealth? Each installment in our primer series includes emerging trends, investment considerations, and case studies from top organizations, focusing on top areas such as: