Read Advisory Board's take: Two key takeaways from this news
FDA on Monday gave accelerated approval to Loxo Oncology's cancer drug Vitrakvi to treat patients with advanced solid tumors containing a specific gene mutation known as a neurotrophic receptor tyrosine kinase (NTRK) gene fusion.
The drug is the second cancer treatment approved by FDA to target a common biomarker, or genetic feature, in a tumor no matter where it appears in the body, rather than based on the specific tissue where a tumor originated.
FDA said the approval marks a "new paradigm" in using precision medicine to create cancer drugs that are "tissue agnostic," meaning the treatment is not specific to one organ, such as the breast or colon. 
Vitrakvi details
FDA approved Vitrakvi, also called larotrectinib, for both adults and children who have solid, cancerous tumors that have a NTRK gene fusion—a gene mutation that can cause uncontrolled cell growth that can lead to cancer in the neck, head, lung, and thyroid, the Washington Post reports. FDA said the drug can also be used on solid tumors that are metastatic, continue to spread after treatment, or can cause severe morbidity if surgically removed.
FDA based its approval on the results of three clinical trials involving 55 children and adults who had different types of solid tumors. About 75% of patients experienced a response to the drug; 73% of those responses lasted at least six months, while 39% of the responses lasted at least one year. The trials showed common side effects included dizziness, fatigue, and nausea.
Loxo CEO Josh Bilenker estimated about 2,000 to 3,000 U.S. residents annually develop the types of cancers that the drug could treat. The company priced the drug at $32,800 for a 30-day treatment for adults and $11,000 per month for pediatric patients.
Loxo Oncology and its partner Bayer expect patients after insurance would have to pay $20 or less in out-of-pocket costs each month. Bayer also said it would provide financial assistance to patients who cannot cover the cost of the drug. The company also said it would refund payers' and patients' costs if the drug does not provide clinical benefit in the first three months.
Is this the future of cancer treatment?
According to FDA, the drug could be a lifesaving development for patients with these rare cancers who struggle to afford current treatment options.
FDA Commissioner Scott Gottlieb said, "This new site-agnostic oncology therapy isn't specific to a cancer arising in a particular body organ, such as breast or colon cancer. [The treatment's] approval reflects advances in the use of biomarkers to guide drug development and the more targeted delivery of medicine." He added, "We now have the ability to make sure that the right patients get the right treatment at the right time."
But Bilenker said the biggest challenge for Loxo will be identifying patients with the specific gene mutation who could benefit from the new treatment, as doing so requires patients to undergo genetic testing—a service some private insurers do not cover (Bacon, USA Today, 11/28; FDA News Release, 11/26; McGinley, Washington Post, 11/26).
Advisory Board's take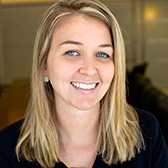 Deirdre Saulet, Practice Manager, Oncology Roundtable
There are two things associated with the FDA's approval of Vitrakvi that struck me.
"This raises questions and concerns about patient access to [genomic] testing"
First, it is only the second drug (after Keytruda) to receive FDA approval based on the tumor's genetic makeup, rather than its location in the body. This reflects the field's progression towards precision medicine. Of course, this progression comes with a stipulation: To tell if patients would benefit from this drug, they need to undergo genomic testing to see if their tumor has this specific gene fusion. And this raises questions and concerns about patient access to this testing. While genomic sequencing is becoming more standard at progressive research organizations (for example, Intermountain recently announced all newly diagnosed patients would receive germline testing in 2019), making sure all patients are referred for appropriate testing—no matter where they're treated—is a tougher task.
Second, Bayer has rolled out two financial programs for the drug. The first is comprehensive patient support and assistance, a common occurrence for today's cancer drugs. The second, and more interesting, component is the "Vitrakvi Commitment Program" which Bayer says will refund the cost of the drug to payers and patients (and other organizations paying on behalf of the patients) if they don't receive clinical benefit within 90 days of treatment initiation. This is one of few instances of outcomes-based contracts in oncology and will likely be a test case for their future use. Indeed, since CMS reportedly abandoned its outcomes-based contract for Kymriah (a CAR T-cell therapy with a price tag of $475,000) earlier this year, there's been a lot of discussion about the viability and effectiveness of these contracts. Only time will tell if the Vitravki agreement will improve patient access.
To learn more about what over 170 cancer programs told us about how they are offering molecular testing and immunotherapy to patients, read our expert insight: How oncology programs are providing access to precision medicine.
Then, to learn more about the innovations that are shaping the field of oncology, and how to balance economic realities with the need for innovation, read our research reports on Clinical Innovations in Oncology.