Beginning in January, Walmart will require employees who need spinal surgery to get the procedure at one of a handful of hospitals nationwide that the company has selected for offering better-quality care at lower prices, Melanie Evans reports for the Wall Street Journal.
Get the pros and cons of 3 types of patient navigator spine programs
Background
Walmart is self-insured and provides health benefits to more than one million people. Like other large companies, Walmart has been testing ways to restrain growing health care costs, the Wall Street Journal reports.
In 2013, Walmart began covering the full cost of travel and treatment for employees who chose to go to a designated hospital for heart, hip, knee replacement, and spinal procedures. However, it continued to allow employees to seek the procedures locally if they preferred.
Last year, Walmart began requiring employees to pay 50% of the out-of-network costs for spinal surgeries at non-preferred hospitals in an effort to encourage more employees to travel for treatment. Even so, many employees chose to have their surgeries performed locally.
Details on the new policy
Under the new policy, Walmart next year will mandate travel to one of its designated hospitals for any employee seeking a spinal surgery under Walmart's self-insured health plan.
Spinal surgeries include procedures to reduce pain, typically in the lower back, stemming from herniated or degenerated disks. Employees in need of those surgeries will be able to go to one of several well-known hospitals, including the various Mayo Clinic facilities across the United States, Geisinger Health System facilities in Pennsylvania, and Memorial Hermann Health System facilities in Texas.
Lisa Woods, who oversees the company's health plan, said they decided to make the change after discovering half of the employees who traveled for treatment ended up discovering that they didn't actually need the surgery recommended by their local doctors.
Charles Rosen, the Mayo Clinic's medical director for contracting and payer relations, explained that doctors at the health system often found the patients could be better treated with physical therapy and spine-stabilizing injections.
Walmart has not disclosed how much it expects to save from the policy change, but Woods suggested it was a necessary step to ensure employees received the right and best care (Evans, Wall Street Journal, 11/14; Baker, "Vitals," Axios, 11/15; Dyrda, Becker's Hospital Review, 10/11/2016).
Learn 4 ways pharmacy can help reduce employee benefit costs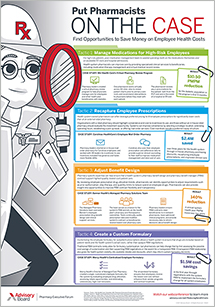 Our latest research revealed a significant savings opportunity for self-insured health systems that take an active approach to managing their pharmacy benefit, often with help from their own health system pharmacists.
This infographic outlines four pharmacy-led tactics to improve employee medication management and support HR leaders in reducing employee benefit costs. Download it to get details about each tactic, examples of how your peers put them into action, and the resulting impact on health system spend.