When a patient with a history of mental health conditions refused a life-saving treatment—and the pleas of his estranged family—doctors at SUNY Downstate Medical Center changed tactics, treating the patient's depression symptoms first, and getting him to agree to the life-saving procedure second, Elizabeth Hlavinka reports for MedPage Today.
5 myths physicians believe about patient experience
The case at hand
Last month at an American Academy of Psychiatry and the Law (AAPL) meeting, Ramaswamy Viswanathan, a doctor at SUNY Downstate Medical Center, presented the case of a 76-year-old patient, previously diagnosed with depression, type-1 bipolar disorder, and alcohol use disorder, who'd been admitted to SUNY after a suicide attempt.
During his stay, doctors discovered the patient has an abnormally slow heartbeat. The doctors gave the patient a temporary external pacemaker, and told him he'd need a permanent pacemaker to correct the issue. But Viswanathan said the patient refused the treatment and said nothing could treat his "soul pain."
As Viswanathan recalled, this left providers in a difficult situation. Patients have the right to deny potentially life-saving treatments if they are competent to make the decision. But severe depression or comorbid personality disorders can affect a patient's competence—or their ability to reason, appreciate, and understand—which can interfere with their capacity to give informed consent regarding treatment, according to Paul Appelbaum of Columbia University.
When a patient is not competent to give informed consent, "someone [else] needs to make that choice for them," Appelbaum said.
When should physicians intervene?
An evaluation deemed that the SUNY patient did not have the competence to make his own decisions about treatment, so Viswanathan reached out to the patient's 27-year-old grandson. But the patient and his grandson had been estranged for years, and the patient refused to let his grandson make treatment decisions.   
Without a designated family member to weigh in on treatment options, Viswanathan had to find a way to manage the patient's depression and increase his competence so he could make his own decisions.
To do that, Viswanathan received hospital approval to use ketamine off label to treat the patient's depressive symptoms—and the patient agreed to the treatment.
Once the ketamine treatment was scheduled, the patient changed his mind and agreed to the permanent pacemaker.
Why did the patient change his mind?
The patient said "family pressure" led him to agree to the internal pacemaker, but Viswanathan said there may also have been other factors at play, Hlavinka reports.
For example, Viswanathan said the ketamine treatment proposal could have alleviated the patient's hopelessness.
Another possibility, according to Viswanathan, was the attention the patient received from his family after years of isolation might have improved his mental wellbeing.
In addition, the patient's decision might not have been rooted strongly one way or the other, given that he was unstable, Viswanathan said.
Viswanathan also said that "priming," a phenomenon where a patient who agrees to one treatment is more likely to agree to another, could have been at play—especially if the patient never felt strongly about receiving or refusing the treatment.
What should physicians do?
After hearing the case, most physicians agreed with Viswanathan's course of action. That said, Appelbaum noted that each case should be viewed individually.  
Bruce Gage from the Washington State Department of Corrections said that, when evaluating patients' competence, psychiatrists should assess the patient's health as a whole instead of focusing solely on their cognitive function.
For instance, some physicians who are familiar with the case said cardiac complications might have contributed to the patient's depression, and treatment of that condition could have changed his mood.
"There's no doubt we are much more feeling machines than thinking machines. I think the field needs to take a step back and think more about...the body," Gage said. He added that if a depressed patient's "body feels better, then all of a sudden, things are different and the idea of dying doesn't seem so important to him" (Hlavinka, MedPage Today, 10/26).
5 myths physicians believe about patient experience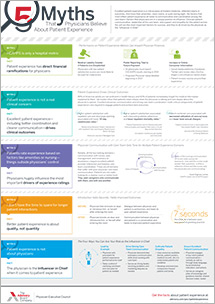 Excellent patient experience is a critical piece of modern medicine, reflected clearly in outcomes. And more than amenities, clean rooms, or quiet during night, the factors that most inflect patient experience all relate to communication and coordination among the care team—factors that physicians are in a unique position to influence.
Clinician-patient communication, leadership of the care team, and support and empathy for the patient across the unit are the most important factors for success, and they're all driven by the physician as the "Influencer in Chief."