The Leapfrog Group released its fall Hospital Safety Grades last week, and hospitals in some states fared far better than others on patient safety metrics.
Just updated: Your 1-page guide to understanding Leapfrog's rating metrics and methodologies
About the ratings
For the ratings, Leapfrog assigned "A" to "F" letter grades to 2,650  general acute-care hospitals in the United States based on 13 process and structural measures and 15 outcome measures that represent medical errors, accidents, injuries, and infections.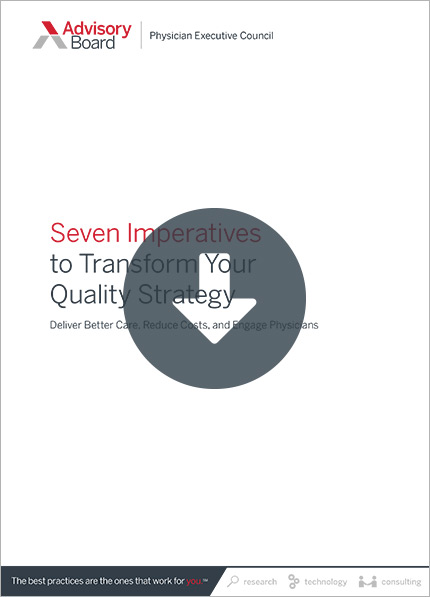 Seven imperatives to transform your quality strategy
In the latest report, 855 hospitals, or about 32% of all graded hospitals, earned an "A" rating. New Jersey had the highest share of hospitals rated "A" out of any state—at 56.72%—while Delaware, North Dakota, and Washington, D.C., tied for last, with zero "A" hospitals.
While only 1% of hospitals received an "F" rating, those hospitals were scattered throughout the country, including hospitals in California, Florida, Illinois, Indiana, Louisiana, Mississippi, New York, New Jersey, New Mexico, and South Carolina.
Leah Binder, president and CEO of The Leapfrog Group, said, "Health care was an important issue in the 2018 mid-term elections, yet both parties are still neglecting the third leading cause of death in America—errors and infections in hospitals."
Where the 'A' hospitals are located
Below is a map of the percentage of "A" graded hospitals in each state:
Ratings for each hospital are available on Leapfrog's HospitalSafetyGrade.org website (Castellucci, Modern Healthcare, 11/8; Leapfrog release, 11/8).
Cheat sheets: Learn how Leapfrog—and 4 other ratings programs—actually work
Download our one page sheets for summaries on the methodology and metric categories used in seven hospital quality rating programs: