Editor's note: This popular story from the Daily Briefing's archives was republished on May 10, 2021.
Rotterdam Eye Hospital improved patient-safety audits and staff morale by having team members play a 10-minute card game at the start of every shift, Roel van der Heijde and Dirk Deichmann write for the Harvard Business Review.
The manager's guide to engaging and motivating staff
How it works
Van der Heijde, former senior consultant at Rotterdam, designed the game and Deichmann, assistant professor at Erasmus University's Rotterdam School of Management, studied its effects.
The game works like this: At the start of each shift, the team gets together for a quick huddle. Every team member rates their mood as one of three colors:
Green (I'm good);
Orange (I'm alright but concerned about a few things); or
Red (I'm stressed).
After that, the team leader will ask each member if there's anything the team needs to know to work more effectively next shift. Finally, at the end of the meeting, each team member draws two cards from a special deck. The cards are divided in two—one card tests a person's knowledge, and the other gives them an assignment to observe something during their shift and share those findings in the next-day's meeting.
Positive results
While the initiative sounds simple, it's been effective, van der Heijde and Deichmann write. Since implementing the card game in 2015, Rotterdam has seen its scores on patient-safety audits rise from an 8.0 to a 9.2 on a 10-point scale.
The game has also encouraged team members to get to know each other better, which is reassuring to patients, van der Heijde and Deichmann write. According to one doctor at the hospital, the biggest advantage of the game "is that I know who I am working with today. Now I know their names and how they are doing."
And the game is not just for health care providers: A custodial staff member from Rotterdam's rehabilitation center said the game has helped the staff member "understand the importance of some patient safety measures more, and now I know how I contribute to them." A nutrition assistant at the hospital said, "I now feel part of the caregiver team. I know now I am not only providing food but am part of making a patient feel safe."
The game has also encouraged information sharing between staff members who don't usually have an opportunity to talk to each other, van der Heijde and Deichmann write. For instance, a question in the card game about what to do when a person finds unused medicine led a cleaning person to mention she found pills in a patient's bed. This let the doctor know the patient wasn't taking the medication as prescribed.
Rotterdam has begun introducing the game to other members of the World Association of Eye Hospitals in Australia, Singapore, and the United Kingdom.
How your facility can implement this game
For any facility to implement this game, it requires a few things, van der Heijde and Deichmann write. First, it requires a card game specifically made for your facility's culture and challenges. For example, a hospital may need to focus on medication safety while a nursing home may prefer to focus on end-of-life care.
Second, the game requires consistency. It won't work if it's played infrequently, van der Heijde and Deichmann write.
Finally, everyone on staff must participate. If everyone knows they're all participating, the game is more likely to work, and van der Heijde and Deichmann don't just mean clinical teams, but even those in human resources and finance.
"We sometimes act as if health care organizations are big machines. But the fact is that the quality of health care depends ultimately on the collective performance of many small teams," van der Heijde and Deichmann write. "The 'team-start' huddle and patient experience card game suggests that performance can improve once we take into account the full perspective and emotional needs of the people who are actually delivering that care" (van der Heijde/Deichmann, Harvard Business Review, 10/30).
Boost staff morale with 6 customizable recognition cards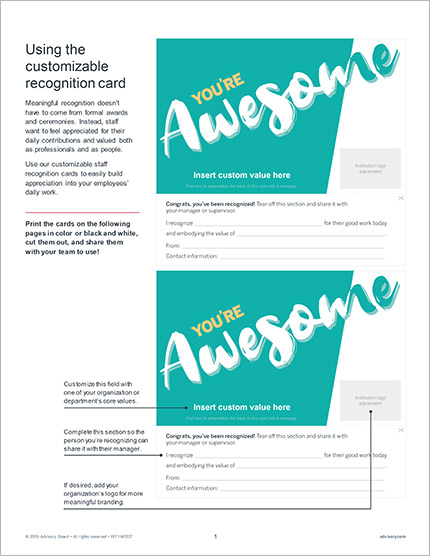 Effective recognition is key to improving staff morale—but many employees don't feel their contributions are adequately acknowledged.
Use the Customizable Staff Recognition Card to easily build appreciation into your employees' daily work. Choose from six different designs—then just print, cut out, and share.