Editor's note: This popular story from the Daily Briefing's archives was republished on Dec. 6, 2019.
By Gina Lohr, Senior Consultant
If you're like most of us, your email inbox is overflowing with vague, unnecessary, or unactionable emails—but let's face it: You've probably sent more than a few emails that fall into those categories, too.
Here are the four questions to ask yourself before you hit "send" to make sure your next email gets the response you need.
The 4 questions to ask before you hit 'send'
Is email the right mode of communication? Before you even draft an email, you should take a moment to make sure that is best way to communicate your question or action.

If the matter at hand is urgent, a more immediate form of communication—such as an interoffice messenger, phone call, or an in-person discussion—may be more efficient.

If it's not urgent, consider holding your email until the end of the day or workweek. That way, you can include all non-urgent questions or actions in one email, and reduce the number of emails clogging up your co-workers' inboxes.

Does the email contain the right information to explain my problem/proposal? Once you've decided email is the best approach, you need to make sure the context is right.

If you're emailing about a problem, consider including a summary of the steps you've already taken to try to resolve the problem before soliciting you manager's or team's opinion.

If you're emailing about a new or existing proposal, be sure to properly explain the situation and your rationale for proposing this course of action and be specific on the parts where you need further guidance.

Is my question or requested action step clear? We've found that highlighting explicit requests by placing them higher in the email or bolding the text can help to draw the reader's eye to the request.

When possible, you should also take a few moments to make it easy for your recipient to take the requested action. If you're asking someone to send a note, for instance, you can provide suggested scripting. If you're passing along FYI information, such as an article, you can summarize the key takeaways.

Offering a deadline can also help the email recipient to properly prioritize their response while ensuring you receive a timely reply.

Am I prepared for follow-up questions—and can I preemptively address them? Before sending any email, you should take a moment or two and consider the recipient's potential reply. That knowledge could enable you to go one step further in your initial email to gather all of the information you need.

For example, instead of just asking whether someone is planning to join a call, you could also ask for materials you'll need on the call: potential talking points, questions, and so on.
The bottom line
Effective communication is essential in any work environment. Team members often rely on one another to complete projects, fact-check information, or schedule last minute meetings or outings. By taking a moment before you hit send to think through the above questions, you can avoid over-contacting your team and get faster, better responses when you do reach out.
Learn more: How to become an inbox ninja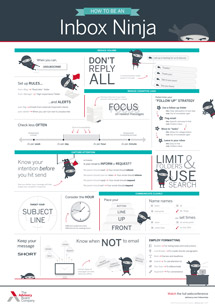 Many otherwise high-performing professionals struggle with using email to accomplish their goals. So, what does it take to be an inbox ninja? Download this infographic to get key best practices for email-specific writing and email management.