In recent years, Amazon has looked for ways to increase its footprint in the health care industry—and one critical access hospital demonstrates how fully integrating Amazon Business can reform hospitals' supply-chain operations, Alex Kacik reports for Modern Healthcare reports.
Executives rank Amazon as the most likely to disrupt health care—are they right?
For health care providers, supply-chain related costs represent the second largest expense after labor, and one of the first places hospital officials look to lower costs.
At Summit Pacific Medical Center in Elma, Washington, hospital officials turned to Amazon Business to streamline supply-chain operations and lower costs, Modern Healthcare reports.
How Summit Pacific use Amazon Business
Today, Summit Pacific has fully integrated Amazon Business into its supply chain operations using Amazon's Dash Buttons, according to Matthew Palcich, Summit Pacific's business analytics and logistics manager.
Dash Buttons are internet-connected devices linked to a user's Amazon account that allow a user to instantly request items for delivery using previously completed payment and shipment information. The devices trigger a confirmation email to authorize the order, which deliver two days after an order is confirmed. 
While Amazon Business is not equipped to deliver specialized medical tools, such as imaging equipment or implants, Summit Pacific uses the devices to order and deliver other needed medical supplies, such as gloves and syringes. Palcich said Amazon Business is able to supply 90% of Summit Pacific's supply chain needs.
Managers at Summit Pacific use Amazon Business to decide which products will be orderable through the Dash buttons. According to Modern Healthcare, managers use the platform to compare and negotiate prices before an item is added the automated Dash system.  
What are the benefits of using Amazon Business? Cheaper shipping, streamlined operations, and more.
Palcich said Amazon Business has created visibility for the hospital's supply chain, lowered its shipping costs, and streamlined the hospital's operations—which ultimately allowed Summit Pacific to cut supply chain-related labor costs by 80%.
Amazon Business Prime has also narrowed the hospital's vendor portfolio and reduced expenses tied to lead time delays and shipping upcharges. Palcich said, "Amazon freed up a ton of time for us on our tail spend related to IT goods, medical supplies and marketing materials. Things are moving more and more to medical supplies. It could be a really good fit for nonstock sterile tools."
As a result of Summit Pacific's automated procurement process, providers at the hospital spend less time addressing supply-chain issues and more time on patient care, Palcich said.
Palcich also said Amazon Businesses is useful for market research, as customer service representatives for Amazon Business typically are more responsive than the customer representatives for Amazon's vendors. He added training employees to use the Amazon Dash Button or other Amazon tools such as Alexa to order items is virtually unnecessary, because most employees know how to order products through Amazon. 
Palcich said, "At the end of the day Amazon lets us save a bunch of money, especially where we typically struggled with one-off marketing requests and custom orders. The breadth of offerings is probably bigger than any other distributor that I have seen."
What are the challenges of using Amazon Business?
While Amazon Business has benefited Summit, the adoption has not been without its challenges, Palcich said. For example, it can be difficult for the hospital to verify vendors, Modern Healthcare reports.
Experts said another issue is Amazon's current inability to handle high-margin items requiring storage in temperature-controlled environments or under other conditions.
Tim Hagler, director of supply-chain management for the SouthEast Alaska Regional Health Consortium, said using an Amazon-sourced supplier for alerts and recalls might also be a potential issue.
"Amazon can be totally disruptive, in a good way, to many areas of the supply chain, until you need to depend on a supplier for recalls and alerts," Hagler said. "So medical products are a concern. But the health care value analysis and supply-chain practitioners will eventually engage with solutions, either through Amazon Business or someone else, that will let us move past that issue with confidence."
The future of Amazon in the medical supply chain
While Amazon is not yet prepared to provide supplies to large health systems, industry observers have said its capital, efficiency, scale, and reliability have positioned the company to be a dominant player in the health care supply-chain market, Modern Healthcare reports.
John Kupice—CEO of H-Source, a private marketplace for hospitals to buy, sell, and transfer excess orders of inventory supplies and capital equipment—said, "In time Amazon can be a tremendous force. In the short term, it would be much more effective in critical-access hospitals that don't have as much infrastructure as medium or large hospitals. It brings them more sophisticated tools than they are able to acquire or implement."
Chris Holt, Amazon's leader of global health care, said, "We are just trying to figure out what we learned in other industries and how we have architected our own infrastructure to figure out how we can help health care migrate to simpler solutions. This is not a unique health care problem" (Kacik, Modern Healthcare, 9/29).
Toward true sustainability: 8 lessons on building a cost-disciplined enterprise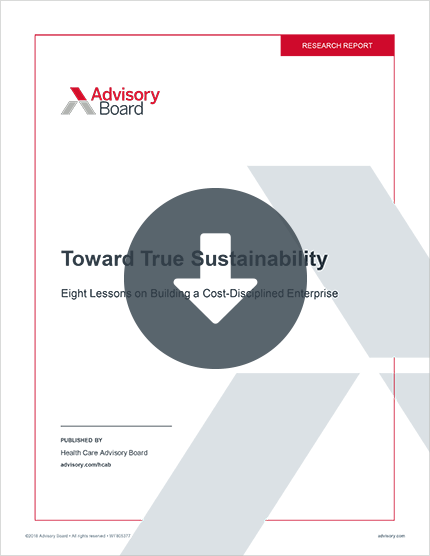 In 2017, nonprofit hospital operating expense growth outpaced operating revenue growth for the second consecutive year, pushing median operating margins to an all-time low.
Explore the characteristics of cost-disciplined organizations and examine the role of hospital and health system executives in achieving sustainable expense growth.