The 26th installment of the Daily Briefing's Architectural Design Showcase features 19 EDs.
Click through the slideshow to see the projects.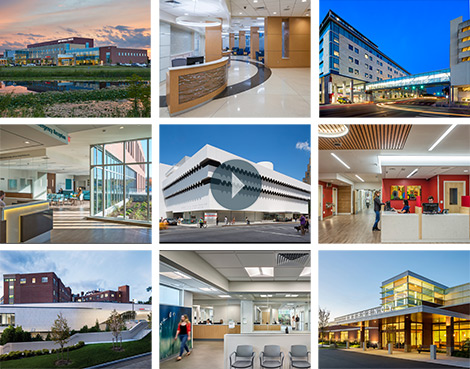 AECOM: Built in 1994 to serve 35,000 patients annually, the original ED began facing yearly volumes exceeding 60,000 visits. To address the strain, AECOM renovated Augusta Health's emergency department. The facility nearly doubled in size and has improved the flow and the overall care experience for patients, families and caregivers. (© 2018 AECOM)


Array Architects: For Inspira Health Network's Greenfield Hospital Emergency Department, Array Architects built discrete event simulation models for using patient data to show resource utilization and waiting times for different patient types. The simulation results helped physicians see the benefits of operating under a universal model. (© 2017 Array Architects)


Ballinger: Ballinger's use of pre-fabricated structural modules allowed Cooper University Health Care Emergency Department to add a split flow unit (with results pending) to their existing ED faster than traditional design/construction and with less disruption to their ongoing operations. The rooms provide long-term flexibility in a space that has abundant natural light and vibrant landscape graphics. (© 2018 Halkin Mason Photography)


BSA LifeStructures: MHP Major Hospital's emergency department focuses on the goals of flexibility, patient and family-centered care, staff efficiency, and improved medical outcomes. Designed by BSA LifeStructures, the adjacent ambulatory care center acts as a holding area for those that may not need to be admitted but still need observation and care. This concept reduces patient flow congestion in the emergency department and makes ED exam rooms available for additional patients that require emergency care. (© 2017 BSA LifeStructures/Tony Frederick Photography)


CannonDesign: A "Super-Track" to improved patient outcomes, Northwell Health Huntington Hospital's Emergency Department, expanded and renovated by CannonDesign, now has double the treatment capacity of its original ED. The new ED's split-flow model more effectively manages patient wait times and reduces length of stay. (© 2017 Scott Frances)


Davis Partnership Architects: Davis Partnership Architects designed a 21,000 SF emergency department renovation at Sentara Northern Virginia Medical Center. The project provides a patient-friendly experience while addressing staff concerns such as improved communication with clinical teams, security/infection control concerns, staff process/flow and improving staff and patient visibility. (© 2018 Scott Long Construction)


Devenney Group Ltd., Architects: Dignity Health—St. Joseph's Westgate Medical Center's 24-bed facility in Glendale, Arizona, integrates evidence-based design with advancements in care delivery and energy efficiency. Designed by Devenney Group, the emergency department is supported by a central lab, radiology, and a Universal Care Center that accommodates volume peaks, increasing the 12 exam ED to 24. (© 2014 Devenney Group Ltd., Architects)


Eppstein Uhen Architects: To increase community access to emergency services, the 65,000 SF addition to the ProHealth Care D.N. Greenwald Center enhances the patient experience while supporting clinical excellence. Eppstein Uhen Architects designed the freestanding emergency department using Lean principals to maximize efficiencies and biophilic design to exemplify nature, a combination that merges function with form and creates an environment that allows staff to excel and patients to heal. (© 2016 C&N Photography, LLC)


ESa: ESa's phased expansion of Methodist Children's Hospital increased the capacity of the Emergency Department by doubling the number of exam rooms and creating a new entry. Natural light, color, and artwork are intended to ease the stress and anxiety of young patients. (© 2009 James F. Wilson)


Hord Coplan Macht: Hord Coplan Macht designed the Queen Anne's Emergency Center Medical Park, located on Maryland's Eastern Shore. Included in the facility are 12 exam rooms, 1 resuscitation room, CT room, radiation room, laboratory, and required support spaces. (© 2010 Alan Gilbert Photography)


JE Dunn: As part of the new teaching hospital, the new Level 1 Trauma Emergency Department at the University of Texas' Seton Medical Center provides critical care services for the entire region, and was designed and built with staff and community input. Constructed by JE Dunn, the ED includes 40 exam rooms, 8 triage bays, 6 trauma bays, and 2 helipads with direct elevator access to the ED. (© 2017 Brian Mihealsick, JE Dunn Construction Company)


Kahler Slater: Designed by Kahler Slater, the Centegra Hospital Huntley Emergency Department addresses the current crowding crisis and creates a more appropriate process by allowing providers to care for less acute patients in a more efficient manner while using the main emergency department beds to care for more acutely ill patients. (© 2016 Wheelock Photography)


Perkins Eastman: Northwell Health purchased the iconic O'Toole building, originally designed by the late midcentury modernist Albert C. Ledner, to bring emergency care back to Greenwich Village, Manhattan, in the form of Lenox Health Greenwich Village. The adaptive reuse, renovation, and preservation effort, led by Perkins Eastman, accommodated an ambulance bay for emergency vehicle use, a walk-in entrance for the ED, and a separate entrance for patient surgery and imaging. (© 2014 Chris Cooper courtesy Perkins Eastman)


RLF: The new 31,000 GSF expansion and renovation of the Health Central Hospital Emergency Department provides a modern, flexible chassis for the delivery of emergency care. RLF's design provides 52 treatment spaces integrating imaging, pharmacy, and laboratory services plus 16 observation spaces, maximizing both function and the patient experience. (© 2016 Ken West Photography)


The S/L/A/M Collaborative: Middlesex Hospital Shoreline Medical Center is an 80,000 SF facility featuring radiology services with dedicated women's imaging, laboratory services, a cancer center, a primary care center, and a full-fledged 24-bed emergency department, designed by the S/L/A/M Collaborative. This facility replaced the oldest outpatient center in the region. (© 2015 John Giammatteo)


SmithGroup: The new Milford Regional ED is nearly doubled in size to support 70,000 annual visits as well as continued advances in technology and treatment methodologies. SmithGroup used biophilic design principles to promote patient wellness while transforming the patient experience from arrival to discharge. (© 2015 Richard Mandelkorn Photography)


TMPartners: TMPartners designed the Emergency Department addition at TriStar StoneCrest Medical Center with rooms that can function as both exam and observation rooms, while dedicated pediatrics and low acuity areas are located near the front of the ED to minimize patient travel. (© 2018 Tom Gatlin Photography)


TreanorHL: TreanorHL designed the freestanding UCHealth Emergency Department—Harmony Campus on the existing outpatient campus to support the health system's goal of superior community-based care. The 24/7 facility includes private exam rooms, computed tomography, ultrasound & X-ray services, laboratory, retail pharmacy, and specialized equipment/space for victims of sexual assault examinations. (© 2015 H+L Architecture)


ZGF Architects: Designed by ZGF, the Legacy Good Samaritan Emergency Department remodel improves work flow and staff efficiency through implementation of Lean principles and provides a peaceful and supportive interior environment that enhances the quality of the ED experience for patients, staff, and visitors. (© 2015 Pete Eckert / Eckert & Eckert)
---
Make your patients healthy and your ED happy with community paramedicine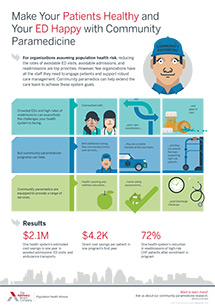 For organizations assuming population health risk, top priorities include reducing the rates of avoidable ED visits, avoidable admissions, and readmissions. But most organizations don't have all the staff they need to engage patients and support robust care management.
Our infographic explains how community paramedics can help extend the care team to achieve these system goals.