New research is helping hospitals find superbugs in places providers hadn't previously thought to clean. Here are the unexpected places where germs are turning up—and how three hospitals are fighting them, Lucette Lagnado reports for the Wall Street Journal.
The current state of hospital antibiotic stewardship
What's hiding on that stethoscope?
A recent study surprised doctors, residents, and medical students by revealing bacteria on a piece of equipment they carry with them all day: their stethoscopes.
For the study, researchers looked at the stethoscopes of about 50 physicians, medical residents, and medical students at VA Connecticut Healthcare System. When the study participants saw large pictures of the bacteria found on their stethoscopes, "there was an audible reaction" that included "yucks," according to Daniel Federman, a physician who works at the hospital where the study took place.
When he saw the images, Federman said, he "was appalled." He added, "The basic fact is that I don't recall cleaning my stethoscope."
Stethoscopes can carry as many germs as "parts of the physician's dominant hand" following "a single physical examination," according to a 2014 study in the Mayo Clinic Proceedings. Another clinical study, conducted by NYU Langone Hospital—Brooklyn, found Methicillin-resistant Staphylococcus aureus—which can cause fatal infections—on the diaphragms of stethoscopes examined for contamination.
Some researchers said there is no definitive proof that unwashed stethoscopes directly contribute to the spread of infection, but others said that doctors should be more diligent about cleaning stethoscopes by using sanitizing foam to clean the diaphragm after each use.
More unexpected places where superbugs are hiding
Along with stethoscopes, here are a few other common hospital fixtures that accumulate bacteria:
Blood pressure cuffs: The Velcro on the sleeves collects bacteria and makes the cuffs difficult to sanitize;
IV poles and pumps: Throughout the day, doctors, patients, and nurses touch the poles;
Wheelchairs: Patients in open-backed hospital gowns might touch the seats and backs of the chairs with their skin, which can cause contamination; and
Bed railings: Hospital staff, patients, and visitors touch bed railings during check-ins and visits.
What 3 hospitals are doing to prevent contamination
As superbugs turn up in more—and unlikelier—places, several hospitals are taking new steps to prevent their spread.
Sentara Healthcare of Norfolk, Va., is using copper countertops, bed rails, and bed tables to fight the accumulation of germs and spread of infection. It is also investing in copper-infused patient gowns, bed sheets, towels, and washcloths.
Howard Kern, president and CEO of Sentara, said that in a recent study a hospital building with copper furniture saw a significant reduction in "superbugs," Megan Knowles reports for Becker's Clinical Leadership & Infection Control. 
Kern plans to add copper furniture and linens to more Sentara hospitals.
Meanwhile, Stamford Health in Stamford, Conn., is prioritizing "environmental hygiene" by ensuring that staff don't have to use computer keyboards to access records, according to Michael Parry, director of infectious diseases. The 305-bed hospital has a computer in every room so that staff "aren't taking the computer from room to room," Parry said.
And two neonatal intensive care units at Mattel Children's Hospital UCLA were declared "handshake-free zones" in 2016 to prevent physicians from spreading germs to patients. The reset of the hospital wasn't "ready to recommend handshake-free zones," according to Mark Sklansky, chief of pediatric cardiology. Even so, the hospital still posts signs that discourage handshakes (Knowles, Becker's Clinical Leadership & Infection Control, 9/10; Lagnado, Wall Street Journal, 9/8).
Next: The bacteria on a plane—and how to avoid them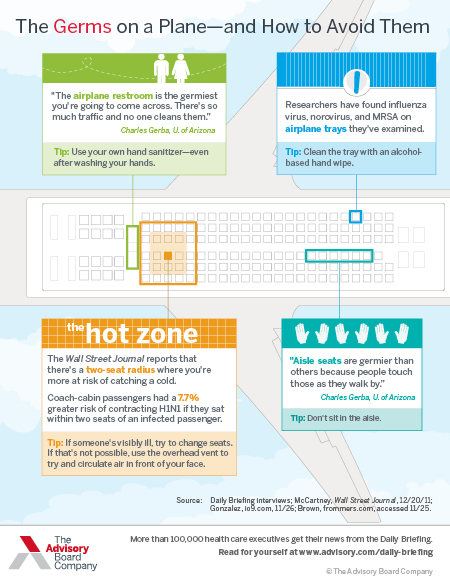 Download this infographic to learn about both the obvious and less obvious locations where germs on planes are rampant.