Read Advisory Board's take: 5 ways your hospital can prepare for the health impacts of a disaster.
Hundreds of hospitals in Hurricane Florence's path initially hunkered down or temporarily closed to weather the brunt of the storm—but many of those facilities are back up and running, coordinating with state officials and other providers to ensure patients get the care they need.
Details on the storm
Hurricane Florence made landfall on Friday at 7:15 a.m. in North Carolina with winds of 90 miles per hour. The National Hurricane Center (NHC) on Friday downgraded Florence from a hurricane to a tropical storm and then on Sunday at 5 a.m. downgraded Florence from a tropical storm to a tropical depression. Federal officials said that although the storm had weakened, it remained dangerous.
The storm has caused widespread flooding, which Neil Jacobs of the National Oceanic and Atmospheric Administration said raises the potential for landslides. As of Saturday, more than 730,000 residents in North Carolina and about 120,000 in South Carolina did not have power. As of Sunday at 7:27 p.m., 11 people in North Carolina and six people in South Carolina had died as a result of the storm.
Aftermath of the storm
Overall, an estimated 177 hospitals, nursing homes, and medical facilities were in the hurricane's path in South Carolina, and 40 hospitals were in the hurricane's path in North Carolina.
The North Carolina Healthcare Association (NCHA) on Saturday announced several hospitals—including Onslow Memorial Hospital in Jacksonville and Moore Regional Hospital—did not have inbound or outbound phone services as a result of damage caused by the storm.
NCHA said the New Hanover Regional Medical Center (NHRMC) in Wilmington has been unable to receive inbound calls, so it launched a temporary line to handle calls from families interested in checking on patients at the hospital.
Some hospitals also experienced power outages, which can affect access to electronic health record (EHR) systems. To mitigate any gaps in patient care, hospitals accepting patients affected by the storm plan to use health information exchanges (HIEs), which allow providers to access  patient data from other health care systems, Modern Healthcare reports.
In preparation for the storm, eHealth Exchange, one of the largest HIEs in the United States, reached out to providers to link their EHRs to HIEs. Jay Nakashima, vice president of eHealth Exchange, said, "HIEs are charged with making sure that information is available so physicians can provide safe and informed care. These patients are away from home, and it's critical physicians know their allergies, their precise medications, and their comorbidities before they deliver treatment."
Hospitals reopen
Ahead of the storm, South Carolina Gov. Henry McMaster (R) ordered the mandatory evacuation of patients—with the exception of a few who are extremely ill—at several hospitals. Several other hospitals closed.
Effective Sunday morning, South Carolina Gov. Henry McMaster (R) lifted mandatory medical evacuations for the hospitals in the affected region. McMaster also ended evacuations orders for all but two counties—Horry and Georgetown—in the affected areas, but state officials warned residents about flooding over the next few days.
Tideland Health's South Carolina hospitals resumed ED services on Saturday at 10 a.m. at Tidelands Georgetown Memorial Hospital and Tidelands Waccamaw Community Hospital, which had been evacuated as a result of the storm. The health system's outpatient facilities reopened Monday, though officials said some elective procedures have been rescheduled. Gayle Resetar, chief operating officer for Tidelands Health, said, "It's important that we resume full operations as soon as possible to care for our patients. Not only do we need to care for anyone who may be injured in the aftermath of the storm, it's also important we're available to provide the high-quality care our community members depend upon in their daily lives to stay healthy and well."
Grand Strand Regional Medical Center in Myrtle Beach, South Carolina, on Saturday called key physicians and staff to reopen the facility on Sunday at 8 a.m.
Tenet Healthcare on Monday announced the health system's four South Carolina-based hospitals had resumed normal operations. Tenet said staff at USPI's eight surgery centers in the storm's path plan to resume normal operations on Monday and reschedule canceled appointments. Ron Rittenmeyer, Tenet's executive chair and CEO, said, "We expect minimal disruption for patients who had elective procedures scheduled during the storms as our teams are currently working to reschedule all cancelled procedures."
Other South Carolina-based facilities resuming normal operations on Monday include:
East Cooper Medical Center, in Mount Pleasant; 
The Medical University of South Carolina in Charleston;
Roper St. Francis Healthcare in Charleston; and
Trident and Summerville Medical Centers in Summerville. 
Sentara Healthcare in Norfolk, Virginia, has deployed a 21-member ED team—which includes one ED physician, nurses and nurse practitioners, radiology, pharmacy techs, and EMTs—to North Carolina to help staff a mobile hospital launched by the state's Office of Emergency Management. (Rege, Becker's Hospital Review, 9/14; NCHA release, 9/15; Zezima, Washington Post, 9/16; Campo-Flores et al., Wall Street Journal, 9/15; Lang, Myrtle Beach Sun News, 9/15; South Strand News, 9/16; Tenet Health release, 9/17; McLeod, Count on 2, 9/16; Arndt, Modern Healthcare, 9/14; Daley, WCNC, 9/16; WVEC, 9/17; Stocker, WISTV, 9/16).
Advisory Board's take: 5 ways to prepare for the health impacts of a disaster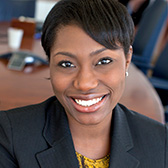 Tomi Ogundimu, Practice Manager, Population Health Advisor, and Praveena Fernes, Research Associate
In the wake of Hurricane Florence and other recent high-profile hurricanes which have hit the Southern United States, hospital and health systems leaders have increasingly had to think about disaster-preparedness and investing in resilience strategies. Yet, with all of the moving parts involved, creating these plans can often seem daunting.
So where are the best places to get started? Start by discovering these 5 key ways that leaders can mitigate the negative short- and long-term health impacts of a disaster. 
Short-term considerations
Key partnerships: Leaders should establish relationships and agreements with public health and community partners and collaborate (along with other health and government agencies) to produce an accessible and effective safety messaging plan. About 80% of older adults have at least one chronic condition that makes them more vulnerable than healthy people during a disaster. Identify community resources for the continuity of care of chronically ill patients (i.e. agreements with local pharmacy for prescriptions, processes to write emergency prescriptions, and access to dialysis services).
Operational coordination: Healthcare managers and emergency planners can look to the WHO's Hospital emergency response checklist for a list of ways to: ensure the continuity of essential services; plan protocols for clear internal and external communication; guarantee swift adaptation to increased demands; and promote the effective use of scarce resources. Leaders can also help their health system's staff recover by connecting them to state and federal resources, providing salary advances, and facilitating the supplies donation among staff members. For additional operational best practices, review these lessons learned from Hurricane Harvey.
Long-term considerations
Target vulnerable populations: While most disaster-risk models focus on acute injuries, environmental health, and infectious disease, it's also vital to invest in chronic disease prevention. Broken infrastructure, prolonged exposure to toxic chemicals, and the trauma associated with a disaster often leave a population with both a psychological and chronic disease burden. These dire co-morbidities have been documented to impact vulnerable populations at higher rates, intensifying the need for providers to address the social determinants of health (such as race, socioeconomic status, and age).
Health system rebuild and coordination:When rebuilding a health care system, prioritize health care coverage and access to primary care and community-based health services. In order to combat fragmentation of care, engage community leaders in soliciting best practices to meet neighborhood-specific population health needs.
Resilience: USAID defines resilience as the ability of people, households, communities, countries, and systems to mitigate, adapt to and recover from shocks and stresses in a manner that reduces chronic vulnerability and facilitates inclusive growth. Population health leaders can adopt a resiliency-focused, strengths-based perspective by integrating resilience capabilities in their health system and conducting community outreach.
Looking to build community partnerships? Here's what you need to know.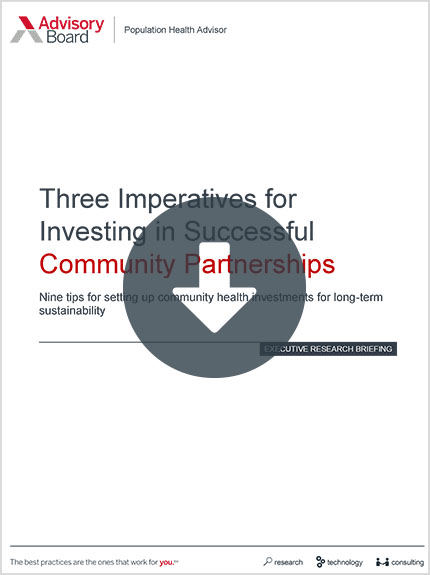 Population Health Advisor researchers partnered with JPMorgan Chase & Co.'s corporate responsibility and philanthropy teams to understand how progressive provider organizations across the country have long been investing in community health transformation.