Editor's note: This popular story from the Daily Briefing's archives was republished on Sept. 3, 2020.
By Jackie Kimmell, Senior Analyst
The New England Journal of Medicine's Catalyst recently surveyed 740 members of their Insights Council— a "qualified group of health care executives, clinical leaders and clinicians who are directly involved in care delivery"—about what it means to be a "high-performing" health care organization.
15 things CEOs need to know in 2020 and beyond
What did they say about what it means to truly be a "high performer?" Here are five key takeaways.
1. Very few organizations can be considered high-performing.
A large majority of respondents—74%—rated less than 20% of all health care organizations as "high-performing."
As low as this percentage may seem, it does not necessarily indicate that the entire industry is failing; rather, it may reflect the difficulty of having a whole organization perform at a high level. As several respondents noted, organizations can be high performing in some areas but struggle to carry that performance across the whole organization.
Robert Ferguson, Jr., Chair of the Department of Surgery at Intermountain Medical Center, said, "The seed for high performance can come from an individual department, but you have to have cross-pollination, applying what you learn to other areas and other departments."
Others noted that consistency of high-quality care is also a key—and rare—aspect of a high-performing organization. Robert Estridge, Jr., APP Director of Express Care at the Cleveland Clinic, said that "[t]o be a [high-performing organization], we need to be able to deliver the same care to every patient every day." He says that pushing the organization, especially those on the front line, to think about forward-thinking, patient-centered approaches is key to moving the organizations closer to high performance.
Learn more: To discover seven tactics for deploying care standards across diverse facilities, download our report on Embedding Care Standards in Frontline Physician Practice.
2. In rating their own performance, the majority of respondents think their own performance is "moderate."
Only 17% of respondents rated their own organization as high-performing. The majority, 62%, said their performance was moderate, while 17% said it was low.
Within these findings, there were a few surprising results. First, large health systems were more likely to rate them performance as moderate: 70% rated themselves this way, as opposed to 65% of those from hospitals and 62% from physician organizations.
Second, executive leaders appeared to have more confidence in their organization's performance as opposed to clinical leaders: 21% of executive leaders rated their organizations as high-performing, while only 12% of clinical leaders did the same.
Many respondents said it was simply difficult to truly be high performing in health care—no matter how hard their organization works. One executive explained, "The variables in health care that are uncontrollable are not typically present in other industries."
Others noted that once you solve one problem, there are often more. Jacob McKeegan, Medical Office Chief for the Arapahoe Medical Office of Colorado Permanente Medical Group, a division of Kaiser Permanente, said, "The more data that comes out, though, the more work there is to be done. Physicians are getting burned out and patients are getting less value from their care. We need to stop carrying that trajectory forward."
Learn more: Discover our five insights about physician burnout and learn how to mitigate further detriment to physicians, patients and business in our research report on Combatting Physician Burnout.
3. Just over half of organizations have a stated goal of being high-performing.
Perhaps the reason most respondents say that their organization is not high-performing is because it's not aiming to be.
Indeed, only 55% of respondents said their organization has a stated goal of being a high-performing organization, while 24% of them said the goal was "tacit" and 11% said no such goal existed. Interestingly, goal-setting seemed to fall somewhat among geographic lines: 60% respondents in the Northeast said their organization had a clear goal of being high performing, versus just under 50% those in the Midwest.
Learn more: Is your organization in need of a strong strategic plan? Download our strategic plan template to create an actionable, presentation-ready and goal-oriented one.
4. High-performing organizations have two key components: a strong culture and aligned goals.
When asked to rank the top two key attributes that allow an organization to be high performing, respondents ranked "culture of excellence" (74%) and "aligned goals among all stakeholders" (61%) as their clear top two.
What is perhaps most interesting is what respondents left out of the top: "Stellar leadership" was selected by only 37% of respondents, "plentiful financial resources" by 8%, and an "engaged board" by only 3%.
This indicates that many respondents don't necessarily believe that good leadership alone allows an organization to excel, unless that leadership creates a strong organization-wide ethos of collaboration and a commitment to excellent care.
5. When looking outside of health care, leaders see many exemplars but few lessons.
When asked to name the health care organizations they could learn from, these typically high-performing players received multiple mentions:
Intermountain Healthcare;
Kasier Permanente;
Cleveland Clinic;
Geisinger Health Plan; and
Mayo Clinic.
Respondents also named a number of non-health care companies that they could learn from, including:  
Google;
Apple;
Amazon;
Starbucks;
Toyota;
Zappos;
Disney; and
Walmart.
Many mentioned in particular that they wanted to emulate the consumer focus of these companies. One clinician in the Northeast wanted to follow "Amazon and other major internet companies that strike for good customer service and happy employees and seem to put profits second knowing they will come based on the first two criteria."
One clinician from a large nonprofit health system in the West wanted to turn to "airlines because they have people's lives in their hands and do a great job to keep them safe."
Yet, others noted that health care has already drawn many lessons from them already and has, according to one VP of Medical Affairs at a large nonprofit health system, "learned what we can from aviation and nuclear energy—turns out they are a lot simpler than what we do. We have to figure this out ourselves going forward."
Learn more: Want access into what leaders at these high-performing institutions are thinking? Read our CEO interviews with:
15 things CEOs need to know in 2020 and beyond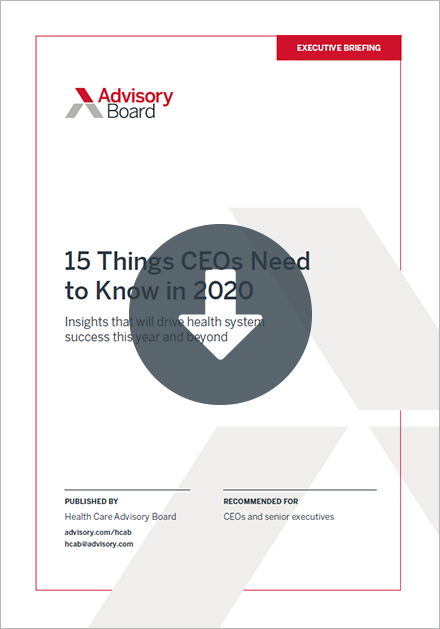 With the 2020 elections approaching, public and political support for Medicare for All is surging. While its legislative prospects are unclear, health care leaders need to understand why support for single payer has grown so drastically. The most important reason: the increasing anger and discontent directed at the health care industry due to the unaffordability of care.
Read on to learn the top 15 insights that will drive health system success in 2020 and beyond.