Since 2011, the celebrity wellness community and several mainstream doctors have supported nutritional guidelines that the National Academy of Medicine says sets Vitamin D levels too high—and a Kaiser Health News investigation reveals that the lead author of those guidelines has deep financial ties to the pharmaceutical and diagnostic industries, Liz Szabo reports for the New York Times.
Here are 4 principles you can use to support evidence-based practice (EBP) at your organization
Holick's claims about Vitamin D
On behalf of the New York Times, Kaiser Health News conducted an investigation into Michael Holick, a Boston University endocrinologist, whose "role in drafting national vitamin D guidelines, and the embrace of his message by mainstream doctors and wellness gurus alike, have helped push supplement sales to $936 million in 2017," Szabo reports.
Holick over the years has claimed vitamin D provides a number of benefits, and in 2011 he "oversaw the publication" of new Vitamin D guidelines for the Endocrine Society, the leading professional group for endocrinology. The guidelines set higher Vitamin D blood levels—recommending at least 30 nanograms per milliliter—and called for increased Vitamin D testing among all age groups.
According to the Times, those recommendations have been widely adopted by both mainstream providers and celebrity wellness gurus, despite the fact that they run counter to research published months earlier by the National Academy of Medicine, which at the time was called the Institute of Medicine. The National Academy of Medicine's report recommended vitamin D levels should be at or above 20 nanograms, and concluded the majority of Americans receive adequate levels of vitamin D and that testing is needed only for patients at high risk of disorders such as osteoporosis.
Today, the National Academy of Medicine maintains the Endocrine Society's Vitamin D levels are too high and that there's no evidence that having higher levels of vitamin D lead to health benefits, but Szabo writes that the organization's leaders "are struggling to be heard above the clamor for more sunshine pills."
Clifford Rosen, a senior scientist at the Maine Medical Center Research Institute and co-author of the National Academy report, said the Endocrine Society's standard creates the appearance of an epidemic because it labels 80% of U.S. residents as vitamin D deficient.
A business boom—and Holick's financial ties
According to Szabo, the Endocrine Society's guidelines generated more business for Quest Diagnostics and other commercial lab performing vitamin D tests. Today, vitamin D tests represent the fifth-most-common lab test covered by Medicare. In 2016, physicians ordered more than 10 million vitamin D lab tests for Medicare beneficiaries at a cost of $365 million. That is a 547% increase from 2007, Szabo reports. Meanwhile, sales for vitamin D supplements have increased too, reaching $936 million in 2017.
The KHN investigation shows Holick has close financial ties to many of the companies that profited from Endocrine Society's guidelines.
Holick in an interview with KHN said he has worked since 1979 as a consultant for Quest Diagnostics, which currently pays him $1,000 a month. According to Medicare's Open Payments database, Holick from 2013 to 2017 received about $163,000 from several pharmaceutical companies with vitamin D products, including Amgen, which sells an osteoporosis drug; Sanofi-Aventis, which sells vitamin D supplements; Shire, which sells drugs given with vitamin D; and Quidel Corporation and Roche Diagnostics, which produce vitamin D tests.
Holick also has accepted thousands of dollars in research funding from the UV Foundation. That funding in 2004 led him to step down from Boston University's dermatology division, though he was able to continue teaching.   
However, Holick said industry funding "doesn't influence me in terms of talking about the health benefits of vitamin D." Referring to his work at Quest, he said, "I don't get any additional money if they sell one test or one billion."
Wendy Bost, a Quest spokesperson, said the company works with several expert consultants. "We feel strongly that being able to work with the top experts in the field, whether it's vitamin D or another area, translates to better quality and better information, both for our patients and physicians," Bost said.
How Holick's stance is in tension with research
Since Holick's guidelines were published in 2011, a number of clinical trials have found no evidence linking vitamin D to increased health.
According to Szabo, clinical trials have ruled out links between vitamin D and reductions in cancer risk, heart disease, and falls among the elderly—and other professional organizations, such as the U.S. Preventive Services Task Force, have come out against widespread vitamin D screening.
Aaron Carroll, a professor of pediatrics at Indiana University School of Medicine, in a blog also noted that there are concerns over the safety of supplements. In particular, Carroll notes researchers have been "especially concerned about how these products might potentially be the cause of major drug-drug interactions," because little time is spent analyzing the side effect of supplements interacting with drugs.
Christopher McCartney, chair of the Endocrine Society's clinical guidelines subcommittee, said since the vitamin D guidelines were released the society has adopted more stringent conflict of interest policies that would not allow the head of a guideline writing committee to have financial ties to the industry (Szabo, New York Times, 8/18; Caroll,"news@JAMA," JAMA, 8/15).
Are you leading an evidence-based organization?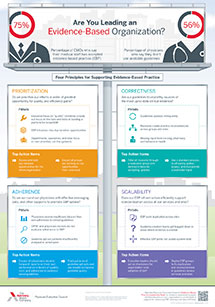 Despite the shift toward broad acceptance of evidence-based practice (EBP) among medical staff, over half of physicians report not actually using guidelines day-to-day when they are available. As a result, organizations continue to see tremendous variation in clinical practice—as well as in costs and outcomes.
Our infographic outlines four principles you can use to support EBP at your organization, along with action steps to implement each one and pitfalls to avoid along the way.