The percentage of U.S. hospitals reporting zero health care-associated infections (HAIs) has declined significantly since 2016, according to a new report from the Leapfrog Group and Castlight Health.
Learn how we can help you improve hand hygiene and cut infection rates to zero
Details
For the report, researchers examined responses to the Leapfrog Hospital Survey for 2017 to determine the percentage of hospitals reporting on five types of HAIs:
Catheter Associated Urinary Tract Infections (CAUTI);
Central Line Associated Blood Stream Infections (CLABSI);
Clostridium difficile (C. diff);
Methicillin-resistant Staphylococcus aureus (MRSA); and
Surgical Site Infection after Colon Surgery (SSI: Colon).
The report found that the percentage of hospitals that reported zero for at least one of the above HAIs has declined significantly since 2016.
But although the number of hospitals with zero infections decline, the authors found the majority of hospitals had lower-than-expected infection rates as calculated by CDC's Standardized Infection Ratio, which compares the actual number of reported HAIs to the number of HAIs CDC predicted the facility would have.
Discussion
Erica Mobley, the director of operations for Leapfrog, said that there "needs to be a renewed focus on getting back to zero" HAIs. However, Mobley said, despite the fact that "there are fewer [hospitals] getting to zero, we still do see the majority of hospitals doing better than expected on these infections."

Mobley recommended that hospitals place sink or hand sanitizer stations in the main pathway to remind clinicians to wash their hands. She also recommended that patients speak up if they see a caretaker not washing their hands. "Providers should be receptive to that," she said. "If a patient asks them [to wash their hands], they should be willing to comply with that request."
Leah Binder, president and CEO of Leapfrog, said the report's findings showed a "disturbing trend" that was especially noteworthy in light of a recently proposed CMS rule that would remove HAIs from the Hospital Inpatient Quality Reporting program.
Binder said that Leapfrog urges "all consumers to join with us in advocating for CMS to reconsider these changes," adding that "Leapfrog and its purchaser members remain committed to getting this data voluntarily from those hospitals willing to be transparent with their data should CMS choose to move forward with their proposal" (Leapfrog, 6/20; Minemyer, Fierce Healthcare, 6/21; Lagasse, Healthcare Finance, 6/20).
HAIs and beyond: Help your clinicians consistently follow care standards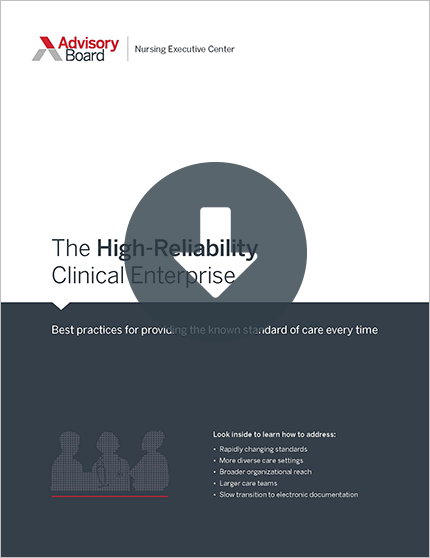 Frontline staff need to consistently follow care standards to deliver highly reliable care. But the overwhelming pace of changes to evidence-based guidelines means they often struggle to integrate new standards into their daily practice.
Our study profiles how Midland Memorial Hospital introduced a peer coaching program, paring high-performing frontline nurses on their pain assessment protocol with lower-performing nurses—and achieved a 50 percent point gain in compliance.