Care delivery is shifting away from high-intensity settings and toward low-intensity settings, but "not all such efforts" to move patients toward the lowest-intensity setting "may serve patients well," write Dhruv Khullar and Austin Frakt, who were among the authors of a recent study on the subject, for the New York Times' "The Upshot."
A shift in the care landscape
According to Frakt and Khullar, "Confoundingly to many, the cost of the same procedure on the same patient by the same physician can vary by thousands of dollars depending on" where it's performed. In particular, care delivered in high-intensity settings—such as academic medical centers—often is more costly than similar care delivered in low-intensity settings, such an outpatient clinic or a patient's home.
With this in mind providers, payers, and policymakers have supported shifting care delivery to low-intensity settings, Frakt and Khullar note. Medicare, for example, has begun instituting site-neutral payments to close the payment rate gap between hospital-owned clinics and private doctor's offices. Similarly, the Massachusetts Health Policy Commission has recommended that more patients be sent to community hospitals rather than academic medical centers.
Even some academic medical centers are seeking to shift care to lower-intensity environments. For instance, Massachusetts General Hospital—an academic medical center with relatively high prices, according to Frakt and Khullar—has instituted a program that involves sending stable patients out of its ED into affiliated community hospitals. And Mount Sinai Health System began a hospital-at-home program in 2014 for patients are stable enough to be cared for at home through regular visits from doctors, nurses, physical therapists, and social workers.
This is all part of a "broader trend," Khullar and Frakt write: Overall use of inpatient care is declining across the United States—including a 6% drop in inpatient admissions for Medicare patients between 2004 and 2010 and a 10% drop in inpatient use through the Department of Veterans Affairs over the past decade.
But is the shift dangerous for patients?
This shift toward low-intensity care settings such as community hospitals might always not be good for patients, however, according to a recent study published in Health Affairs.
For the study, researchers analyzed more than 11 million Medicare hospitalizations and found that nearly all of the patients, regardless of how sick they were, experienced lower mortality rates at the high-cost teaching hospitals.
The benefit of higher-cost settings varied by patient and condition, Khullar and Frakt note. Among patients who had operations such as hip replacements, those the highest number of health problems were "likeliest to benefit from a teaching hospital." When it came to conditions such as heart failure or pneumonia, "all groups did better at the teaching hospitals," though "the difference was greatest for the relatively healthy patients," Frakt and Khullar add.
Khullar and Frakt write that these results could be partially explained by the fact that teaching hospitals tend to have more advanced technologies than community hospitals, as well as greater subspecialty expertise, more clinicians, and more available ancillary services.
A related concern, Khullar and Frakt write, is that "outpatient surgical centers don't always have the resources and staff" they need to handle complications that could arise outside of the operations they're doing.
Khullar and Frakt write that "the shift toward ... lower-cost settings is a worthy goal" considering the "high—and sometimes unjustifiable—cost of some health care settings." However, "in some cases, outcomes may not be equal, and it seems we should make sure we're not cutting quality when we're cutting costs" (Khullar/Frakt, "The Upshot," New York Times, 6/11).
Primer: A quick-hit strategy guide to services shifting to ASCs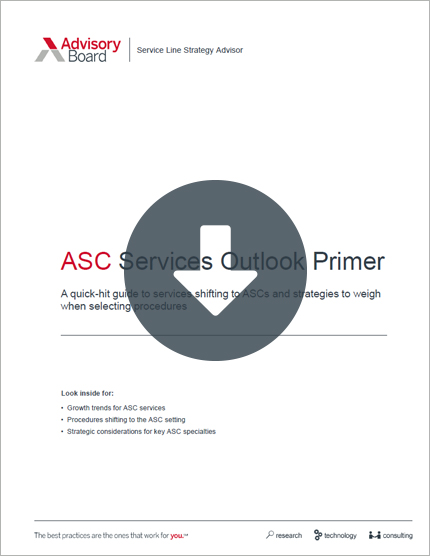 Health systems are increasingly focusing on ambulatory surgery center (ASC) services due to clinical innovation, cost pressures, patient engagement, and operational efficiency.
In this primer, we outline specialties that are growing, as well as new services emerging, in the ASC setting.