The New York Times recently released a list of "Visionaries with the courage to change the world," which includes seven people in health and medicine.
June 21 webcon: Get the latest innovations in surgical and interventional oncology
Finding a visionary
For the list, the Times looked for people who were "forward-looking, working on exciting projects, helping others, or taking a new direction." In looking for candidates, the Times sought "diversity in gender, race, and ethnic background."
In total, the Times identified 30 visionaries across six different subjects:
Arts;
Business;
Climate;
Human rights;
Social justice; and
Technology.
Visionaries, according to the Times, "fight," "disrupt," "take risks," and "push boundaries to change the way we see the world, or live in it."
Meet the visionaries
The Times profiled five visionaries in medical sciences field:
Rebecca Onie, co-founder and chief executive emerita of Health Leads, whose work has centered on bringing attention to the importance of social determinants of health. Karen Weintraub writes for the Times, "Through her work and the work of others, today it's well accepted that a patient—particularly one with a chronic illness —cannot be healthy without access to healthy food, a safe place to live, and transportation to medical services." Further, Onie has launched an initiative to unite different health care stakeholders—including insurers, medical societies, state governments, and others—to "embrace [a] broader view of health," Weintraub writes.
Antoni Ribas, director of the Parker Institute for Cancer Immunotherapy and a professor at the University of California-Los Angeles, who's known for both his pioneering research into immunotherapy as well as his empathetic bedside manner, Weintraub writes. Ribas started one of the first trials in cancer immunotherapy in 2001—when the treatment "was mostly dismissed as hopeless." He also led the clinical development of Keytruda, which is approved to treat metastatic melanoma, lung cancer, and other tumors.
Katsuhiko Hayashi , a professor in the department of Stem Cell Biology and Medicine and faculty of medical sciences at Kyushu University in Japan, whose team about two years ago became the world's first to grow viable mouse eggs from skin cells harvested from an adult mouse's tail. According to Weintraub, Hayashi's team's work could "be a tremendous help to humans," though "it's more ethically fraught." For now, the team is slowly working toward making healthy eggs and sperm out of human skin or blood cells. If the team succeeds—which could likely take decades—their research could provide cures to some types of infertility and "stop women's biological clocks from ticking," Weintraub writes.
Sergiu Pasca, an assistant professor of psychiatry and behavioral sciences at Stanford University, whose research team is working on ways to learn more about the human brain by building it—or at least parts of it—from scratch. Pasca's team discovered stem cells that are grown in a ball shape and guided to develop into brain cells, self-organize, develop, and function more naturally than those grown in a flat layer on a petri dish, Weintraub writes. Pasca put two balls similar to different brain regions next to each other, and they began to communicate and form neural circuits. With nutrients, they started to resemble a newborn's brain more closely than a fetus'—though Pasca noted the balls are far from a functioning brain. However, he and colleagues in a commentary called for ethnical guidelines in this field.
Luham Yang, co-founder and chief scientific officer of eGenesis, a start-up that uses gene editing to develop transplantable cells, whose work focuses on making pig organs safe for human transplant. According to Weintraub, researchers more or less abandoned the idea in the 1990s out of concern humans would contract pig viruses and because they could not determine how to keep the human body from rejecting organs from other species. Yang is aware that her work could raise ethical concerns, but said she feels saving human lives is worth the risk, Weintraub writes.
On its list of technology visionaries, the Times recognized, Nancy Lublin, who launched Crisis Text Line, a nonprofit crisis-counseling website that uses text-chats to reach people in crisis. Volunteer counselors staff the line, which uses a machine-learning algorithm to triage cases based on the predicted severity of their crisis, Lauren Smiley writes for the Times. The chats also generate data on the source of distress in different geographic regions. For instance, people in the South most frequently note LGBTQ issues.
On its list of human rights visionaries, the Times recognized Edwin Smith, who launched Kids First Dental Services, a nonprofit that runs two mobile clinics to provide no-cost dental care to children at schools in Kentucky. Alina Tugend writes for the Times that the state has some of worst dental health problems in the United States. Smith has also worked on legislation—that took effect in 2010—to require students to show proof of a dental exam when starting school (Weintraub, New York Times, 5/24; Smiley, New York Times, 5/24; Tugend, New York Times, 5/24; Hannon, New York Times, 5/24).
Identify untapped innovation potential in just 20 minutes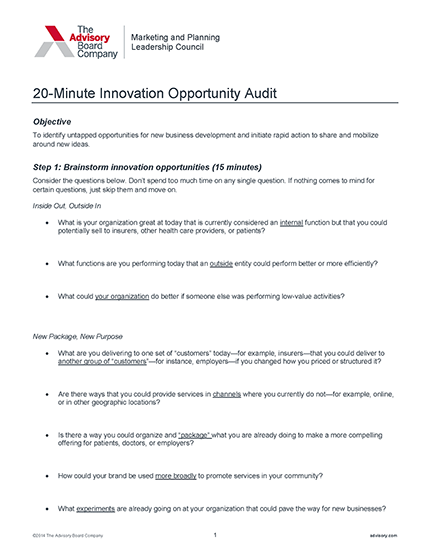 Use this audit to identify untapped opportunities for new business development and initiate rapid action to share and mobilize around new ideas.