Microhospitals offer a model for health systems looking to expand their footprint without investing in a full-scale hospital, and Dignity Health has shown the model is not only feasible but can exceed business expectations, Beth Jones Sanborn reports for Healthcare Finance News.
How you can incorporate convenient care into your medical practice
San Francisco-based Dignity built its first microhospital in Phoenix, Arizona, and it has since expanded the model to Mesa, Arizona, and to Las Vegas—where the health system is set to open its fifth microfacility in 2019.
Peggy Sanborn, VP of partnership integration at Dignity, said, "The geographies that really work best for this are ones where you have a fairly robust network of assets in place with physicians, ambulatory assets and acute settings. That you've started to make progress on a value-based contracting strategy because this fits within that model and where there's a community unmet needs."
About Dignity's microhospitals
Dignity's microhospitals are typically staffed with one or two physicians, who work 12-hour shifts, as well as a nurse, phlebotomist, radiation technician, and registration staff, Jones Sanborn writes. Staffing levels fluctuate depending on patient volume, but Jones Sanborn notes that there is always a board-certified ED physician on staff at the facility. Further, staff members are cross-trained to maximize efficiency. For instance, the X-ray tech is certified to do phlebotomy, and all staff can administer splints or IVs. "It's a very integrated care model," Sanborn said.
The microhospitals are capable of handling a range of cases, Sanborn said, which typically fall into one of three categories: "treat and release, treat and admit, or in some cases transfer for complex care." Most patients, according to Sanborn, are seen by the ED physician within 10 minutes and are in and out within 90 minutes, although the timing may vary depending on the complexity of their condition.
'The results speak for themselves'
The results from Dignity's Las Vegas microhospitals "speak for themselves," Jones Sanborn writes. Twenty-five percent of Dignity's total ED volume in Nevada is handled by its microhospitals, and less than 6% of that volume requires transfer to a higher level of care. Jones Sanborn writes that Dignity has seen similar success in its Phoenix microhospital.
Sanborn also said the data show that the facilities are serving a significant community need, with one of Dignity's facilities seeing 40% more patient volume than officials projected. And the patients flocking to the microhospitals are satisfied with their care: Patient satisfaction and willingness-to-recommend scores have been in the high 90s, Jones Sanborn writes.
"Patient experience has been probably one of the biggest benefits," said Sanborn. "Patients are getting a great introduction to our health system, and they are also making strong connections to follow up referrals, either for specialty or primary care when patients present without having a primary care physician, or (if) they need specialty follow up we are able to synchronize that pretty well."
Jones Sanborn notes that competitors have responded to Dignity's presence, with more freestanding EDs popping up in areas where Dignity has facilities. The health system also has heard concerns from payers. "Their concern is that it's generating unnecessary ED demand. I don't think the data will show that. It's just a redistribution. It's a process of education and getting over the anxiety that we're going to drive higher medical loss ratios in their plans," Sanborn said.
Ultimately, Sanborn said microhospitals "can be very valuable to the community, to the network, to the patients, and ultimately bring value into the health care equation" (Jones Sanborn, Healthcare Finance News, 4/9).
How you can incorporate convenient care into your medical practice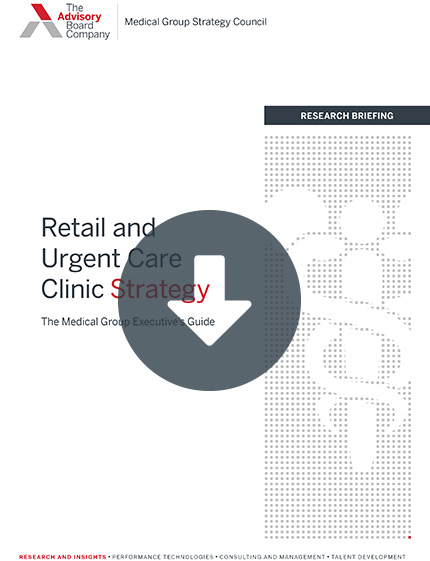 Convenient care is becoming an increasingly important part of the medical group's facility footprint and playing a greater role in its strategy to expand access.
Read 10 insights for medical group executives considering building convenient care facilities.