Diseases related to blood-feeding insects and ticks are becoming more common in the United States—but experts say the total number of cases are still underreported, according to a CDC "Vital Signs" report released Tuesday.
For the report, CDC researchers looked at data from 2004 to 2016 on 16 vector-borne diseases—those caused by blood-feeding bugs or ticks—in the National Notifiable Diseases Surveillance System.
Key findings
CDC data show the number of vector-borne diseases more than tripled in the United States from 2004 to 2016, increasing from 27,388 to 96,075 such diseases during that time period. Overall, CDC found a total of 642,602 recorded cases of vector-borne diseases over the period studied. However, the real number of vector-borne diseases is likely higher than the number in the surveillance system, as infections are not always reported or recognized, officials said.
Further, the researchers said nine vector-borne diseases, such as Zika virus and chikungunya virus, appeared for the first time in the United States over the period studied. The CDC report also noted that only one of the 16 diseases surveyed—yellow fever—has an FDA-approved vaccine.
Tick-borne diseases
The researchers found that the number of tick-borne diseases reported annually increased more than twofold, from 22,527 cases in 2004 to 48,610 cases in 2016. Overall, 491,671 cases of tick-borne diseases were recorded over the period studied.
Tick-borne diseases appear throughout the continental United States, but are found most commonly in the East and along the Pacific Coast, according to CDC. Lyme disease made up the overwhelming majority of tick-borne diseases reported, and the number of Lyme cases reported annually has increased over time, CDC said. According to the surveillance system, 36,429 cases of Lyme disease were recorded in 2016, up from 19,804 cases in 2004.
However, CDC said these figures "substantially underestimate" the prevalence of Lyme disease, as recent clinical and laboratory data estimate that roughly 300,000 U.S. residents contract the illness annually.
Mosquito-borne diseases
While cases of tick-borne diseases have increased steadily over time, mosquito-borne diseases have been more "episodic," according to Lyle Petersen, CDC's director of vector-borne diseases.
That said, he noted that there has been an "accelerating trend" of mosquito-borne diseases introduced in the United States, most recently with Zika in 2016, and earlier with chikungunya in 2014 and West Nile virus in 1999. According to CDC, Zika in 2016 accounted for 41,680 of the 47,461 mosquito-borne cases reported to the surveillance system that year.
Overall, mosquito-borne diseases "were almost exclusively transmitted in Puerto Rico, American Samoa, and the U.S. Virgin Islands," CDC said—although West Nile virus is now appearing unpredictably around the country, including a 2012 outbreak in Dallas.  
In addition, the report showed that West Nile virus and Dengue largely accounted for an increase in mosquito-borne diseases in 2012, making up 5,674 and 6,714 cases, respectively, of the 13,991 cases reported that year.
Flea-borne diseases
The report also included data on one flea-borne disease, plague, which researchers said is uncommon but persistent, according to the New York Times. There were two to 17 cases reported in the United States each year between 2004 and 2016, largely in the Southwest.
Discussion
According to Petersen, the increase in vector-borne illnesses stems at least partly from increasing temperatures. He explained that warmer weather has brought the tick population farther north and made tick season longer, and that hotter temperatures "make mosquitoes more infectious." However, Peterson did not attribute the increase in vector-borne diseases to climate change.
Other factors are also at play, Petersen said, including more jet travel, a lack of vaccines, suburban reforestation, and an increase in the population of deer—spurring, in turn, an increase in the population of deer ticks, who can transmit Lyme disease.  
The report called for an expansion of "sustainable vector-borne disease prevention programs ... to respond to the ongoing and increasing threat of vector-borne disease." According to the report, local and state health departments are currently almost exclusively responsible for detecting and responding to vector-borne diseases—but in a recent national survey, more than 80% of 1,083 local mosquito control organizations reported at least one basic deficiency (Sun, "To Your Health," Washington Post, 5/1; McNeil, New York Times, 5/1; Walker, MedPage Today, 5/1; Petersen et al., "Vital Signs," Morbidity and Mortality Weekly Report, 5/1).
Next: The bacteria on a plane—and how to avoid them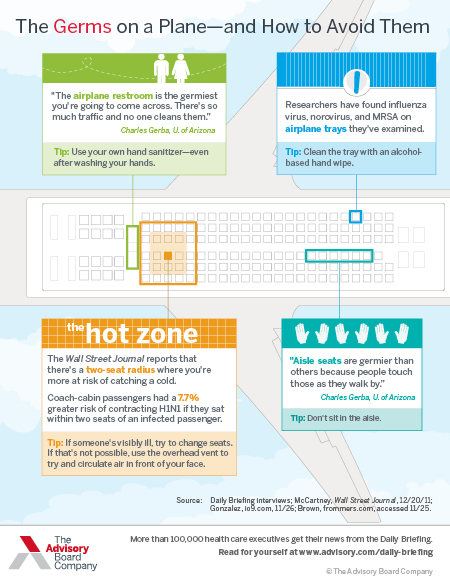 Download this infographic to learn about both the obvious and less obvious locations where germs on planes are rampant.