Therapy dogs have become a common sight at some hospitals—but few have allowed therapy animals to visit the especially vulnerable patients in the ICU. Now, Massachusetts General Hospital is exploring how it can be done safely, Liz Kowalczyk writes for the Boston Globe.
What your patients expect from their care—from millennials to the silent generation
Why dogs can be a welcome presence in the ICU
Research has shown that visiting with therapy animals can lower a patient's blood pressure, pulse, and respiratory rate, Kowalczyk writes. Mass. General has also found that after visiting with therapy dogs, patients typically report less anxiety, fatigue, and pain. But other studies have shown mixed results, Kowalczyk notes, and as of now, it's unclear how long the benefits of pet therapy may last.
But even though therapy animals are becoming well-accepted nationwide, few hospitals have attempted to expand their pet therapy programs to the ICU, fearing that the especially ill patients in the intensive care setting may be too vulnerable to bacteria or infections.
Mass. General wants to change that. Amanda Coakley, a nurse who leads Mass. General's pet therapy program, is creating a research protocol to determine whether the therapy can be safely and effectively applied to ICU patients.
A limited body of research supports the practice. Doctors from Johns Hopkins wrote in the journal Critical Care that, in their experience, dogs can humanize and ease the stressful patient experience in the ICU. Dogs also can motivate patients to stand up and bend over, which are critical tasks in rehabilitation, Kowalczyk reports.
Megan Hosey, the lead author on the article, mentioned one patient who was unwilling to try standing after being bedridden. But during a dog's visit, the patient readily stood up to give the dog a treat.
The strict requirements for therapy pets
Not just any dog—or cat—qualifies to visit the ICU: All of Mass. General's therapy pets are certified by the Pets and People Foundation. Though currently, only dogs work in Mass. General's ICU.  
Candy Mandel, the organization's president, said, "People think you just need to have a lovable dog, and that is all there is to it." But in reality, dogs must demonstrate calm obedience throughout a half-hour screening that involves walking through a crowded hallway, standing near a person who is banging metal pans, and ignoring food dropped on the floor.
Further, to prevent therapy dogs from spreading disease, they're bathed the day before their visit to the hospital, and they're kept up-to-date on immunizations. Mass. General also requires owners to wash their hands after leaving a patient's room, and the animals aren't allowed to visit any patient who is on special infection-prevention protocols.
So far, Kowalczyk reports, Mass. General has experienced no issues related to the animals' presence in the ICU.
One patient's visit with a very special Labrador retriever
James Cawley, a 60-year-old retired police officer, recently experienced Mass. General's pet therapy program firsthand when he was visited by a 77-pound Labrador retriever named Tucker.
Cawley had been cooped up in the cardiac ICU for three weeks, trying to get healthy enough to receive a mechanical heart pump implant. But despite his illness, he perked up when Tucker approached him: "What's happening, buddy?" Cawley asked, his eyes welling up.
Cawley soon opened up about his past, telling Tucker's owner that, long ago, he used to train German shepherds to sniff out bombs for the military. And he expressed gratitude for Tucker's visit: "Anything that helps put a patient in the right state of mind," Cawley said. "All they want to do is show you love and affection" (Kowalczyk, Boston Globe, 3/15).
What your patients expect from their care—from millennials to the silent generation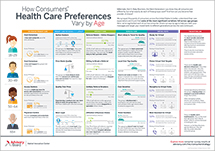 Millennials, Gen X, Baby Boomers, the Silent Generation—what exactly do each of these groups want from their health care?
We surveyed thousands of consumers across the United States to find out. Download this infographic to learn how to tailor your messages and target your investments to each generation.