Editor's note: This popular story from the Daily Briefing's archives was republished on Sep 30, 2022.
While antidepressants were initially regarded as a short-term treatment, a growing number of Americans are taking antidepressants for years, in part because they experience withdrawal symptoms when they attempt to stop, according to a New York Times analysis.
Infographic: 8 steps for deploying clinical pharmacists in ambulatory care
A short-term treatment
Regulators initially approved antidepressants for short-term use based on studies that ran about two months. Originally, the medications were considered a six-to-nine-month treatment for episodic mood problems, Benedict Carey and Robert Gebeloff write for the Times.
Additional studies later suggested antidepressants could treat depression in some patients through long-term or open-ended use, sometimes referred to as "maintenance therapy"—but , according to the Times few of those studies lasted more than two years.
According to the Times, physicians disagree over how many patients require a long-term antidepressant prescription—though most agree not every patient who takes antidepressants should become a lifetime user.
More Americans take antidepressants—for longer
However, the Times analysis finds that it's becoming increasingly common for Americans to take antidepressants and to stay on them for at least two years.
The Times analyzed data from the National Health and Nutrition Examination Survey collected since 1999 and found 34.4 million individuals took antidepressants in 2013-2014, compared with 13.4 million in 1999-2000. Further, about 25 million U.S. adults have been on antidepressants for at least two years, representing a 60% increase since 2010, according to the Times.
Mark Olfson, a professor of psychiatry at Columbia University who helped the Times conduct an analysis of federal data, said, "What you see is the number of long-term users just piling up year after year."
According to the Times, withdrawal symptoms partially explain the rise in long-term antidepressant use. For instance, a recent survey of 250 long-term users of psychiatric drugs, mostly antidepressants, found that nearly half of respondents said they experienced severe withdrawal symptoms when attempting to discontinue the use of their psychiatric drugs. Further, nearly half of the respondents who attempted to stop using the psychiatric drugs said they could not because of their withdrawal symptoms.
A study into Cymbalta, an antidepressant, found the most common withdrawal symptoms included electric-shock sensations in the brain (sometimes called "brain zaps"), dizziness, headache, nausea, and paresthesia.
While psychiatrists as early as the mid-1990s recognized withdrawal as a potential side effect for some patients who attempt to stop taking antidepressants, few patients are aware of the risks, the Times reports.
The Times cites a separate study that found more than 130 long-term antidepressant users in a sample size of 180 reported having withdrawal symptoms. The study authors wrote, "Many were critical of the lack of information given by prescribers with regard to withdrawal. And many also expressed disappointment or frustration with the lack of support available in managing withdrawal."
Experts cite need for research into withdrawal
Despite detection of the potential for withdrawal years ago, regulators and drugmakers have not made it a focus area, Carey and Gebeloff report.
 As such, it's unclear how patients who experience withdrawal should approach discontinuing the use of an antidepressant, the Times reports. Specifically, researchers have not developed scientifically backed guidelines to address withdrawal or identified how to determine whether a patient is at high risk of developing withdrawal symptoms. As a result, Anthony Kendrick, a professor of primary care at the University of Southampton in Britain, said, "Some people are essentially being parked on these drugs for convenience's sake because it's difficult to tackle the issue of taking them off."
Derelie Mangin, a professor in the department of family medicine at McMaster University in Hamilton, said, "We don't have enough information about what antidepressant withdrawal entails, so we can't design proper tapering approaches." She added, "The truth is that the state of the science is absolutely inadequate."
Separately, Tom Stockmann, a psychiatrist in London, experienced lightheadedness, confusion, vertigo, and "brain zaps" when he stopped taking Cymbalta after about a year and half, according to the Times. Stockman said, "I knew some people experienced withdrawal reactions ... but I had no idea how hard it would be." He added, "I have seen lots of people—patients—not being believed, not taken seriously when they complained about this. … That has to stop."
How researchers are learning more about antidepressant withdrawal
Efforts are underway to fill the void in research on antidepressant withdrawal, according to the Times.
Mangin is leading a research team in New Zealand to conduct the first rigorous, long-term trial on antidepressant withdrawal, Carey and Gebeloff write. The team of researchers recruited more than 250 individuals who taken Prozac over a long period of time and would like to wean off the treatment.
While the researchers have not finished collecting the data, Mangin said some of the participants had severe withdrawal symptoms. She said, "Even with a slow taper from a drug with a relatively long half-life, these people had significant withdrawal symptoms such that they had to restart the drug" (Carey/Gebeloff, New York Times, 4/7).
Learn more: 8 steps for deploying clinical pharmacists in outpatient clinics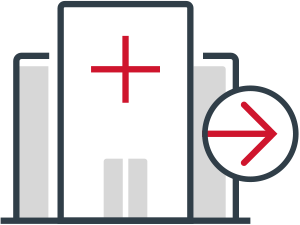 As the number of medications rises, so does the opportunity for medication errors, such as incorrect dosages, drug interactions, and serious side effects.
Check out our infographic to learn eight steps for how to deploy clinical pharmacists in outpatient clinics.