Humana is launching a new company called Conviva that will house the insurer's primary care practices and health clinics in South Florida and Texas.
About Conviva
To form Conviva, Humana will merge four subsidiaries:
CAC-Florida Medical Centers;
Continucare Medical Centers;
MCCI Medical Group; and;
MetCare of Florida.
Humana said that initially, the Conviva brand will replace only practices and clinics in the south Florida and Texas area. However, the company hasn't ruled out expanding the brand to its clinics across the country, Forbes reports.
Bruce Broussard, Humana's CEO, said the consolidation will enable more physician-led clinics. He said Conviva will be "physician-centric and clinically-focused, tapping into the deep knowledge and knowhow of our primary care community to stimulate entrepreneurial thinking, resulting in an innovative model of care that will measurably improve our ability to serve our members and close gaps in care." He added, "We believe this new, simplified structure will help us to continue to build trust throughout Florida and Texas markets, improving operations while continuing to make strategic investments in the business."
Broussard said that the company sees the merger "as platform to continue to grow in the marketplace." He added, "This (is) a continued step in our belief that primary care with senior focus is a differentiator and an active part of how we feel we can increase the member experience and decrease the cost of care" (Japsen, Forbes, 3/15; Haefner, Becker's Hospital Review, 2/8).
Get the field guide to hospital partnership and affiliation models.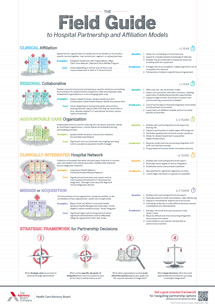 Behind the flurry of M&A in recent years, a deeper trend of hospital integration is underway: the emergence of alternative partnerships that secure many of the same benefits of M&A without the financial and legal commitment: Clinical affiliation, regional collaborative, accountable care organization, and clinically integrated network.
This guide defines these types of partnerships and offers benefits, drawbacks, and examples of organizations in each.